Warren Miller, Legendary Filmmaker And Ski Icon, Passes Away At 93. RIP Warren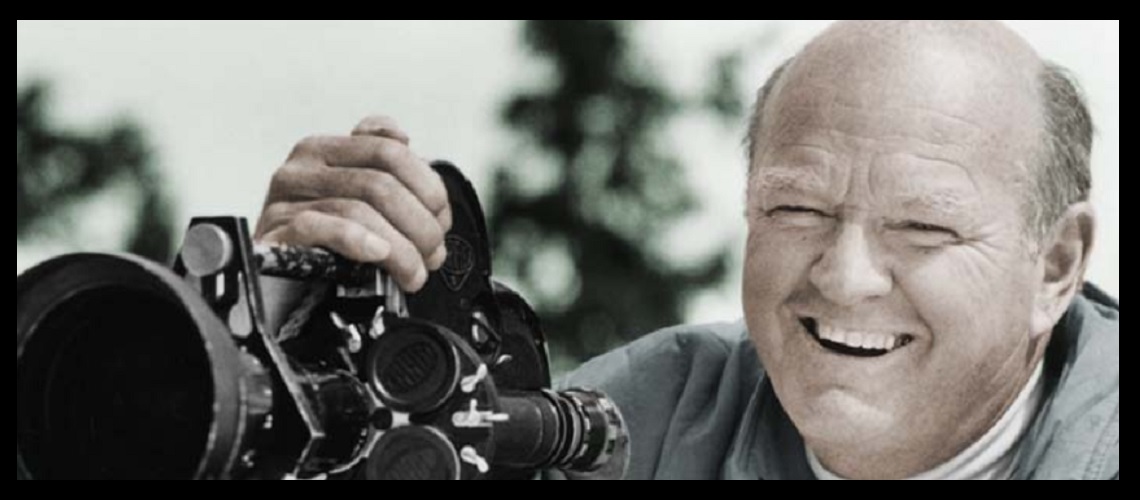 Warren A. Miller, the iconic and beloved filmmaker who introduced generations to the thrills and freedom of skiing and outdoor adventures, passed away at the age of 93 on Wednesday evening, January 24th, his family announced today. He died peacefully of natural causes at his home on Orcas Island, WA.
"Warren loved nothing more than sharing his life's adventures and hearing literally every day from friends old and new about how his stories inspired others to enrich and enjoy their own lives. All of us are better for knowing and loving Warren."
Miller earned global acclaim and a passionate, multi-generational following for his annual ski feature films, which kicked off the ski season for more than 60 years, showing in hundreds of cities across the U.S. and around the world. Packed with adventure and exotic travel, Miller's distinct, droll narration and humorous hijinks on the slopes highlighted his films.
While he is known as the original ski bum, Miller's talents went well beyond ski filmmaking. He produced more than 500 films, primarily covering outdoor pursuits, including surfing, sailing, and other water sports. As an artist, cartoonist, and author, he wrote some 1,200 columns and 11 books.
He also was a World War II veteran, a ski instructor and ski racer, an accomplished surfer, and a champion sailor. He took up windsurfing in his 60s, and then turned to destination motor boating in his 70s and 80s, exploring the Northwest and Alaska from his home on Orcas Island. During his 80s and 90s, Miller's philanthropic efforts provided entrepreneurial training to thousands of youth nationwide, emphasizing hard work, ingenuity, and creativity.
Perhaps one of his most cited quotes provides some insight as to how Miller packed so much into one lifetime: "If you don't do it this year, you'll be one year older when you do."
"This is a sad day during which we draw some comfort from the fact that Warren's legacy of adventure, freedom and humor carries on in the countless lives he touched," said Laurie Miller, his wife of the past 30 years. "Warren loved nothing more than sharing his life's adventures and hearing literally every day from friends old and new about how his stories inspired others to enrich and enjoy their own lives. All of us are better for knowing and loving Warren."
"Warren Miller was a globally loved ambassador for skiing and adventure sports, pioneering an entire genre of filmmaking," said Andy Clurman, CEO of Active Interest Media, the parent company of Warren Miller Entertainment. "We join generations of Warren's fans in both mourning his loss and celebrating a life well lived."
Miller is survived by his wife Laurie; by his sons Scott (Melissa) and Kurt (Ali); by his daughter, Chris (David Lucero); and by his stepson, Colin Kaufmann. Plus, thousands of wonderful friends and countless loyal fans, as well as his three black dogs: two Scotties, Angus Bremner and Drummond McGregor, and his black Czech Shepherd, Bex.
The family asks for privacy during this difficult time and encourages those who are able to ski a favorite run or enjoy another activity they love in Warren's memory. In lieu of memorial gifts, the family also invites those inclined to benefit the Warren Miller Performing Arts Center in Big Sky, MT: http://warrenmillerpac.org/.
Born in Hollywood in 1924 to Albert L. Miller and Helena H. Miller, Warren's childhood was far from idyllic. The Great Depression derailed his father's radio career, and Albert never worked again. The Miller family at times struggled to put food on the table and made periodic midnight moves to skip out on the rent.
"Rather than face the fact that my family was very strange, I made the assumption that the way our family lived was much the way that every family lived," Warren recalled in his 2016 autobiography, Freedom Found. "With hairdos for my sisters, whiskey for my father, and some food saved from dinner for me, my mother kept us together. A lot of people have had it a lot worse, but this was the way I had it."
Warren responded by fleeing to the sanctuary of the outdoors, and a lifetime of entrepreneurship funded his dreams. It started at age 8 candling eggs and sweeping floors at a grocery store, then delivering newspapers and selling magazine subscriptions before working in the machine shop of his grandfather, an accomplished engineer and inventor. Warren survived the domestic chaos of his early life by body surfing in the ocean off Topanga Canyon; hiking with his Boy Scout troop in Yosemite; skiing at nearby Mt. Waterman; and surfing at San Onofre on a surf board he built in shop class.
Just in the nick of time, as a youngster, his maternal grandparents, Walter and Edith Humphrey, came to the rescue. "Spending nearly two years living with my grandparents was the best thing that could have happened to me," Warren recalled in his autobiography. "Once I moved in with them, my whole life changed. My grandparents encouraged conversation, and they were really interested in what I was doing and thinking--an entirely new sensation for me."
Birthday gifts from his "guardian angel" grandmother Edith—a red wagon, shiny roller skates, a Schwinn Excelsior bicycle, a Boy Scout uniform, YMCA membership—propelled Warren's ever-expanding search for freedom. A work ethic gleaned from his grandfather helped round out his game plan for life ahead.
At age 12, Warren purchased his first camera for 39 cents. He photographed his fellow Boy Scouts and sold them the prints for a profit. "This purchase marked only the beginning of what was to be a very, very expensive habit of documenting my world," he recalled. He bought his first skis and bamboo poles at age 15 for $2 from his paper route earnings. He studied Otto Lang's book Downhill Skiing before heading off to Mt. Waterman with his Boy Scout troop leader to take the plunge.
"People remember their first day on skis because it comes as such a mental rush," Warren continued. "When you come down the mountain from your first time on skis, you are a different person. I had just now experienced that feeling, if only for half a minute; it was step one in the direction I would follow the rest of my life."
Years later as a handsome, 6-foot, 2-inch, 180-lb. undergrad at the University of Southern California, Warren played varsity basketball. He won his first trophy in the Southern California speed ice skating championships, directed the card stunts at Trojan football games, and stepped up his pursuit of big waves and deep powder snow.
As World War II intervened, Warren enrolled in the officer's training program at USC, worked his way up to company commander and ensign, and successfully published his first cartoon book, The Navy Goes to College. When a typhoon sank Sub-chaser 521 off Guadalcanal, Ensign Miller helped the captain hatch the plan that led to the dramatic but safe evacuation of the crew.
After befriending a Navy WAVE, Warren concocted a method to spend his end-of-war Navy days at Yosemite's Badger Pass. He bought a Bell and Howell 8-mm camera for $77 with his mustering out pay, and he got his first sustained ski and filming experience during the winter of 1946, with his ski bum buddy Ward Baker at his side. The hook was set.
From there the two embarked on a multi-season ski bum odyssey in Warren's 1936 Buick Phaeton, towing the now-famous "teardrop" trailer from Yosemite to Alta to Sun Valley, Jackson, Aspen, and Mammoth. Their parking lot lifestyle included eating oatmeal cooked with frozen milk on his Coleman stove; shooting ducks and rabbits for dinner; scamming lift tickets; dining on-mountain with "Miss Nicelunchowski" (Warren's recipe for tomato bisque: just add hot water to ketchup and sneak as may oyster crackers into your mouth as you can); and winning premier ski races as members of the Sun Valley Parking Lot Ski Team. Warren and Ward's adventures defined the ski bum genre and provided a handbook for future generations to follow.
"In the Sun Valley parking lot, I liked the smell of rabbit frying above the totally silent evening. At the same time, I could look up and see the constellation of Orion high in the black canopy of winter nights. No one ever had it as good as I did then, except Ward Baker, who was cooking the rabbit for us at the time."
Once exposed to the Sun Valley high life, which also included dalliances with a lengthy list of cultured high-society girls, Warren wasn't quite ready for a 9-to-5 office job, and the standard 2.5 children plus a mortgage. Instead, he created his own career as the world's foremost ski filmmaker. He spent the next several decades on the road 175 days a year, either filming in exotic locales or making personal appearances from Pasadena to Pittsburgh to show his movie.
"I had absolutely no training whatsoever in motion picture production, no idea of how to go from my 37 exposed, one-hundred-foot rolls sitting in their cans and end up with a final hour-and-a-half feature ski show on two 45-minute reels. I edited the film by blundering along."
When Warren ventured out to market his film, he was turned down by nine ski clubs; most of them said he needed to replace his own voice with that of a professional narrator, but he couldn't afford to hire one. "The tenth club where I showed the film was the Ski Club Alpine, a bunch of Southern California ski racers, the leading ski club in that part of the world at the time, and they said, 'Let's do it!' The audience laughed at my stories, not just polite laughs, but amazingly loud belly-laughs. The film really worked, even though I had no script other than the one that was lodged in my brain."
That inaugural showing of Deep and Light in a Pasadena theater on a Friday night in the fall of 1950 began Warren's life-long journey. He went surfing on Sunday, and the next day was back pounding nails for $2.25 an hour. It was then he realized he would have to make ski film No. 2.
It was never easy, and there were frequent obstacles along the way. In 1953, with the film company on the verge of a glimmer of showing a profit, he was very happily married and the proud father of an 18-month-old son, Scott. Then his wife Jean, a dedicated partner, avid skier and model, died of spinal cancer. Within a few months, Warren lost most of his hair and gained 35 pounds.
In 1957, he married Dorothy Roberts. They had a son and daughter, Kurt and Chris, to join Scott. Warren ultimately married five times: however, his final one lasted more than 30 years -- twice as long as all the previous four marriages combined! He felt he hit it right when he married Laurie.
Warren's fledgling ski film grew in popularity and reach in the late 1950s. As a filmmaker, he annually traveled abroad to film Europe's best resorts, and his films chronicled the rise of skiing in North America. When the Jantzen sportswear company recruited spokesmen in 1957 to represent the brand in national ad campaigns, Warren joined Bob Cousy, Bud Palmer, Frank Gifford, and Ken Venturi on the promotional team. Meanwhile, Warren branched out to produce dozens of outdoor, action-oriented films, including chronicling an ill-fated expedition to boat UP the Colorado River through the Grand Canyon.
By the early 1960s, Warren's film company was gaining even more steam. He added staff and moved into a new headquarters in Hermosa Beach, CA. His films helped to attract hundreds of thousands of people to skiing in its boom years, while some 500 new ski resorts opened in the U.S. from the1950s through the 1970s. Warren produced promotional films for a long list of resorts, including Vail and Telluride in Colorado; Sun Valley, Idaho; Snowbird, Utah; Alpental, Washington; and Sugarbush, Vermont.
Warren demanded that his films both entertain and inform his fans, and he insisted on telling the truth as he saw it. That sometimes got him in hot water. During a poor New England winter in the late 1960s, and while making an appearance on "Good Morning America," Warren recommended that skiers go West to find good snow. This led to several Eastern resorts banning him from their parking lots forever.
Meanwhile, the film company carried the banner of skiing to countries around the world, including Russia, Israel, and China. Warren's right hand man, Don Brolin, captured the first ski images behind the Iron Curtain in the early 1970s. When he returned from filming at the Russian National Alpine Ski Championships, he found 23 letters buried in his luggage. They were hidden there by Russians who hoped he would mail them to their relatives in the U.S. to let them know they were still alive. When the company filmed at a ski resort in Israel, artillery fire boomed in the background. If there was snow to ski on, the Warren Miller crew managed to get there.
In 1986, Warren brought on acclaimed rock music promoter Terry Bassett as his partner, and he began to think about toning down his 16-hour work days and hectic travel schedule. In 1989, he sold the film company to his son Kurt Miller and his partner Peter Speek. Kurt Miller and Speek sold the film company in 2001 to Time Inc., which had recently acquired SKI and Skiing magazines. Warren's involvement in the film company ended in 2004, but he did return to appear in the film in 2016 to coincide with the publication of his autobiography.
On a cold, windy day at Sun Valley in the Warming Hut lodge atop Badly Mountain, Miller bumped into Laurie Penketh Kaufmann. It was a chance meeting that would shape the remainder of his years. "I had no idea that Dec. 27, 1984, would change my life for the better, forever," Miller recalled. Laurie become his staunch supporter, partner, and his wife (they married on March 9, 1988). She also introduced him to the San Juan Islands in Washington, where the two built a home on Orcas Island and have lived and boated from for the past 26 years. In 2002, Warren led the effort to build on Orcas Island what would become one of the world's foremost skateboard parks.
Warren and Laurie Miller bought a home in Vail in 1987, and Warren began to ease up on his busy workload, ramp up his powder days, and make a series of strong, lasting friendships. He also began to concentrate on his writing, producing a weekly column that was published in newspapers around ski country, accumulating roughly 1200 columns.
In 1998, the Millers rolled the dice on a fledgling private ski and golf club in Big Sky, MT, called the Yellowstone Club, where Warren became the director of skiing ("whatever that is" he would say). The two helped support the club through the good and bad times, and the club is now flourishing with an A-list of members. Warren is credited with serving as its "moral compass" through its growth, and Laurie was dubbed the "Queen Mum". The Millers built a slope-side home above the base area, which is anchored by the 140,000-square-foot Warren Miller Lodge. For the next 19 years, they spent four months of each winter in Montana and the rest of the year on Orcas Island.
In 2010, the Ophir School in Big Sky converted one of its gymnasiums into a state of the art theater and named it The Warren Miller Performing Arts Center, a legacy of which Warren was very proud.
Among the dozens of honors Warren accumulated over his career, he was inducted into the U.S. Ski Hall of Fame in 1978, and a decade later was the recipient of the prestigious AT&T Skiing Award for contributions to the sport. He was elected to SKI Magazine's Ski Business Hall of Fame in 1987, inducted into the Colorado Ski Hall of Fame in 1995, and awarded Lifetime Achievement Awards from the International Skiing History Association in 2004 and from the California Ski Industry Association in 2008.
His filming exploits, which began when there were only a handful of resorts in the U.S., provide a timeline of skiing's ascent and evolution. Starting with Emille Allais and the French Technique at Squaw Valley and moving through the legends: Otto Lang, Hannes Schneider, and Stein Eriksen performing one of the first somersaults on skis on film; Jimmie Heuga, Billy Kidd, and circling the globe for a 13-part TV series with Jean-Claude Killy and Leo Lacroix; Jeff Jobe hangliding off the top of Baldy in Sun Valley; Mike Wiegele heli-skiing; Wayne Wong twisting and twirling; and Scot Schmidt starting the extreme version of the sport with Warren there to share his incredible ability with the world on film.
Through the years, luminaries in business, politics, entertainment, and sports migrated to Warren, to his camera, and to his persona. He rubbed elbows with Gary Cooper and Ernest Hemingway in Sun Valley. He once "borrowed" the Colt revolvers from the Shah of Iran's bodyguards while they were lunching at the Roundhouse. His subjects ranged from the Kennedys to Marshall Tito to Robert Redford. Along with his good friend Jack Kemp, he fixed Israeli Prime Minister Benjamin Netanyahu's bad back with an impromptu rubdown on a lodge lunch table. He regularly promoted skiing through appearances on "Good Morning America" and with Johnny Carson, and he gave Dan Quayle ski fashion tips. Before anyone knew who they were, he befriended future ski industry titans from Klaus Obermeyer to Dave McCoy, Howard Head, the Bogners, Everett Kircher, Bill Janss, and Pete Seibert.
Regrets through the years? Warren revealed plenty in his autobiography, from his lack of formal business training to his own parenting.
"I never took any business courses because I thought I'd never own a business, and I never took any accounting courses because I knew I'd never have enough money to need to account for it. As a result, in those two very important disciplines, I was way beyond bankruptcy several times during my career, but too naive to know it. It is always easy to second guess what you should have done but you didn't, and you can't change that even though you wish that you could."
All the road trips, long hours and sacrifices dedicated to the feature film were worth it when he walked out on the stage. "Today, so many years later, people still stop to tell me how they grew up watching my ski films. The ski season did not start until the local ski club or ski shop rented the latest film for its town. They will tell me how I used to walk out on the stage and introduce the film in their city, and they can remember the sound of my voice and seeing my bald head shining from the corner of the stage. I'm lucky they remembered it: they all helped support my lifestyle!"
As Warren might say: "I'll see you same time, same place next year, only I'll be watching from a different mountaintop."
Share This Article