Vlhova Wins World Cup Giant Slalom Race In Semmering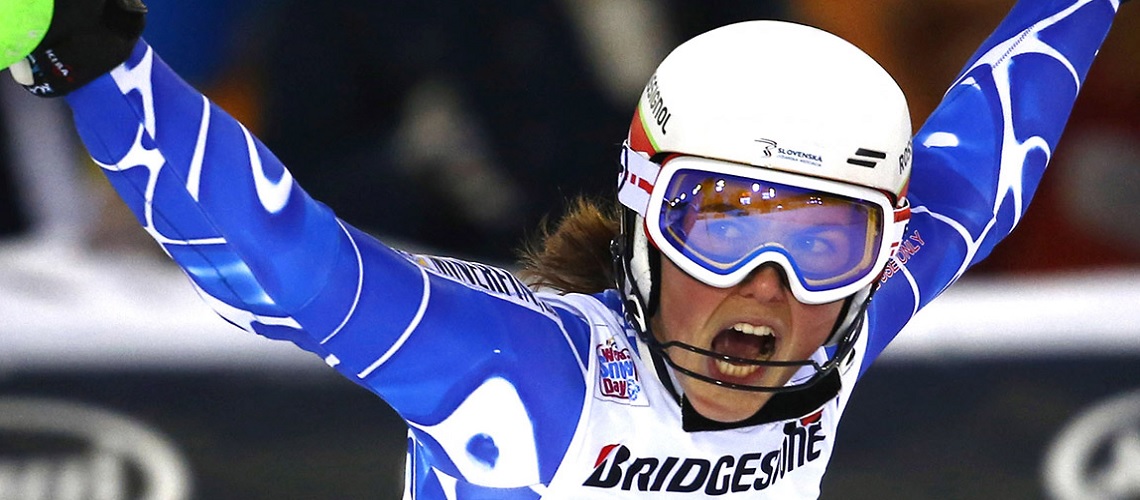 Petra Vlhova wrote history for Slovakia on Friday by winning the Audi FIS Ski World Cup giant slalom race in Semmering (AUT) as an underdog for the victory. It was the first World Cup podium and win in giant slalom for a skier from Slovakia, male or female, and fans traveled from nearby Bratislava to cheer on Vlhova. It was also the first podium and victory in giant slalom for the skier who regularly challenges for wins in slalom.
Prior to today's commanding victory, Vlhova had never finished better than seventh in a World Cup giant slalom. She came down almost a half a second ahead of Germany's Viktoria Rebensburg, and no one could catch her. Just three-hundredths separated the top three after the first run, and 18 hundredths the top six. Vlhova put her foot on the gas pedal and went "full gas" second run to take the victory.
Vlhova was noticeably emotional after the win which she secured only by moving up from fourth place after the first run to claim the victory. Another powerful move came from Viktoria Rebensburg of Germany who pushed from 10th position into second place with the fastest second-run time of the day. Tessa Worley of France joined the trio to round out the podium in third after sitting in seventh position after the first run.
First-run leaders Mikaela Shiffrin, Stephanie Brunner, and Ragnhild Mowinckel (who sat within 0.03 seconds of each other after the first run) had to settle for fifth, fourth, and ninth places, respectively, after their second runs were finished. The Austrian team still had a strong showing for the home crowd by placing five athletes in the top 15.
Shiffrin finished fifth on a balmy day featuring soft and sugary snow gaining more valuable points in the overall chase.
Shiffrin now sits even prettier in first in the overall battle, with 934 points - almost double that of Vlhova in second, with 488 points. Vlhova and Shiffrin have been battling on the mountain all season, but it normally happens in slalom. When asked if she would look for revenge in tomorrow's slalom, Shiffrin replied thoughtfully, "I try not to ski for revenge, because it's a tricky balance for me. It's better to ski for inspiration."
Today was just not Shiffrin's day, though it wasn't a noticeable mistake that got her. "I think sometimes the biggest mistake you can make is pushing the wrong way," Shiffrin reflected on her skiing. "It's not a mistake that's obvious to the eye, but you can kind of feel it - with every turn you're just losing a little bit of speed because your skis aren't coming around quite as fast so you can't carry the speed."
Despite her disappointment, Shiffrin - the sportswoman she is - gave props to Vlhova for her impressive skiing. "The way that she's been skiing, and the way she skied at Killington, I could see it already," she said. "She's was having some really, really good turns. I was more surprised by Courchevel, but even then she was right there. That's super cool. Congratulations."
AJ Hurt (Squaw Valley, Calif.) and Nina O'Brien (San Francisco, Calif.) both DNFd in the first run. Action continues in Semmering with a slalom on Saturday, where Shiffrin will go for her 15th win in the calendar year, as well as her 36th slalom victory - both World Cup records.
Share This Article