Upcoming Events: Slopestyle Contest, Safety Day & Mascot Day At Pats Peak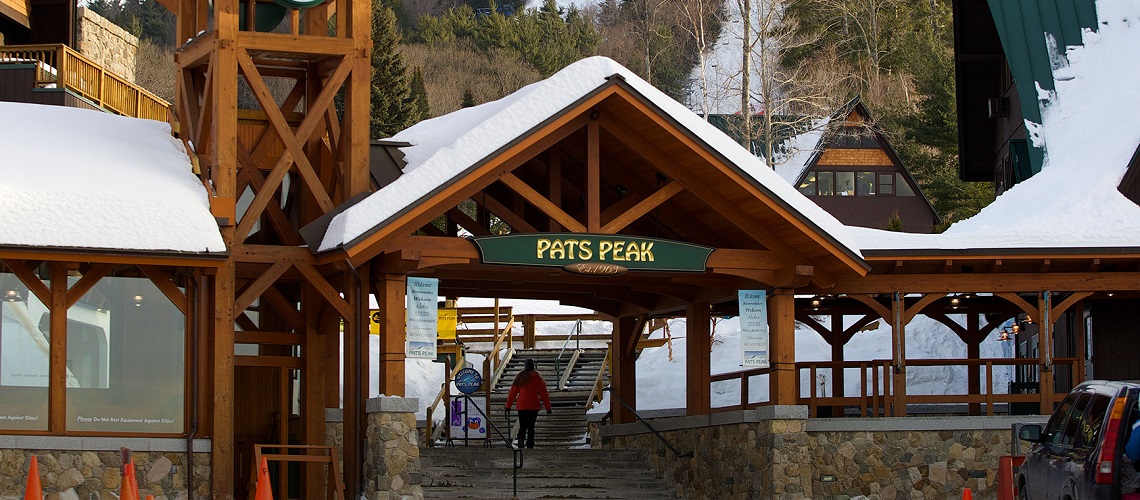 Pats Peak announces the weekend line up of special events on the weekend of Saturday & Sunday, January 25 & 26, 2020.
The S&DUB Board Shop Slopestyle Contest, sponsored by S&W Sports and Pats Peak, is on Saturday, January 25, 2020. The slopestyle contest will take place in Turbulence Park starting at 12:30pm. Registration is from 9:30am to 11:30am outside the Valley Lodge. To enter the contest, participants must purchase at least a Valley Lift Ticket or have a Pats Peak Season Pass. All participants must sign a release of liability form, ages 17 years old and under need a parent to sign a parental consent. There are five divisions: Snowboard Divisions: Men 15+; Men 14 & Under; Skier Division: Men 15+; Men 14 & Under; Women Division: Open. There are prizes awarded to the top winners in each category
"The slopestyle contest is a great time for park skiers and snowboarders to come out and show us what they've been practicing. It's always a fun day to hang out in the park and see how much skiers and riders enjoy our terrain park, says Ryan Gorman, Pats Peak Terrain Park Manager.
Also on Saturday, January 25th, Pats Peak will be celebrating National Safety Awareness Month, sponsored by the National Ski Areas Association. The National Ski Patrol will have safety information under a tent out on the snow. There will be a Kids Poster Coloring Contest in the Main Lodge on Saturday, 1/25 & Sunday, 1/26 from 10am-2pm. Prizes, provided by Ski NH, will be awarded to top winners. They will also submitted to NSAA for the national contest.
"Safety is a number one priority for our guests. This day gives us an opportunity to remind guests about ways to be safe and responsible on the mountain," says Pats Peak Ski Patrol Director, Stef Costello.
Mascot Day is on Sunday, January 26, 2020. Nearly 30 mascots from around the state will be at Pats Peak starting at 10am. Mascots will be roaming around the mountain and available for photos throughout the day. There will be a Mascot "Dance-off" and Congo Line starting at 1pm in the base area. Look for these Mascots around the mountain (subject to changes): Snow Ball - Pats Peak; Boris the Bear - Pats Peak; Super Saver - St Mary's Bank; Fungo - NH Fisher Cats; Oakie – Oakhurst Dairy; Marie the Kitten – Aristocrats; Hawk - Hopkinton High School; Rocky the Raven - Franklin Pierce University; Elmo; Milo the Moose - NH Motor Speedway; Smokey the Bear - NH Forests and Lands; Ready the Prepared Puppy - Department of Homeland Security; Cuppy - Dunkin Donuts; Turtle - Turtle Fur; Gurt - Stonyfield Organic; Pizza Guy - Rick and Diane's Pizza; The Chicken - Shaws Hillsboro; Minions; Investi"GATOR" - NH Liquor Commission; Finnie The Shark - Sky Venture NH; Gnartz – UNH; Clifford The Big Red Dog; Zeus The Goose - Sunapee Schools; and more.
"Everyone loves seeing all these different mascots at the mountain. It's a fun day for families to meet the mascots, take photos with them and cheer them on in the fashion show," said Jim Wall, Events Director.
Share This Article