The Kooks Set To Rock The French Alps, As Morzine Gears Up For An Eclectic Calendar Of Winter Events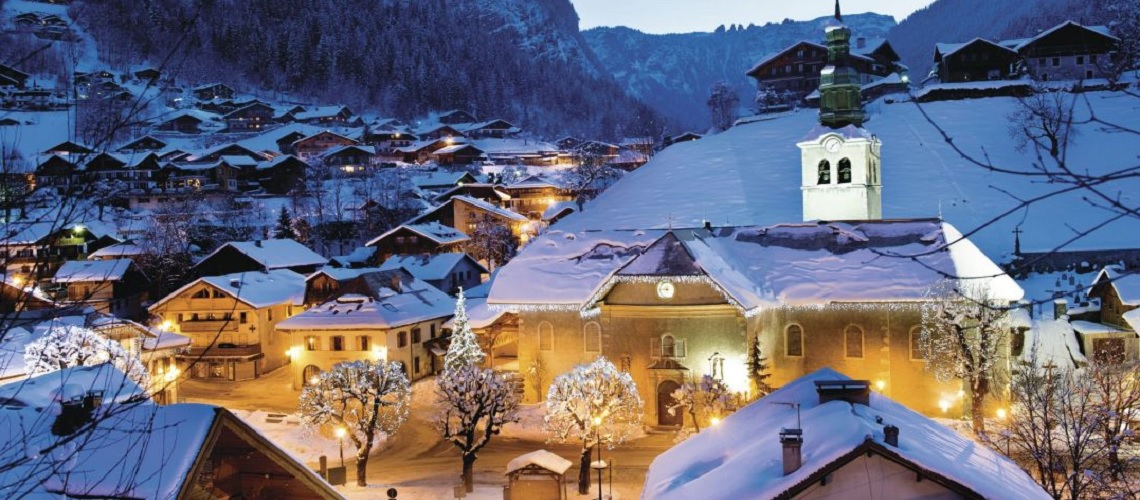 Situated in the French Alps, the beautiful resort of Morzine has long been a favourite for British winter holidaymakers, thanks to the world-class ski conditions and a vibrant food and nightlife scene. Boasting a great range of quality accommodation and a rich cultural offering, the village makes for the perfect base for those wanting to explore the whole Portes du Soleil ski region, with its 600km of slopes across 190 lifts. Morzine also has a reputation for excellence when it comes to events, with an impressive and varied year-round programme that caters to a wide range of tastes and budgets. This winter, The Kooks will top Morzine's stellar live music calendar, when they headline the renowned Rock the Pistes festival. But whether seeking festive flavour, high-octane sports competitions or gastronomy themed events, Morzine is guaranteed to impress this season. We pick our favourites not to be missed:
During the Christmas period Morzine will be transformed into a fairy tale like scene, with its delightful streets glowing in festive colours each evening. To celebrate the season, a special series of events called Morzine Enchanted Village will be laid on from 21 December - 4 January, kicking off with the illumination of a spectacular Christmas tree and star in the village centre. The programme will include street parades, firework displays, face painting, live DJ's, festive workshops for kids and adults and the much-anticipated arrival of Father Christmas.
Morzine Enchanted Village
Michael O'Hare is the chef-patron of the Michelin Starred restaurant The Man Behind The Curtain in Leeds, and he has teamed up with Treeline Chalets to host a unique gastronomy event in Morzine 5-7 January 2020. The exclusive long weekend-away, which is returning for its second edition, is called Morzine 2.0 and will take place at the beautifully designed Chalet Doyen, where guests will enjoy three incredible evening meals over three days alongside the opportunity to ski and board the mountains of Morzine. During the course of the trip, Michael will be joined by three other celebrated chefs - Gareth Ward, Tom Halpin and Matt Orlando, who will bring a variety cooking styles and a fusion of delicious flavours. Priced at £1,800 pp, tickets are inclusive of three nights dinner, bed and breakfast as well as all beverages including Krug Champagne and wine pairings.
The European Cup for Women's Alpine Skiing will take place in Morzine 29-30 January 2020, the competition is the gateway to the World Cup, with established competitors racing alongside new talent. The village, which has a long history of hosting prestigious ski competitions, will welcome some of the Europe's best women skiers, when the contenders on the FIS circuit will compete on the Pléney piste. The slalom finish line is in the heart of Morzine, allowing spectators to get up close and personal with all the action.
MorzineTakes Care of You is a dedicated wellness-week, scheduled for 9-14 March 2020. Providing holidaymakers with the opportunity to rest, recharge and reboot, the programme consists of a range of yoga, massage, spa and well-being activities and workshops that will take place at a variety of locations throughout the picturesque village. Offering serenity in the heart of the mountains, the six-day event is all about disconnecting from the pressures of modern life and reconnecting with nature.
Morzine is preparing for the tenth edition of Rock the Pistes, the original music festival in the mountains and the only event of its kind with concerts on the slopes, featuring performances at an altitude of between 1,600m and 1,950m. The Kooks, Skip the Use, Naïve New Beaters, Deluxe and IAM are already confirmed to play, with more than 28,000 music fans expected to descend on Morzine and its neighbouring villages 15-21 March 2020. The largest music festival in the Alps will comprise five live concerts and more than 30 après-ski concerts across multiple resorts, with Morzine making the perfect base for those wanting to rock out all week. Past acts have included Rag'n'Bone Man, the Klaxons and Pete Doherty, with this year's remaining line-up being being hotly anticipated. Festivalgoers can literally ski from one performance to the next, and with entry to the concerts free to lift pass holders, revellers can enjoy the freedom to party where they please.
Ice Hockey is a way of life for many in the Alps, and no more so than in Morzine. Holidaymakers can check at all the action at the Skoda Arena in the village centre, where the Morzine-Avoriaz Hockey club play competitive and friendly matches throughout the year. Players normally take to the ice at about 8pm and matches are made up of three periods that last 20 minutes each with breaks between, allowing fans time to hit the onsite bar. A great evening out for the family, tickets are usually priced at no more than €10 per adult and €6 for children. This winter, home games will be played on 7 and 14 December, 4 and 8 January, and 8 February.
What else is new in Morzine?
Accommodation news:AliKats Mountain Holidays has launched a brand-new Eco Package for guests staying at their catered chalets in Morzine, allowing skiers and snowboarders to make the most of the mountains with the least amount of environmental impact. Offering 14 stunning chalets throughout the village, those booking the Eco Package will benefit from a 10% discount on the total cost of stay, a free transfer from Geneva or Cluses and discounts on non-ski activities. To qualify for the package, guests must travel by train, choose not to have a daily towel wash and opt for a delicious vegetarian menu. The Eco Package is the latest initiative from company owners Al and Kat Judge, who are passionate about preserving Morzine's beautiful environment. Their staff drive an electric car, they use a 100% renewable energy provider and even make their own batches of natural yogurts, eliminating the need for plastic pots.
Snowboarding News: At Morzine's MINT Snowboarding School, youngsters and their parents can join like-minded holidaymakers at an inspirational camp for beginners, complete with expert coaching, superb chalet accommodation and family friendly dining. Equipping kids and adults alike with the skills to enjoy a lifelong snowboarding adventure, the company offer an all-inclusive package, which comprises delicious home cooked meals and a sublime choice of wines. Weeklong courses are priced start from just €610 pp, with availability 5-12 of April 2020 and 12-19 of April 2020.
Share This Article