Spyder Licences Footwear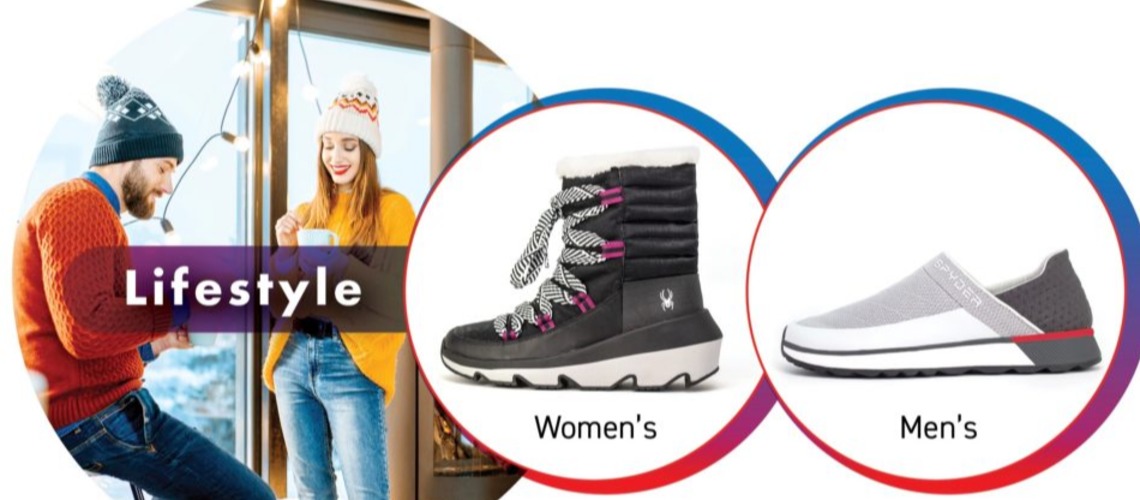 Spyder, one of the world's most recognizable active lifestyle brands, has partnered with Footwear Unlimited, a full-service company that designs, manufactures, and distributes footwear. Spyder is owned by Authentic Brands Group (ABG), a global brand development, marketing and entertainment company.
Footwear Unlimited is a full-service, employee-owned company that designs, manufactures, and distributes footwear. Footwear Unlimited is a trusted partner with retailers throughout the U.S. with a shared success built on providing quality and comfort at a superior value.
Pioneering innovation and technology in the ski and performance categories, Spyder is a highly sought-after brand on and off the mountain. Spyder now expands its lifestyle assortment with the launch of footwear, rounding out its head-to-toe offerings for men and women. The new collection fuses elements of performance, function and fashion with key models including outdoor, hike, trail, Après Ski, and lifestyle in fresh, trend-setting colorways with technical details for ultimate performance and comfort.
"The launch of Spyder footwear in partnership with Footwear Unlimited expands the brand's year-round essentials for active consumers and presents an opportunity to gain a larger market-share," said Wesley Chu, Senior Vice President, Sports, Street and Active at ABG. "This new line draws inspiration from Spyder's core offerings, which are rooted in snow sports and introduces styles for hiking, training and every day."
"We're thrilled to partner with Spyder, an iconic ski brand. The Spyder offerings tap into the consumer behavior shift as the outdoor lifestyle continues to grow," said Angel Ilagan, General Manager and Executive Vice President of Active, Sport and Outdoor at Footwear Unlimited. "We worked alongside our expert design team and world-leading technical material suppliers and manufacturers to create a collection of footwear that authentically embodies the performance heritage and DNA of Spyder while supporting the active lifestyle of the modern consumer."
The new Spyder footwear collection, which will range from $90 – $300 USD will be available at select specialty retailers, department stores and on Spyder.com in Fall 2021.
Share This Article