Sports Basement In Orange County To Host Snow Grand Opening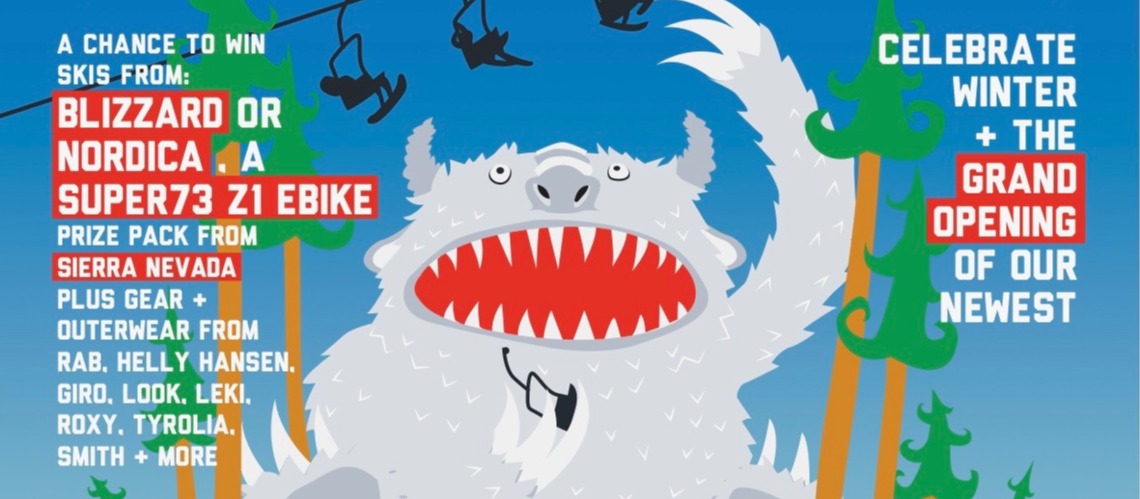 Local sporting goods retailer Sports Basement has opened their newest store in Fountain Valley in the former Fry's building; an 80,000 square-foot building off the 405 Freeway. Sports Basement has eleven other stores all located in Northern California. This Orange County store is their twelfth store, and their first one located in Southern California.
Sports Basement has made a name for themselves in Northern California, where their stores are known for their massive selections of outdoor gear including ski and snowboard gear, mountain, road and e-bikes, running shoes, surf and paddle gear, camping equipment, fitness apparel, and sporting goods. The Orange County location also offers a large fleet of ski and snowboard rentals, bike rentals, surf rentals and more, as well as full-service bike and snow shops complemented by a state-of-the-art Wintersteiger ski-tuning machine.
They're also known for their community involvement: they offer event spaces that are free to book, host run clubs, fitness classes, movie screenings, fundraisers, and even birthday parties. Their Basementeer loyalty program takes their community focus even further, offering members 10% off every purchase and giving 10% of profits back to local nonprofits and schools. There is usually a one-time $25 fee to join, but for a limited time Orange County customers will be able to sign up for free.
"Sports Basement becomes a kind of third place for a lot of people," says Regional Director Eden Slezin, "You've got home, work and Sports Basement. It's a cool experience. People come back, sometimes weekly, just to see what's happening here. We always want to make sure everyone feels welcome here. Visiting Sports Basement feels like visiting your favorite neighbor, who just happens to have a ton of outdoor gear that you're gonna want to play with."
Their Grand Snowpening festival is scheduled for Saturday, Dec. 3 and will be a celebration of the snow season and their entrance into the Orange County community. It will feature vendors from across the snow industry, deals on lift tickets, giveaways, donation-based beer, food trucks, a DJ and great deals on products throughout the store. Raffle prizes that will be given away include a Super73 electric bike, snowboard, skis, outerwear and so much more!
More information can be found here:
https://www.eventbrite.com/e/grand-snowpening-at-sports-basement-orange-county-tickets-441 757818527
Share This Article