Snowfest Innsbruck Celebrates The Variety Of Winter Sports From November 24th – 26th, 2023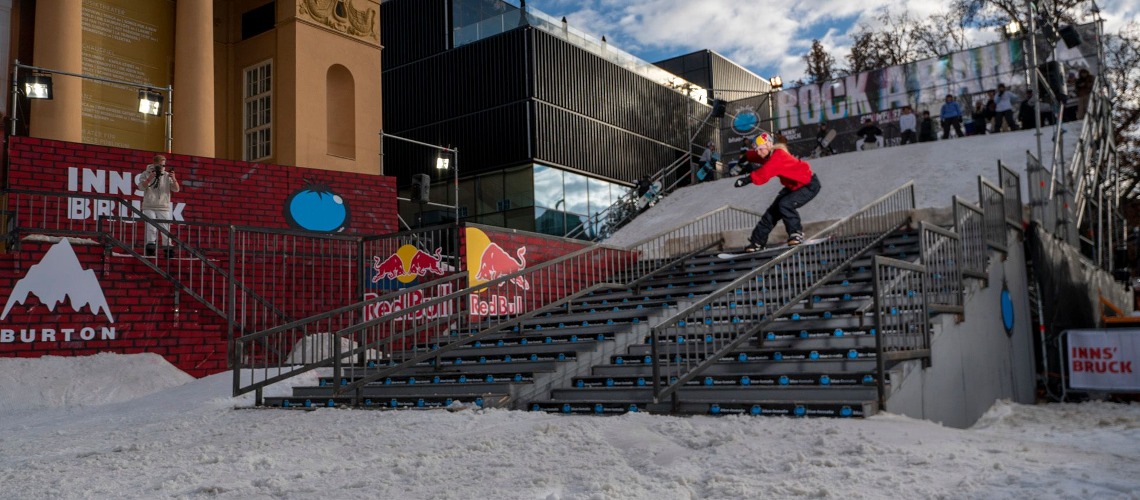 Everything is ready for the 2nd edition of the SnowFest Innsbruck, which will take place from November 24th to 26th, 2023 in front of Tiroler Landestheater. For three days spotlights are on freestyle action and winter sports in all its facets. The Winter Sports Village attracts with Tyrolian clubs and associations that introduce their sports. A meeting place for all generations and families. Snowboarder and freeskiers will unpack their tricks on the snow ramp for the Rock A Rail (Friday) and the DownTown StreetSki contest (Saturday). Free entrance.
FREESTYLE ACTION – On Friday the snowboarders are in the spotlight at Rock A Rail, on Saturday the freeskies take over to showcase their most creative tricks at the DownTown StreetSki contest. The 37 m long, 17 m wide and over 10 m high scaffolding with a unique urban setup is located directly in front of the theater. Progressive rail features provide a creative playground for freestylers from all over the world. The best jibbers on one and two boards mix with Olympic & World champions, including all of last year's winners: Austria's Olympic Champion Anna Gasser, Rock A Rail series winner Benny Milam, USA (snowboard) and Ryan Stevenson, USA (freeski). They and many more riders will delight the audience.

A big milestone is coming up for Rock A Rail in 2023 with the 10th anniversary edition at SnowFest The Hague (December 8th – 10th, 2023), the final stop of the tour. This is where the Rock A Rail success story began in 2011. Over the years, the event has transformed from a local rail jam into an international in-city snowboard contest with thousands of fans. Rock A Rail stands for top-class street snowboarding with innovative rails and features and creative riding. 10 years of Rock A Rail – a real milestone, which is also reflected in the set-up, which was revised in 2023 to mark the anniversary.
WINTER SPPORTS FOR EVERYONE – The heart of the SnowFest is the Winter Sports Village for all sports enthusiasts and interested parties. Get to know the colorful variety of winter sports, find out more and, above all, try it out directly. Whether its ski jumping on the K1 jump, the little ones' first attempts on a snowboard with the Burton Riglet program, tackling a downhill run on the simulator or getting to know the ice hockey stars of HC Innsbruck. The Winter Sports Village 2023 offers this and much more from Friday to Sunday.
OPEN RAMP – Sunday offers a special treat for all young freestyler talents who dare to hit the ramp. Remodeled overnight with beginner-friendly features, the ramp is made accessible to everyone. Under the supervision of coaches.
DATES 2023
November 24 – 26, 2023 SnowFest Innsbruck (AUT) with Rock A Rail & DownTown StreetSki
December 08 – 10, 2023 SnowFest Den Haag (NED) with Rock A Rail & DownTown StreetSki
Share This Article