Snowbasin Announces Winter Enhancements And Safety Measures For 20-21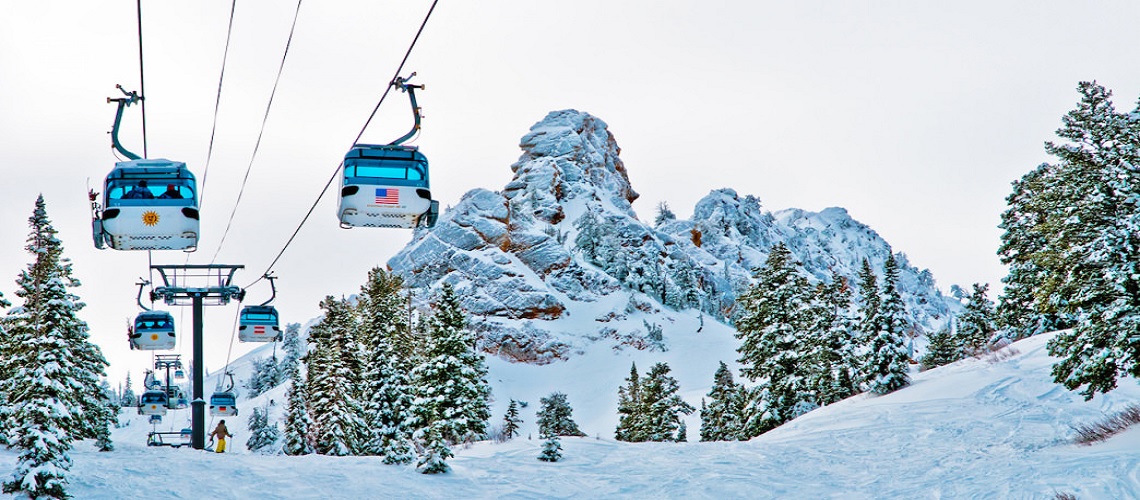 In a letter from the Vice President & General Manager of Snowbasin Resort, Davy Ratchford says:
Dear Valued Pass Holders & Guests,
As the days become shorter and the temperature drops I like you, get excited for winter. It's hard to believe it's been six months since we closed Snowbasin early due to COVID-19. Amid these challenges and uncertainty, this year our focus on the health and safety of our resort team, pass holders and guests is paramount, as is your on-mountain experience. As a result, we've worked long and hard to formulate a plan to ensure that you and your family are able to enjoy much needed time in the mountains, with the knowledge that we have created as safe of an environment as possible.
As we head into the 2020-21 winter season, I am pleased to share with you our enhancements and adjustments to ensure the health and wellbeing of our guests, our employees and our mountain communities.
Primarily, we will not be implementing a reservation requirement for our Snowbasin season pass holders. Instead, our aim will be to mitigate large gatherings in bottleneck areas, including lodges, the base area and lifts.
To ensure a positive and safe ski experience we will carefully monitor volume during peak periods. During some holidays and weekends, we may need to implement overall volume restrictions. We don't expect this to happen often, but we want to be prepared to restrict numbers if necessary. This will first include reducing the ability to purchase lift tickets, followed by capping access to the resort for guests. If that occurs, pass holders and guests will be alerted at snowbasin.com, and through our Snowbasin Alerts Twitter account as quickly as possible.
Our team has worked extremely hard to provide even more ways to distance on our expansive 3,000-acre mountain. I'm pleased to announce the following enhancements for the 2020-21 season:
• Needles Lodge: Improvements were made at Needles Lodge this summer with the addition of 'The Overlook,' a new full-service bar with panoramic views from 8,700 feet and renovations to the lodge servery to improve speed and flow.
• Slopeside Dining: New ski-up outdoor dining restaurants are opening on the mountain to provide faster options that don't require entering a lodge or visiting the base area. Guests can purchase food or drinks at the window, with outdoor seating added in those areas.
• Yurts & Warming Huts: We're adding new yurts at the base of Middle Bowl to provide an area for guest to rest and warm-up, remote from any resort lodge. Additionally, we've added a yurt to the base area to provide faster season pass and ticket pickup without entering Earl's Lodge.
In addition to these enhancements, we are implementing additional safety measures for the season. Subject to change based on current conditions and guidance from our local leaders and health officials, we plan to do the following:
Gondolas, Lifts & Tram To maintain physical distancing, Snowbasin will be loading familiar groups and families on Needles and Strawberry Gondolas.
Chairlifts will be loaded to design capacity for familiar groups and families. Singles will be loaded as such at pre-determined intervals to maximize physical distancing.
The Allen Peak Tram will be loaded to a capacity not to exceed six guests per tram car.
For all lifts, line configurations will be constructed to ensure space between parties and physical distancing measures will be in place. Social distancing will be required in the lift lines. Guests should anticipate the potential for longer wait times, especially during holiday periods and weekends, but we hope that all will appreciate the extra diligence our team is implementing for your overall health, safety and enjoyment.
Lift Tickets All lift tickets must be purchased in advance online, with availability to purchase starting in October. Lift ticket capacity will be reduced during peak periods to avoid congestion, so make sure you buy prior to arriving at the resort to ensure you will ski. We will be providing an option soon for pass holders to reserve buddy vouchers online.
Lodges & Dining We have a high level of cleanliness in our lodges already, but lodges and dining areas will feature enhanced cleaning protocols and have reduced seating capacity to allow for social distancing and table space. We have expanded our grab-and-go menu options for quicker service and there will be a strict 45- minute table limit as well as assigned table seating. We will also be enforcing the health department's guidelines for consumption of personal food items inside our lodges. For table-service dining, The Cinnabar and new Overlook Bar will be requiring reservations.
Bag storage and lost-and-found will no longer be located in Earl's Lodge and will be moved to an outdoor location. Additional restrooms will be added to key locations on mountain to reduce traffic from the lodges.
Parking & Shuttles The Wildcat Parking Lot will be open daily to reduce crowding on Earl's Plaza, with a newly added pick-up and drop-off location. Please remember that there are no skier services or rentals offered from the Wildcat lot and guests that park here must be able to ski directly to lifts or the base area. Guest shuttles will continue to operate with face coverings required and limited capacity on enclosed shuttles.
Lessons & Rentals All lessons and rental equipment must be purchased or reserved in advance, with availability to purchase starting in October. Class sizes for group lessons will be reduced and students are encouraged to move to private lessons for the best experience.
Face Coverings Face coverings will be required in all public spaces for guests and employees. These include but are not limited to; all indoor spaces, outdoor patio spaces, shuttles, warming huts and other temporary facilities, lift queues, gondolas and chairlifts, and when social distancing of six feet or more cannot be consistently maintained. Of course, guests will not be required to wear a face covering while eating or while on trails skiing a safe distance from others.
With these new upgrades and enhancements and the support of our guests to follow these protocols, we believe our plan should allow for a safe and successful ski season. I can readily say that nobody enjoys wearing a face covering and changes to things we are used to is challenging, but we have to do this to get open and stay open. We truly appreciate the support and respect of our new policies, in these unprecedented times, as we strive to create another great year of skiing and riding. I look forward to seeing our loyal pass holders both old and new joining us for a brilliant 80th year on our slopes when we open on Wednesday, November 25th, 2020, weather and conditions permitting.
More information will be coming from the resort with additional details on the upcoming winter season. Please visit www.snowbasin.com for up-to-date information.
Sincerely,
Davy Ratchford Vice President & General Manager Snowbasin Resort
Share This Article