Snow Peak Opens Portland Takibi Restaurant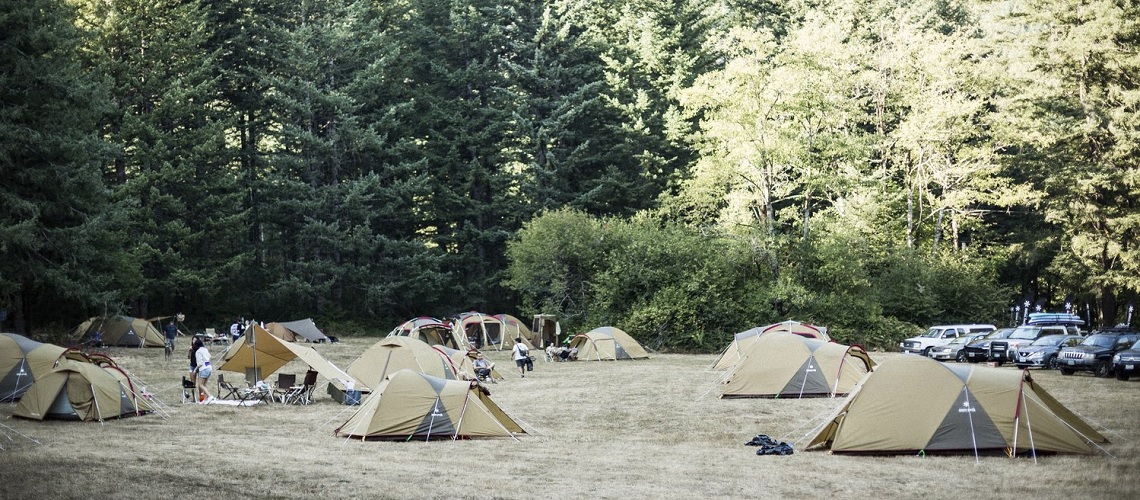 Snow Peak, the Japanese outdoor lifestyle brand, is pleased to announce the opening of Takibi, its much-anticipated culinary partnership with the award-winning Submarine Hospitality group and bartending legend, Jim Meehan. Designed to evoke the feeling of gathering around the fire, forming bonds over a shared meal, Takibi will open its doors today, May 18th, at its NW 23rd Street location adjacent to Snow Peak's US headquarters and retail flagship. Dining service will commence on the restaurant's outdoor patio, which seats 50.
In delaying Takibi's original opening due to the Covid-19 pandemic, Snow Peak was able to fine tune the menu and space, perfecting its concept. Takibi, Japanese for "bonfire", will serve Japanese-inspired cuisine by way of the Pacific Northwest, centered around seasonal cooking on a wood-burning hearth.
"We believe Snow Peak is the foodiest brand in the outdoor industry, and by opening Takibi, we're on our way to becoming the outdoorsiest brand in the hospitality space," said Matt Liddle, Chief Operating Officer at Snow Peak USA. "Many outdoor brands focus on performance or athleticism, but Snow Peak stands for the restorative power of slowing down and connecting with others in nature. The quintessential Snow Peak experience is sharing a thoughtfully prepared meal with friends around the fire. Takibi brings that moment to life in the heart of our new North American Headquarters."
Executive Chef Alex Kim will bring to life the locally-sourced, produce-driven menu featuring seasonal, unique dishes, shifting throughout the year to feature nature's freshest ingredients, bringing the outdoors in. Kim has a decade of experience cooking both in Japan as well as working at the award-winning San Francisco restaurant Rintaro and New York's Kaijitsu.
Takibi's beverage program will be barman Jim Meehan's first in Portland. Best known for opening and operating the James Beard Award-winning bar PDT in New York and a second branch in Hong Kong a decade later, Meehan and rising star bartender Lydia McLuen have curated a local selection of wines, beers, beverages and spirits to mix classic cocktails with Japanese accents. Their Pacific Northwestern focus broadens to include coffee from Proud Mary, Japanese tea from Mizuba, Kettl and Smith, and a concise sake list available by the cup and carafe highlighting Niigata breweries from Snow Peak's home prefecture.
"My family and I moved to Portland, Oregon because we were drawn to the city's proximity to breathtaking nature and farms," said Meehan. "Our first apartment was just a few blocks away from Snow Peak's original US retail store, where I'd browse and dream of building a comfortable campsite for my friends and family to gather under the sun and stars. Seven years later, I've moved closer to that aspiration in partnership with Snow Peak at Takibi. We'll gather guests around an open, wood-fired oven for food from those farms paired with a beverage program I've curated with Lydia McLuen, our bar manager."
Partnering with Portland's Skylab Architecture, the Snow Peak retail flagship, headquarters and restaurant showcases the brand's entire line of Japanese-designed, lifetime-guaranteed products for outdoor living. The restaurant features a bar, open kitchen and a large multi-use patio space. With seating for 75 at capacity, the restaurant's interior decor pulls inspiration from the concept theme of "dwelling outside together." An open-flame hearth from the kitchen warms the wood panelled walls and tile repurposed from within the kiln of famed Heath Ceramics is used throughout the space.
Snow Peak chose Submarine Hospitality, as its partner and collaborator in opening its first restaurant in the US. Submarine helped conceive many of the key elements of Takibi, from its overall food and beverage concept, to restaurant and kitchen design to branding.
Takibi is located at 2275 NW Flanders, and will open May 18th 2021. Reservations can be made via Resy or by visiting the takibipdx.com.
Share This Article