Silvretta Montafon: First Snow Groomer With Diesel-Electric Drive In Vorarlberg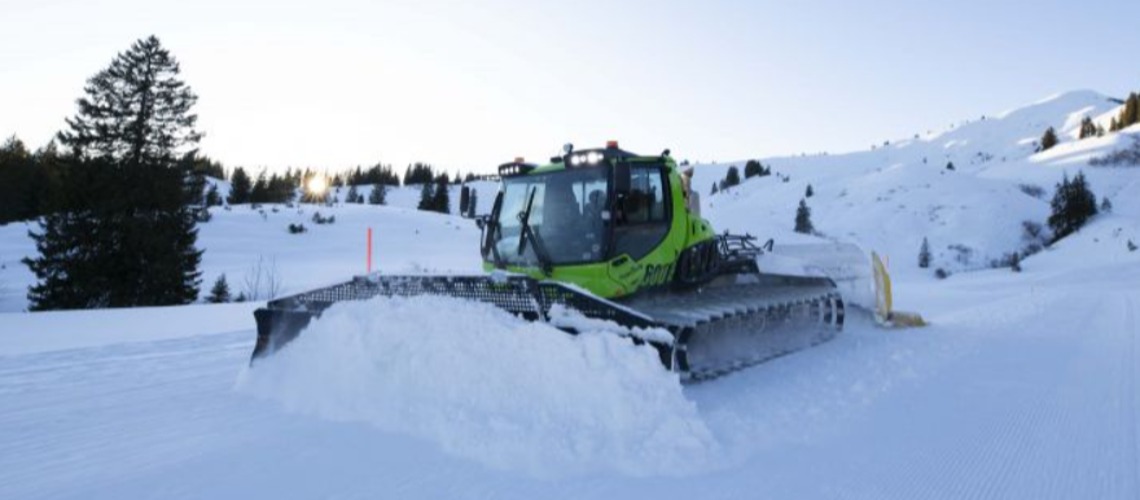 The Silvretta Montafon was the first ski area in Vorarlberg to purchase a piste machine with a diesel-electric drive. The new engine system is to be tested this season and evaluated for its energy efficiency. In addition, the Silvretta Montafon fueled and tested one of its snow groomers with HVO fuel – made from hydrogenated vegetable oils – for the first time in Vorarlberg last winter. Now the tests are continued under more difficult real conditions: in full working conditions on the slopes and at extremely low temperatures.
The Silvretta Montafon is also taking further strategic measures to protect the climate this winter season. The ski area has now acquired the first diesel-electric powered snow groomer in Vorarlberg. The new, bright green diesel-electric PistenBully has a diesel engine and two electric motors. The diesel engine with a standard 520 hp has the task of charging the vehicle's battery, from which the electric motors then draw their energy. "We have had an official test partnership with Kässbohrer for a year to test alternative drive technologies for snow groomers. According to the manufacturer, up to 20 percent of fuel can be saved with the new snow groomer. This season, we want to find out how the diesel-electric engine system actually behaves in practice,"
HVO fuel test results promising
In addition to the diesel-electric drive, the HVO fuel used on a trial basis last winter will also be subjected to an endurance test over the next few weeks. It is tested how an existing PistenBully that is fueled with hydrogenated vegetable oils behaves under full load - i.e. in full use for perfect slope conditions - and in really cold conditions. "The results of the past season are promising. They show that the performance of the snow groomer is unchanged despite the new HVO fuel. Now we want to take the tests one step further. The new findings then flow directly into the development of future PistenBully generations," explains Kilian Zinnecker, Head of the Renewable Energy Working Group at Silvretta Montafon. A particularly big advantage of the HVO fuel is that many engine manufacturers have already given the go-ahead for use in conventional snow groomers. HVO fuel, like winter diesel, can easily replace fossil fuels without requiring any modifications to the vehicle.
Measures as part of the Green Mountains strategy
Both the HVO fuel and the new diesel-electric PistenBully are part of the Silvretta Montafon's Green Mountains initiative. "With the initiative, we are taking responsibility for our environment and want to make our contribution to climate protection. That's why we are constantly expanding Green Mountains with new measures and campaigns," explains Kilian Zinnecker and continues: "We want to be part of the climate solution, that's what we're working on. Environmentally friendly fuels and forms of propulsion are crucial levers here."
Share This Article