Shiffrin Surprise Downhill Podium As Vonn Crashes Out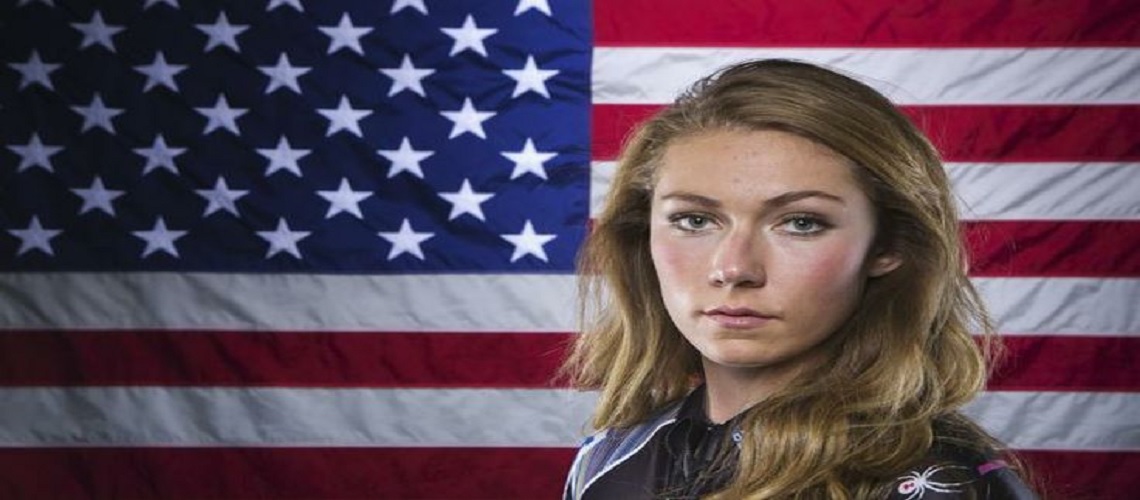 ALPINE Shiffrin Grabs Surprise Downhill Podium As Vonn Crashes Out Surprise performances are nothing new for Mikaela Shiffrin in slalom and giant slalom events. But Friday's third-place finish in the first downhill of the FIS Ski World Cup season just may be the biggest surprise yet in the young career of the defending overall World Cup Champion. Austria's Cornelia Huetter took the win Friday, a career-first World Cup downhill victory and her second career World Cup win. Tina Weirather of Liechtenstein finished second. For Shiffrin, her third-place finish was a career-first podium in a speed event. Lindsey Vonn was well on her way to her 19th Lake Louise World Cup victory after leading at all four intermediate times, but crashed hard into the safety netting near the finish.
Vonn was able to get up and ski to the bottom of the course. With a steady snow falling, Shiffrin came out of the 10th start position and absolutely nailed the lower portion of the Olympic Downhill course to move into the race lead. However, Weirather, starting 13th, nipped her at the line by 0.21 seconds. Huetter, starting 15th, displayed masterful technical skills to best Weirather by 0.09 seconds and take the win.
Jackie Wiles scored her second career World Cup top-five result, finishing fifth. Breezy Johnson matched her career-best World Cup result, finishing 10th, as Stacey Cook was 11th. Alice McKennis was 24th. The women race another downhill Saturday, followed by super-G Sunday at Lake Louise. Weibrecht 21st in Bird of Prey Super G Andrew Weibrecht led the American Downhillers, taking 21st in Friday's super-G. Austria's Vincent Kriechmayr took his first career World Cup victory, while Norway's Kjetil Jansrud was second, followed by Austria's Hannes Reichelt in third. RESULTS Women's Downhill – Lake Louise Men's super-G – Beaver Creek
FREESKI Stratton Mountain School freeskier Mac Forehand qualified fourth in his heat in Friday's World Cup in Moenchengladbach, Germany, right behind Swiss Elisas Ambuehl, the winner of the Milan Big Air World Cup. Forehand finished 10th in the finals.
CROSS COUNTRY U.S. with 14 Starters In Lillehammer The U.S. Ski Team will have 14 starters – seven men, seven women – on the line in a pair of events in Lillehammer. Both will be Olympic selection events. Action opens Saturday with a classic sprint. Sadie Bjornsen was second in a similar event last week in Finland. Sunday is the first skiathlon of the season – mixed technique 7.5k/7.5k for women and 15k/15k for men. In last weekend's classic sprint, both Bjornsen and Sophie Caldwell achieved the top level of Olympic selection criteria. The team will be nominated the week of January 22. "We have excellent conditions and minus temperatures with no predicted snowfall for this weekend," said Head Coach Chris Grover. "The course is in great condition - hard wax skiing tomorrow. The Lillehammer classic sprint has been a challenging one for us in the past, exacerbated by the strength and depth of the Nation's Group here in Norway. The U.S. Ski team is due for a breakthrough in this event and we have a number of athletes who could have a big day on Saturday." Sprint starters include: Andy Newell, Erik Bjornsen and Scott Patterson for men. Simi Hamilton is out with illness. Women will go with Sadie Bjornsen, Sophie Caldwell, Kikkan Randall, Jessie Diggins, Rosie Brennan and Chelsea Holmes.
SKI JUMPING Englund Top American in Lillehammer Friday Nita Englund was 30th Friday on the HS98m hill in Lillehammer to lead the USA. The women jump again Saturday on the HS98 then move up to the HS134m hill on Sunday. For the men, Will Rhoads was 45th Friday in qualifying on the HS134m hill in Nizhny Tagil, Russia, soaring 121 meters. He was the only U.S. qualifier. Events are set or Saturday and Sunday.
NORDIC COMBINED Nordic Combined World Cup Resumes in Lillehammer The FIS Nordic Combined World Cup resumes Saturday with a team event in Lillehammer. Bryan Fletcher, who had a pair of top 20s last weekend, will anchor the U.S. team along with Jasper Good, Ben Berend and brother Taylor Fletcher. An individual event with a 10k cross country is set for Sunday.
Share This Article