Season Finale For World Pro Ski Tour, Killington's Robert Cone Takes The Victory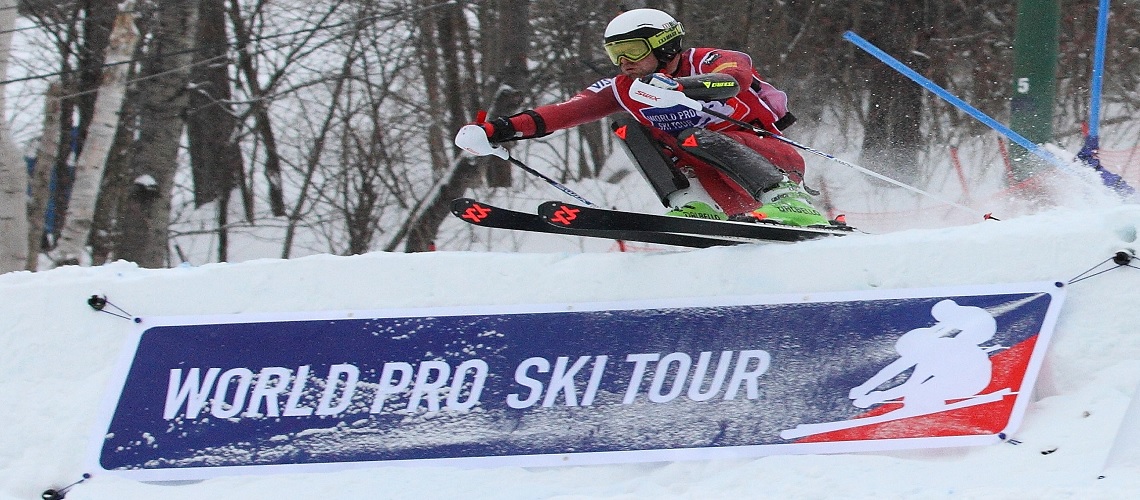 The Maine Office of Tourism hosted the "Visit Maine Pro Ski Championships" finale at Sunday River, Maine for the fourth and final stop of the 2019 World Pro Ski Tour Ski season.
With a crowd of 500 attending the energy was high, cheers were heard up the race course held on Monday Morning run at Sunday River, ME. The Dual Super Slalom winner Robert Cone from Killington, Vermont edged out Tanguy Nef of Switzerland for the win taking home $8,500. Cone narrowly beat Nef by a time differential of 0.024 in the first run and .220 in the second. It was a close race as well in the small finals as Garret Driller of Tahoe City, CA took third beating out Thomas Woolson from Warren, Vermont by .0276 and .095.
After four events the final tour standings gave Phil Brown of Toronto, Ontario, Canada the overall 2019 Tour Champion title along with the Tito's Rookie of the Year title, with 111 total points, bringing his earnings to $21,600. Garret Driller finished 2nd with 86 points and $12,600 in prize money. Alex Leever from Vail, Colorado finished in 3rd with Michael Ankeny, Minnetonka, MN taking 4th overall. The 2018 Tour Champion Nolan Kasper finished the season in 5th place.
In the team standings, Team America won the season title with 140 points, Slalom Tokyo Drift took second with 115 and Redneck Racing follows with 105. The team make-up consists of up to 4 pro racers taking the best total points from two of the team's racers per event. Team America consisted of Garret Driller, Alex Leever, Brian McLaughlin and Taylor Shiffrin.
The "Mountain View at Trail's End Junior Pro Challenge" utilized the WPST pros as mentors, 16 junior-seeded seeded U14 racers from the Gould Academy Competition Program teamed up against Carrabassett Valley Academy. These young racers experienced the pro format first hand, from start to finish they handled the challenges of horse-style start gates, running head-to-head over pro jumps. Sponsored by Mountain View at Trail's End, they awarded the top 4 winners scholarships, $1,000 for first place, $500 for second, $300 for third and $200 for fourth. The World Pro Ski Tour is dedicated to the growth of the ski community, in 2020 there are plans to continue the development of this program at each pro event.
CBS Sports Network is the television partner of the World Pro Ski Tour. Air dates subject to change, check your local listings for more details. Additional airing for encore showings will be announced in the future.
2019 WORLD PRO SKI TOUR SCHEDULE TV AIR DATES – CBS SPORTS NETWORK
April 15, 2019 11:00 PM EST Beaver Creek, CO Event held - Jan 31 - Feb 2, 2019
April 22, 2019 11:00 PM EST Waterville Valley, NH Event held - Feb 7 - 9, 2019
April 29, 2019 11:00 PM EST Steamboat Springs, CO Event held - Mar 1- 2, 2019
May 6, 2019 11:00 PM EST Sunday River, ME Event held - Mar 28 - 30, 2019
Share This Article