Saalbach/Austria: New Kohlmaisbahn And Asitzmuldenbahn Lifts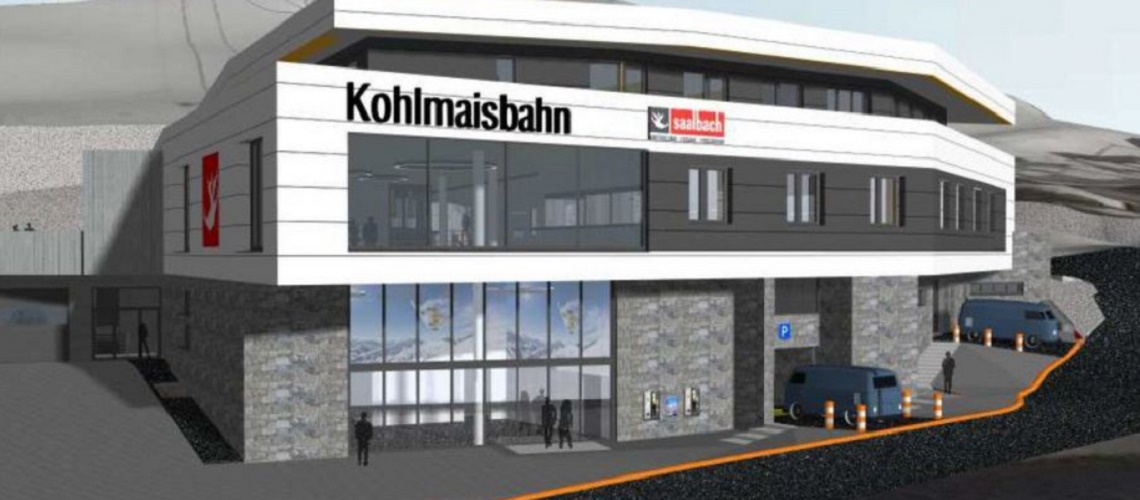 It is nearly time to say goodbye the fiery red coloured Kohlmais gondolas. At the end of the winter season, they will be dismantled. This coming winter, skiers will be able to admire the completed construction works, as the middle station was already built in the summer of 2017.
The original gondolas that were erected in the year 1989 will give way in the summer of 2018, to a state-of-the-art 10-person monocable gondola lift. The new lift is identical to that of the Schönleiten lift – thus offering the ultimate comfort, efficiency and speed. Due to the fact, the new middle station of the Kohlmais lift is situated approximately 30 metres more to the west, enable initial construction works to begin in 2017. The new three-storey middle station is only missing the roof structure.
Following the demolition, assembly work will commence in May, and the Schönleiten lift will be operating in summer as a substitute for the Kohlmais lift. Incorporated in the new Kohlmais bottom station will be 100 underground parking spaces and apartments for personnel.
The new building will be located at street level – enabling guests to access the ticket office easily from the Skiliftstraße. Due to extensive construction works, the Montelino's Adventure Path will only be partially open this summer. The Milka Line will remain open and can be accessed via the trail leading from the Schönleiten. Further details regarding route modifications and roadblocks can be found on www.saalbach.com when construction works commence.
The resort asks summer guests for their understanding! The opening of the new lift is scheduled for December 2018 and guests can look forward a faster ascent up the Kohlmais Mountain from the centre of Saalbach.
A modern 10-person gondola replaces the old Kohlmaisgipfelbahn.
Start of construction: Spring 2017
Completion: December 2018
Capacity: More than 3200 persons per hour
Investment: about € 30 million
SITZMULDENBAHN 8ER
A modern 8-seater chair lift with heated seats and bubbles replaces the old Asitzmuldenbahn 6er.
Start of construction: May 2018
Completion: November 2018
Capacity: More than 3500 persons per hour
Investment: € 7,5 million
Share This Article