Rediscover The Beauty Of Summertime With Nature Based Sensory Delights At Le Grand Bellevue, Gstaad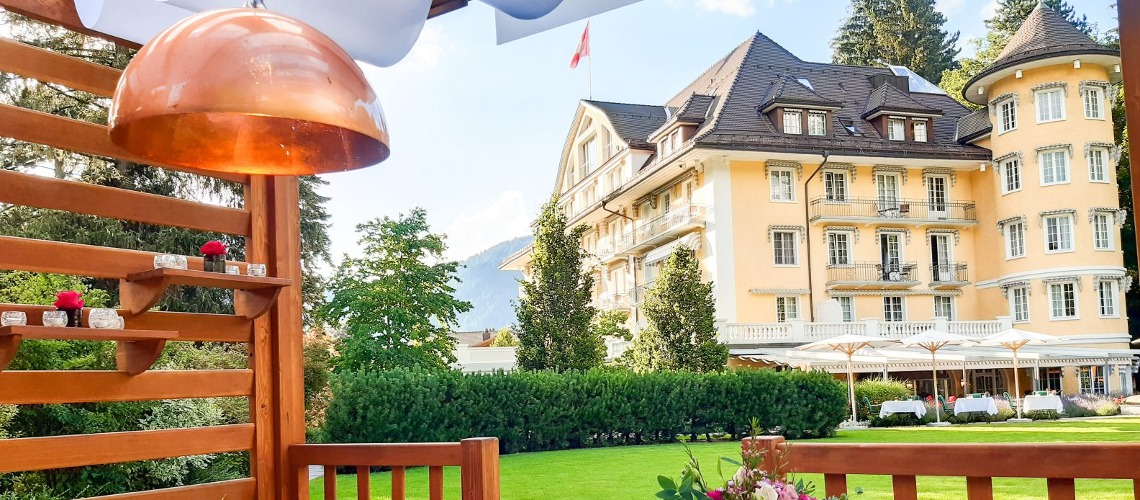 This summer season, the fresh air and freedom offered by the Swiss Alps provides the perfect antidote to Europe's bustling beaches and is fast becoming a go-to location for the luxury traveller seeking a shift from the norm. Whether an authentic alpine foraging adventure, gastronomic Gstaad events, or a long weekend of nature-based nurturing and spa serenity is the prescription of the day, visitors to Gstaad's chic boutique hotel, Le Grand Bellevue, can choose from an array of seasonal offerings designed to envelop them in the peace and serenity of the mountains this summer. Not just this but, new for this season, guests of Le Grand Bellevue can savour the summer with an extended season stretching into the early Autumn. Now offering the longest summer season opening dates of any hotel in Gstaad, the property will welcome guests to experience a Swiss style summer through to 2 October 2022.
BACK-TO-NATURE: SUMMER SENSORY EXPERIENCES
With Skift reporting 76% of people are willing to spend more on trips as part of their wellbeing, and over half willing to pay extra for wellness activities on future holidays, wellness aficionados can immerse themselves in Le Grand Bellevue's wide offering of nature-based and nurturing experiences both in and outside of the property this summer.
Offering the chance to reconnect with nature through active and rejuvenating pursuits, guests of Le Grand Bellevue can ease into the day with a gentle and rebalancing Tai Chi mediation session guided by Spa Manager and qualified instructor Caroline Lecureur aside one of the region's serene and secluded lakes and surrounded by the peaceful panorama of the Alps. Those seeking a more refreshing start to the day can dive in for a spot of wild swimming in the crystal-clear waters. Following a light and nourishing lakeside picnic lunch, guests are invited to challenge their cores with SUP Yoga at Lake Arnensee followed by time to discover the mystical waters via paddleboard.
Come mid-afternoon, there is no better place to retreat to than the subterranean Le Grand Spa. Here, a 3,000-metre-squared labyrinth of thermal rooms, relaxation and calm awaits where guests can be pampered with pioneering techniques from spa partners Caviarlieri and Dr Barbara Sturm as well as a host of intuitive and bespoke treatments tailored to meet individual needs with a holistic approach for optimum relaxation and results.
For those looking to take in nature further still whilst indulging in the best of the region's culinary offerings Le Grand Bellevue's vast array of al fresco dining experiences will allow just that. Whether it be for family BBQs in the fresh alpine air, botanical-inspired sundowners with a loved one on the comfy terrace, or a truly memorable al fresco farmer's table dinner set amidst mountain vistas and featuring a locally sourced and seasonally selected tasting menu and regional wine pairings.
FORAGING FOR FLAVOUR: ALPINE MUSHROOM HUNTING
Recent years have witnessed a revival in foraging not only in the worlds of gardening and hospitality but also in travel decisions with The Wellness Summit noting that the foraging mania which exploded during the pandemic is here to stay. New for this year, to tie in with the extended summer season opening and with mushroom season at it's prime in the late summer into autumn in Switzerland, foodie fanatics are invited to embark on a mushroom foraging adventure to find the crème of the crop with a local mushroom expert. Guests can traverse through the evergreen forest to forage a selection of local discoveries that will then be used to a create an inspired three-course meal by Executive Chef Francesco de Bartolomeis (15 Gault&Millau points) at the hotel's signature onsite restaurant LEONARDS, enjoyed with a variety of carefully selected wine pairings to celebrate all the foraging finds the Alps has to offer in style.
GLORIOUS GSTAAD SUMMER EVENTS
With the Alps increasingly becoming a go-to destination not just for the winter but during the summer too, the team at Le Grand Bellevue can assist guests in securing exclusive access to a host of enticing events sure to entertain all this season and allowing visitors to engage in various Swiss traditions. Guests can immerse themselves in local celebrations with the Swiss National Day Brunch (1st August) where they will savour regional delicacies amongst the traditional Alphorns and alpine culture at LEONARDS or rejoice in the Gstaad Zugelete Brunch (3rd September) at the hotel's chic Le Petit Chalet, taking in the famous flower-bedecked cows as they parade past the hotel. Guests can also relish in divine Menuhin Pre-Concert Dinners (15th July – 3rd September) that will run throughout the season and will feature a two-course meal and glass of wine to kick off evenings filled with musical grandeur.
Share This Article