Quality Equipment From Decathlon Enables The Whole Family To Hit The Slopes This Winter Season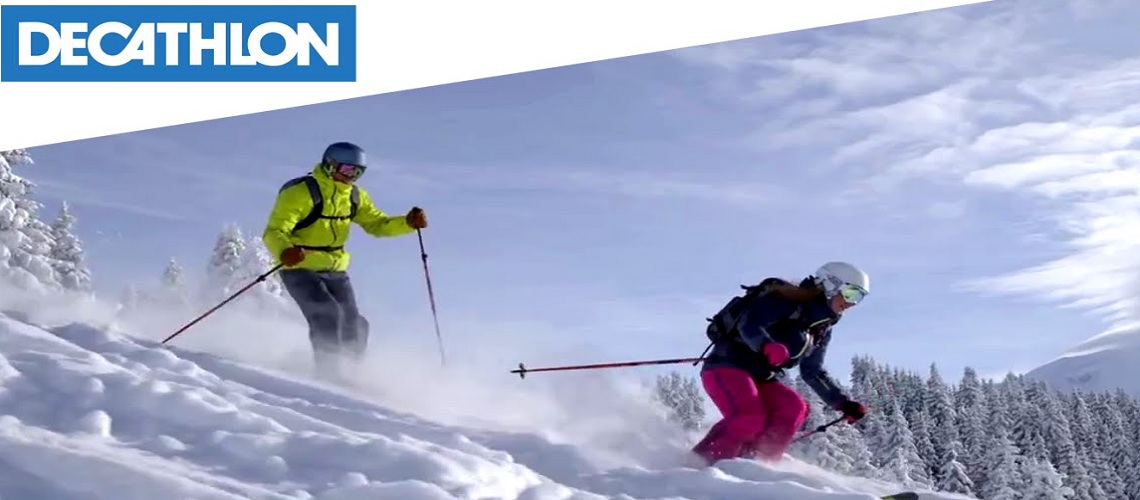 With the school half term holiday on the horizon, spark a family love for winter sports with equipment and clothing from Decathlon. For those wanting to hit the slopes this winter, Decathlon offers the solution to finding the right skiwear and eq
uipment that shoppers can guarantee to be great quality and excellent value for money.
Decathlon has a range of products available that are both high-quality and affordable for all the family when taking part in a mountain adventure. Decathlon's skiwear is designed, and quality tested to make sure the whole family can be safe while having fun on the ski slopes for years to come.
Wed'ze Am580 Men's All Mountain Skiing Jacket – Black - £59.99
Experienced skiers heading to the slopes for their annual ski trip need not worry about compromising style for quality with this all-weather ski jacket.
The jacket is designed with a water repellent polyester fabric, which means it soaks up water, perfect for tackling any snowstorms or high winds in the mountains.
Meanwhile, the loose fit of this jacket means that wearers can glide down any gradient of slope with ease.
Wed'ze Ski-P Jkt 500 Warm Kids' Padded Ski Jacket - Grey/White – Was £39.99, Now £34.99
Keep the little ones warm this winter ski holiday with this kids' jacket thanks to the thick ball-fibre lining.
Designed with a snow skirt (an extra elasticated lining inside the jacket) and elasticated cuffs this jacket stops snow from getting in, making this coat ideal for young novices who are taking their first steps onto the mountain.
Wed'ze Ski 580 Women's Piste Ski Pant – White - £39.99
These trousers are ideal for those heading off for a day on the slopes thanks to the stretchy polyester and elastane fabric.
These trousers also wick away perspiration to help skiers maintain a regulated temperature.
What's more, the slim fit design of these ski pants adds a stylish touch to any outfit.
Wed'ze Women's Skiing Base Layer Top 500 – Grey – WAS £8.99, NOW £7.99
When out and about skiing keeping warm is key, and this base layer is perfectly suited thanks to the brushed polyester material and the long cut back of the top which can be tucked in.
The polyester material stretches around the body, meaning comfort is key for endless hours of fun on the slopes.
This base layer also comes in a range of colours such as grey, blue, pink and purple to match a variety of outfits.
Helmet
Wed'ze 550 JR Ski Helmet – White and Orange - £39.99
When skiing safety is paramount, and this helmet is essential for ensuring young skiers are protected on the slopes.
This two-in-one helmet covers both the head and eyes, whilst being tested to comply with the European standard (EN 1077-B)for impact and protection.
Meanwhile, the helmet has six air vents to help young skiers maintain a controlled temperature and prevent overheating.
Gloves
Wed'ze 100 Children's Skiing Gloves Pink - £9.99
These gloves are designed to protect children's hands in cold weather.
The polyester fabric has been brushed with a knit lining to provide effective insulation from the cold when skiing.
Meanwhile, the adjustable tightening feature on the wrist and wide opening at the cuff make them easy to fit to the wearer's hand size securely, so they are less likely to fall off when having fun skiing.
At £9.99 these gloves are also great value for money!
Ski Socks
Wed'ze Ski Socks, Adult, Ski Socks 100 - £3.99
These ski socks are ideal for those at every kind of ability level.
Made with 50% wool, these socks help circulation and ensure that feet remain warm in cold weather.
Meanwhile, the socks wick away moisture to help feet remain dry and prevent any unwanted blisters.
These socks are also available in different colours – blue, grey, yellow, green and pink.
Travel Bag
Wed'ze Skisnb Trvlbag 900 Ski and Snowboard Bag – Grey - £79.99
The ultimate travel companion for a ski holiday is this ski bag which can comfortably hold up to four pairs of skis.
The bag is easy to carry with an ergonomic carry handle and wheels, while the roll top system enables users to adjust the length of the bag to the size of their equipment.
What's more, the bag has been designed to withstand impact thanks to the rigid base and padded side.
Decathlon has 45 stores in the UK and sells a variety of sports equipment, clothing and accessories perfect for those want to get active or maximise their performance.
Decathlon has been founded in 1976 in Lille, France, with Decathlon UK being launched in 1999.It sells a range of sporting equipment from bikes to running shoes, ideal for those who would like to try a new sport or excel their performance.
Decathlon prides itself on making sport accessible to as many people as possibly, by being able to help, inspire and guide people through their sports experiences. With the main philosophy of being active and discovering new sports every day is an important part of a healthy lifestyle
Share This Article