Protest Profile: Be A Top-10 Player In The Boardwear Industry And Double Turnover In The Next Ten Years.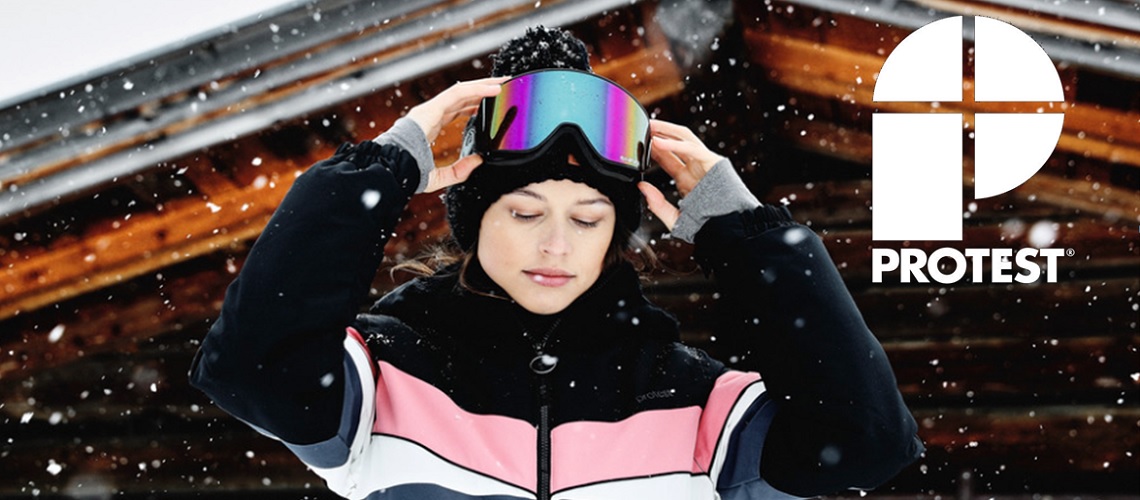 Protest was founded by a small group of snowboarders in Holland, That's right: Holland. One of the flattest places in the universe.
Their primary business objective is to be a top-10 player in the boardwear industry.with a goal to double turnover in the next ten years.
The word is spreading. They're gaining momentum in countries around the world without losing focus of the markets where they are already strong.
Currently 75% of Protest's total turnover is made outside the Netherlands, their home market. The Alps region is their second market, Southern Europe the third. The emerging markets of Eastern Europe and China has recently moved into fourth position. The choice to grow gradually and organically allows them to retain control of the organization and logistics.
A THREE-PRONGED APPROACH TO GROWING THE BUSINESS
1 . A CONTINUED FOCUS ON PRODUCT
Product is the backbone of Protest. It always has been the key to the business and it always will be. The continue to pay close attention to the details that make collections pop. They also continue to work within themes each season that help the collections hang together.
2 . A REVISED MARKETING APPROACH
Seven years ago, Protest set about on a new brand direction that has proved successful. They are now making some slight adjustments to bring even more riders into the Protest fold. For starters, focusing less on competitions and more on the pure fun of being on the
slopes and on the waves. Their marketing will show the world that fun is embedded in Protest's DNA with a mix of social media, POS, online films, B2B communication, as well as sponsoring athletes with a story.
3 . A SERVICE MINDED ORGANIZATION
To keep the business healthy and their network happy, they've made significant investments in IT and logistics. This includes a new B2B webshop for reordering, a new CRM system to keep customers informed, and a new warehouse management system that makes logistics even stronger and tighter.
Protest is constantly working to build othe brand and inspire customers. Theybelieve in a fresh approach to boardsports communication which started with the famous "DROP IT ALL" campaigns in 2009 and has continued each with year with campaigns such as "NEVER LEAVE THE WATER", "COUNTDOWN TO GET THERE", "ALWAYS THERE" and "TO GET THERE" among others.
Since day one, they've been doing their part to make the world a better place for boarders — both On The Slopes And In The Water. They do this by designing fashionable and functional sportswear at an affordable price. By reminding the world that boarding is fun. And by helping people overcome whatever stands between them and their boards.
Fun is in Protest's DNA, they say "It's what we live for. It's why we're here. We are a brand for anyone who loves fresh pow and big waves. The some-timers, the all-the-timers, even the can't-find-the-timers.
"The surfers, the skiers, the boarders, the beach bums. We remind all riders of the reason they fell in love with the life in the first place. And we inspire them to get back to the place they want to be as often as they can.
"Our clothes are made to support the grand masters. But they're also aimed at all the people who look good doing it. More riders = more action = more fun."
These campaigns help to position Protest as the brand that helps people get to the place them most want to be: on a board. With the latest campaign: "24/7 is not enough" they seek to inspire the pleasureseekers, the holiday-goers and the true sportsmen. Everyone knows the feeling, the desire. What if those epic moments could only last a tiny little bit longer? What if you had just a little extra time to push yourself a bit further?
These are the moments you live for.

The moments you cherish.

The moments that make you laugh, cry and smile.
To spread this campaign to a broader audience, they're collaborating with team riders and ambassadors, and help them tell a story through social media to inspire their followers to do the things they love.Additionally the campaign will be supported by print and online ads as well as video projects.
24/7 is not enough. It'll never be. Get out there.See the world. Do the things you love.

Share laughs with friends.

Enjoy those epic moments.

Enjoy every moment.

Because… You'll never get enough of all the fun things in life.

So let those good vibes last for ever.

24/7 is not enough.
PROTEST WEB SHOP: LIVING IT 2 /7
In a market where users increasingly demand a user-friendly brand experience, mobile e-commerce is essential and Protest is proving it's well prepared for the years to come. Protest launched a faster, more personalised and user-friendly omnichannel brand and e-commerce website, that's accessible on all devices. Combined with strong visual design, a lot of attention on content and products, Protest translates its innovative heritage into the online world.
If a user spots an interesting Protest product in a video, image or in the look book, they can order it immediately or find the nearest store instantly. Regardless of whether the users are on their desktops at the office, on their tablets on the move or The WordPress platform allows Protest to use full-screen lifestyle images grabbing for their products.
Subtle animations and parallax-scrolling make the content come alive. The Intershop based webshop area has a clear overview and alluring product detail pages. In anticipation of continued rise in the use of smartphones and tablets, Protest created a fully responsive site that automatically adapts to the dimensions of any device - all of course with the look and feel of the Protest brand, providing an optimal user shopping experience; on their smartphones on the slopes, they can get what they need. To experience a fully personalized branded webshop, it automatically recognizes the country of the users and remembers their gender.
DESIGN IS THE FUEL THAT KEEPS PROTEST RUNNING
The design team includes sixteen designers with international backgrounds in sports and fashion. Each one is committed to the spirit of fun and the love of the ride that they've had since day one. In addition to the core group, they have a global network that includes international fashion gurus and innovative partners from the fashion and textile industry who enable them to work with state-of-the-art technology and the latest fashion trends. Each season,using inputs from Tokyo to New York to create the latest fashion-forward designs.
FUN AND FUNCTION FOR ALL RIDERS
For the core boarder and newcomer alike, fully functional boardwear reflects the latest trends in styles and colors. Each season they work within a number of themes that help collections hang together in color and in details like materials, zippers, applications, embroideries, stitchings, fabrics, textures, finishes and washes. This is what gives the range a rich and exclusive look. The two main collections are Spring/Summer and Fall/Winter.
Each collection features a Men's and Women's line, as well as a Boy's and Girl's line. We've also recently added a Toddler line.
FULL COMPANY NAME : PROTEST SPORTSWEAR, DEKKER OLIFANTA B.V.
Year Founded: 1993

Location of Headquarters: Warmond, The Netherlands

Number of Employees: Headquarters - 85. Other countries - 100.

Owner: C. Dekker
LEADERSHIP TEAM :
Caroline Dekker Managing director

Niels Lammerts Design & purchasing director

Gerard van Duijn Information technology manager

WESLEY van WIJNBERGEN Director Sales & Marketing
NUMBERS:
Size of our Distribution Center: 12,000 m2

Number of Products Produced Annually: 2,500,000

Number of Stores Selling Protest: 3,500

Number of Shop in Shops: 40 (and counting)

Number of Protest Board Stores: 4 (and counting)
Protest Stores are an important part of the retail strategy, which also includes Shop In Shop, identity corners and outlet stores.
Protest stores feature only Protest articles, with the exception of select shoes and accessories from other brands.
COUNTRIES WHERE PROTEST IS AVAILABLE
Austria, Belgium, Bulgaria, China, Czech Republic, Denmark, Dutch Antilles, Finland, France, Germany, Greece, Groenland, Italy, Luxembourg, Macedonia, Malta, The Netherlands, Poland, Portugal, Romania, Russia, Slovakia, Spain, Sweden, Switzerland, Ukraine, United Kingdom.
The Dekker Group:
Dekker Timber,

Dekker Real Estate and

Dekker Sports & Party Centers Year

Founded: 1885 (Dekker Timber)

Number of Employees: 430

Total Annual Revenue: EUR 150,000,000



Share This Article