Protect Our Winters Mobilizes Athletes For Climate Action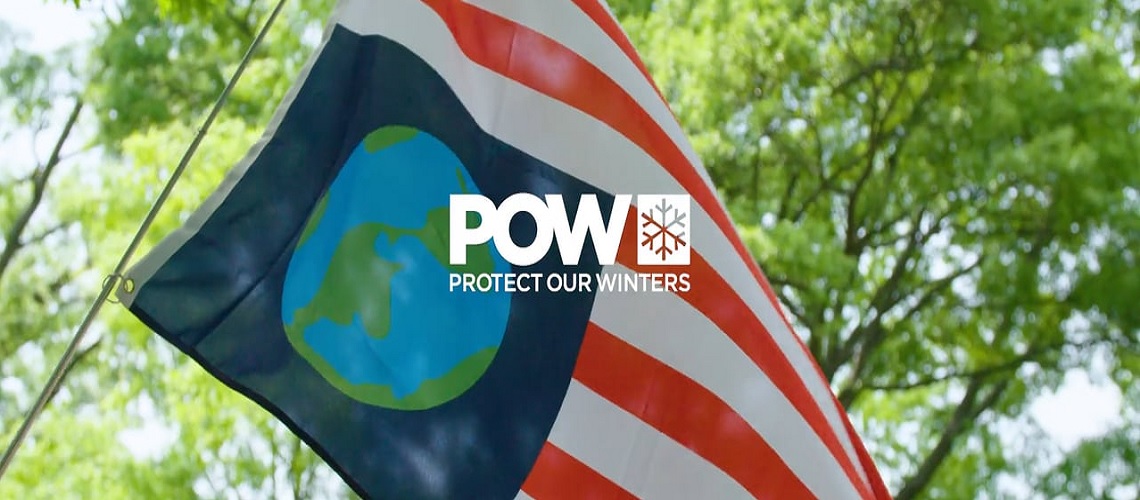 During a dramatic day on Capitol Hill, professional athletes and outdoor industry leaders laid tracks through Congressional hallways using strong economic figures to rally bipartisan support for clean energy and other climate-friendly policies. Organized by Protect Our Winters, the advocacy effort directly connected powerful constituents from the outdoor world with their representatives on both sides of the aisle.
As gold medals opened up short cuts throughout the Capitol, the group met with 28 Senators and Representatives focusing on regions with mountain communities. The advocates to put scientific arguments aside and delivered the message that the outdoor industry, a powerful economic driver and job creator, is in dire risk.
A dozen athletes including five-time Olympic halfpipe snowboarder Kelly Clark, runner Clare Gallagher, and skiers Julian Carr and Lexi Dupont shared emotional, first-hand stories of the changes they are witnessing in the snowpack. Then leadership representing more than 30 ski resorts including Alterra Mtn. Co., POWDR Corp., Ski Utah, Snowbird, Aspen Skiing Company, Mt. Bachelor and executives from Burton, Bemis, Smartwool and Spyder explained the massive economic impact of climate changes on their businesses and surrounding communities.
On the Hill, they made practical asks of Members of Congress to support policies that: invest in clean energy sources; minimize the greenhouse gas emissions of the transportation sector; set an economy-wide price on carbon; fund climate research and greenhouse gas reporting; and recognize the impact of climate change on the outdoor industry.
Warming winters threaten not only the winter sports industry, but the entire $887 billion-dollar outdoor recreation economy in the United States. "Climate change shouldn't be a partisan issue and we know that bipartisan action will be necessary to address our warming winters," said Mario Molina, Executive Director of Protect Our Winters. "With that we met with both Republicans and Democrats, encouraging all Members of Congress to join the Bipartisan Climate Solutions Caucus.
Representatives from mountain states, have a clear reason to lead this caucus, as warming winters threaten the economies of their districts."
Despite a historic day in the Senate, delegations from Protect Our Winters were able to meet with the offices of Michael Bennet (D-CO), Susan Collins (R-ME), Cory Gardner (R-CO), Dean Heller (R-NV), Ed Markey (D-MA), Jeff Merkley (D-OR), Lisa Murkowski (R-AK), Jon Tester (D-MT), and Sheldon Whitehouse (D-RI).
On the House side, they met with Mark Amodei (R, NV-02), Don Beyer (D, VA-08), Rob Bishop (R, UT-01), Suzanne Bonamici (D, OR-01), Paul Cook (R, CA-08), Carlos Curbelo (R, FL-26), John Curtis (R, UT-03), Diana DeGette (D, CO-01), Ted Deutch (D, FL-22), Derek Kilmer (D, WA-06), Rick Larsen (D, WA-02), Mia Love (R, UT-04), Jared Polis (D, CO-02), Mike Simpson (R, ID-02), Elise Stefanik (R, NY-21), Scott Tipton (R, CO-03), Greg Walden (R, OR-02), and Peter Welch (D, VT-00).
Congresswoman Ann McLane Kuster (D, NH-02), who co-chairs the Congressional Ski and Snowboard Caucus and is a member of the Climate Solutions Caucus, hosted a reception where Members of Congress and their staff could meet the athletes and learn more about climate change's impact on snow sports. "It's about jobs and it's about the economy," said Rep. Ann McLane Kuster at a Capitol Hill reception. Global warming is putting 191,000 snow sports jobs at risk, she said.
"Coming from Maine, we don't have a fossil fuel industry, but we do have important snow sports and outdoor industry. So our representatives are in a great place to have a voice on clean energy and climate," said snowboarder Seth Wescott. "The experience of coming to D.C. and having these conversations is important to me. As a constituent, I can use my platform as an Olympic athlete to try to influence my representatives to do the right thing."
A big thanks to all of the athletes: Olympians Kelly Clark, Seth Wescott, Callan Chythlook-Sifsof, and Maddie Phaneuf; skiers Julian Carr, Lexi Dupont and Max Hammer; snowboarder Griffin Siebert; fly fisherman Hilary Hutcheson; alpinist Graham Zimmerman; and runners Clare Gallagher and Dakota Jones. Executives made time for this important effort from: Alterra Mountain Company, Aspen Skiing Company, Bemis Associates, Burton, Mt. Bachelor, POWDR Corporation, Ski Utah, Smartwool, Snowsports Industries of America, and Spyder. POW sends thanks to High Street Strategies, Boundary Stone Partners, and OIA for joining the delegation and Clif Bar for fueling a very long day.
Share This Article