Polychromelab Launches Alpine Workwear That Can Withstand Any Weather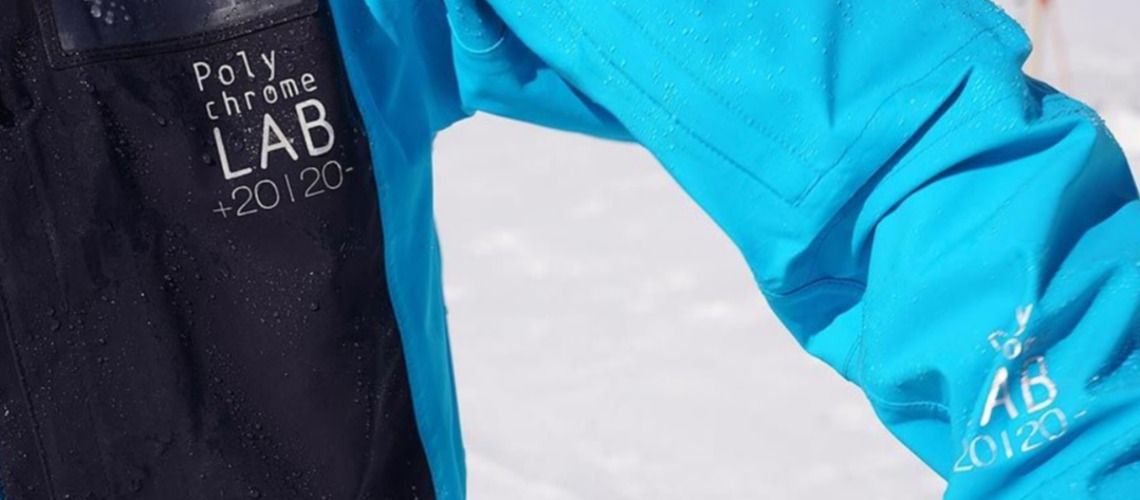 Polychromelab has developed outdoor clothing that can withstand any weather. This was tested in the Tirol Snow Center. Alpine workwear is already being used by the Obergurgl mountain railways for long-term use.

Rain, wind, cold or sun - outer clothing must withstand all weather conditions. Hybrid miracles, so to speak, that warm when it is cold and can reliably cool when the wearer needs this function in order not to get ill. The product designer Michele Stinco has developed a laminate fabric system that defies all weather conditions. On a farm in Serfauserfeld, he and his partner Elisabeth Frey set up a design studio with a workshop for sample production and development in addition to an alpaca breeding facility.

The first prototypes, hand samples, cuts and tailoring are made in Serfauserfeld. "Now we have gone one step further and are testing together with the MCI and the Tirol Snow Center on a scientifically tested level," said the entrepreneur. Through discussions with mountain railway employees at different locations in Tyrol, Switzerland and Italy, Stinco has recognized that conventional (ski clothing) has weaknesses and therefore, through many years of experience, started to develop its own work clothing from scratch without the influence of third parties. "For example, it is half as heavy, but twice as warm and is considered state-of-the-art in terms of thermoregulation as well as lightfastness, durability and care.

The outer clothing was tested under extreme influences in the Snow Center Tyrol in Kühtai and in many field tests in a wide variety of locations, including in the renowned Obergurgl ski area. The Tirol Snow Center aims to increase the efficiency of technical snowmaking. In order to save energy and water and to be able to manage the available resources better. "We work with a lot of moisture in the laboratory. We exchanged raincoats for a ski suit, "laughs head Michael Rothleitner. Because the exciting thing about alpine workwear is: does it keep you warm and dry?

"In the Snow Center Tyrol we are able to display these conditions at the push of a button. Different snow conditions are created with a snow cannon. With a fan gun we can simulate wind speeds of up to 130 km / h. Dolls are equipped with clothing and sensors. In this way, you can immediately see which clothing the temperature or humidity curve is falling or rising faster and which clothing is suitable for which weather conditions. "

Regionality and sustainability
The Serfaus-based innovation label is able to develop precisely the contemporary workwear that mountain railway employees, ski instructors and guides need. The label's highest priority is innovation, local development combined with regional production to differentiate itself from traditional suppliers. "Our innovative strength makes us unique. We have the chance to convince one or the other cable car company of the quality and sustainability of our products and our foresight on the subject of employee health with a Tyrolean product that is produced in Europe. "The fabric is manufactured with sustainable or upcycled products. The fleece for heat retention is made from PET bottles. One component from which the 3-layer laminate is made is obtained from salvaged fishing nets.

"The clothes are very comfortable to wear because they are highly elastic. The different shifts are easy to change, light in weight and you don't feel so cramped, "explains Dominik Schmid from Obergurgl Piste Rescue. This is how it came about that, in cooperation with the Obergurgl mountain railways, a clothing set consisting of four products was developed for the lift employees there and the piste rescue service, which can be used as the best average for all mountain railways, ski instructors and guides.

"We were already there at preliminary talks and allowed our individual wishes to flow into the process. Due to the working environment and the altitude up to over 3,000 m above sea level, our team is subject to changing temperature and weather influences. That is why we feel obliged to provide suitably functional clothing, "explains Werner Hanselitsch, Managing Director of Liftgesellschaft Obergurgl, and adds:" With polychromelab we have found a partner whose products meet our high quality standards. The figure-hugging hybrid cuts and the quality are a complementary flagship for our appearance. We take responsibility for our employees in many areas - providing good clothing is the next step in securing "human capital". The heat balance of the modular textiles meets the demands of working in the great outdoors. At the same time, the company also lives values ​​such as regionality and sustainability, which are central leitmotifs for us. "
Share This Article