Pistenbully 800 Pushes Boundaries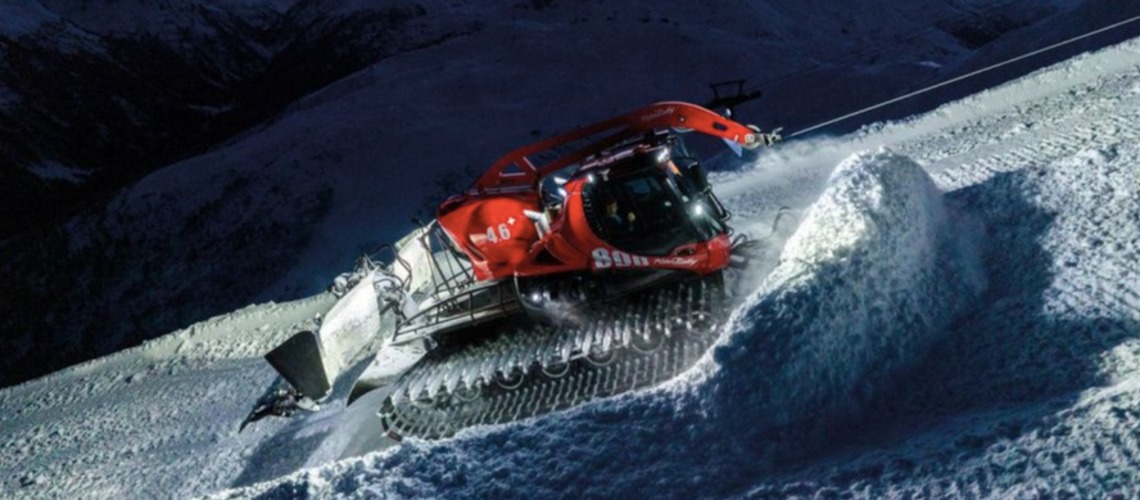 Strength and efficiency for grooming and pushing snow: The new PistenBully 800 is the ultimate professional snow groomer – in dimensions and efficiency
SIMPLY RED – This is the slogan Kässbohrer is using to introduce its light-footed giant on the mountain. SIMPLY RED represents the PistenBully identity – market leadership with innovative technology, passion and creativity. The new PistenBully 800 combines the experience gained over recent decades and is the product of many years of innovation. Always forward looking and always chasing one goal: the ideal slope.
Simply strong: Extreme gradeability and proven grooming expertise
With the clean MAN 6-cylinder engine, the PistenBully 800 achieves maximum performance even in extreme situations. Thanks to the 15.30 L of displacement and 2900 Nm of torque, it reliably pulls through in all situations. Its 5th axle also noticeably improves smooth running and achieves tremendous gradeability and traction. The real surprise here is that, despite the longer chassis, the PistenBully 800 is very agile and can be steered effortlessly. So it is not only the unbeatable choice for pushing snow, but also sets new standards for slope grooming.
Simply efficient: Maximum pushing performance at low engine speed
If you associate a large engine with high fuel consumption, the PistenBully 800 will set you straight. It shows its strength when pushing and grooming even in the low speed range: 2900 Nm starting at 1100 rpm. This power – combined with the largest front blade on the market – means that substantial plowing work or snow displacement can be achieved with the utmost efficiency. Because, when you push a lot of snow and use only a little fuel to do it, the work is ultimately done at a much lower cost. This means that with a pushing performance that is verifiably around 1/3 greater than all snow groomers currently available on the market, the PistenBully 800 saves up to 9% of fuel per cubic meter of snow that is pushed. And, accordingly, less CO2 is emitted.
Particularly in solo operation, no other machine can keep up. The grooming expert is successful even on very steep slopes. And remember: you save time by working in solo operation at times where winch vehicles are typically used!
The winch version provides for even more stability and safety when situations become extremely critical. Using the winch provides support in extreme conditions such as soft snow, preventing the tracks from spinning and allowing the vehicle to climb even better.
Simply Red: Result of years of innovation
Everything you know about Kässbohrer is packed into the PistenBully 800: innovative technology, proximity to the customer, an all-in approach and more. It also embodies the company's expertise, years of experience and its forward-looking mindset. The notion of integrated sustainability is becoming increasingly important because one thing is clear: There is more to a perfect slope than a snow groomer. To achieve an optimal result, individual products and processes have to work in unison. Whether you take advantage of SNOWsat's digital solutions, the PRO ACADEMY's training courses for efficient driving to conserve resources, the unbeatable service network or are curious about the technologies of the future, Kässbohrer has you covered, guaranteed!
Share This Article