Pats Peak Learn To Ski And Ride Program Registration Is Going On Now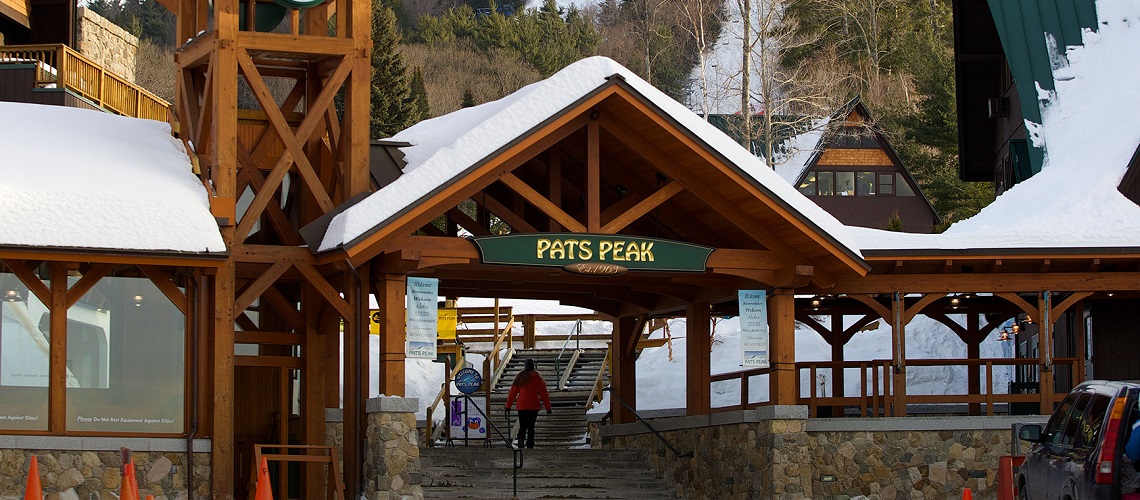 Pats Peak, southern New Hampshire's favorite mountain, announces registration for their Learn to Ski and Ride Program is going on now. The Learn to Ski and Ride program offers lift access and lessons for all levels with affordable rental packages.
This is a five-week series for pre-scheduled groups. Lessons are one-hour of instruction during their scheduled day and time along with lift access on that day. Students must sign up through their school or recreation center coordinator in order to participate in this program. To create a new program, call the Pats Peak Snowsports School at 603-428-3245
The Pats Peak Learn to Ski and Ride Open Program is available for individual sign-ups, offering a choice for students (ages 6-17) who wish to participate in the Pats Peak Learn to Ski and Ride Program, but cannot join a pre-scheduled program for any reason. Students can choose Monday through Thursday for first session and Thursday and Friday for second session. To register, contact snowsportsmanager@patspeak.com or (603) 428-3245.
Classes are kept a maximum of 12 students with personalized classes. Level 1 through Level 9 classes for both skiing and snowboarding are available, as well as a very popular Freestyle class, which teaches the students how to use the terrain park and its elements safely. A Lift Only option is available for skiers or riders who are Level 5 or above that do not wish to take a lesson but wish to participate in the program. Students must be at least six years old by 1/1/20 and in first grade in order to participate. Classes start on the scheduled day starting Thursday, January 2, 2020 for Session 1 and on Thursday, February 13, 2020 for Session 2. Discounted Weekday Parent Tickets and Parent Frequent User Cards are available for parents/guardians.
An exciting benefit for students who participate in the Pats Peak Learn to Ski and Ride Program is a Bonus Day at Pats Peak, Cranmore and Bretton Woods, offering (1) one free lift ticket to ski/ride at their mountain, valid Monday, February 24, 2020 through the end of their respective ski season. There is no additional cost for this benefit to the program.
"Parents receive an access code to sign up their students through our online registration program on our website. We love how the NH Ski and Ride Bonus gives students more time to have fun at Pats Peak and at other New Hampshire mountains,", said John Pawlak, Snowsports Director at Pats Peak.
The Pats Peak Snowsports School strives to provide their students with only the highest quality of instruction. Every lesson is geared toward the student's age and ability, while providing a fun-learning environment. Their instruction is based on the American Teaching System, a method used by the PSIA (Professional Ski Instructors of America) and AASI (American Association of Snowboard Instructors), a proven method for developing and refining skills.
The 2019/2020 season will be PATS PEAK's 57th consecutive ski and snowboard season under the Patenaude family ownership. PATS PEAK has 28 well-groomed trails for all abilities, 9 gladed areas, 3 terrain parks, a snowtubing park, 11 lifts, 100 percent snowmaking and some of the most challenging skiing in Southern New Hampshire.
PATS PEAK has a Weekday Learn to Ski and Ride Program for more than 8,000 kids from over 100 local schools. There are more than 70 Adult/Corporate Racing teams in the Adult/Corporate Racing League. Many adults participate in the weekday Adult Ski & Snowboard Clinics for all ability levels. PATS PEAK has 100% of its trails on the main mountain lit for night skiing/riding and is one of the state's most accessible learn-to-ski-and-snowboard mountains, with three separate beginner areas.
During the "Other Season of PATS PEAK", PATS PEAK Banquet Center is the perfect location for wedding receptions, parties, company meetings, company outings, or any social gathering!
Share This Article