Olav Nietzer Pulls Together Team Of Industry Stalwarts To Launch Dahu Ski Boot In North America.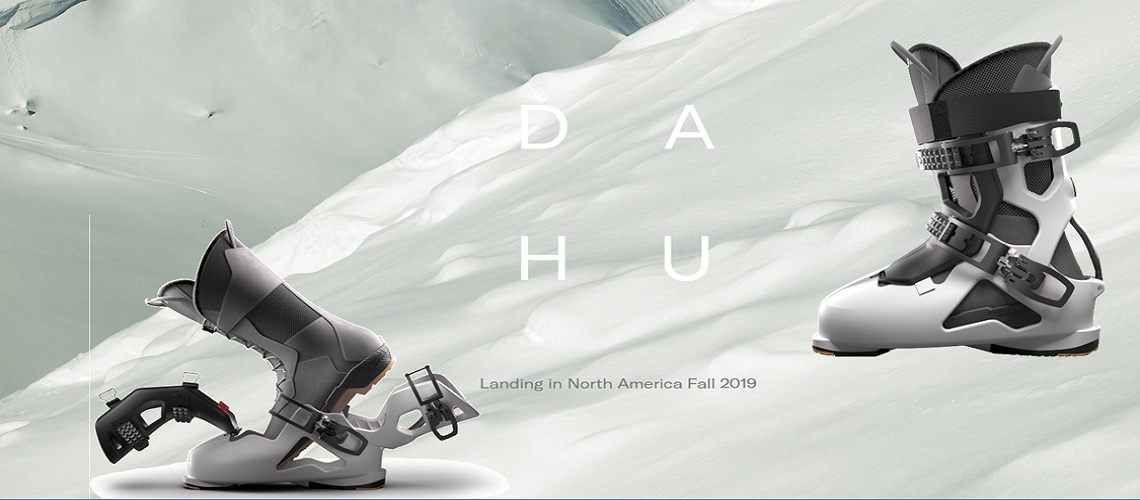 Designed in Switzerland and launching for the first time in the North American market, the Dahu Swiss Ski Boot is a groundbreaking modular design that reimagines the alpine ski boot.
When Olav Nietzer was tasked with overseeing a reset of Dahu Sports in 2017, he dug deep into his virtual rolodex. The Swiss-born industry veteran has worked at Burton and Black Diamond as well as Dynastar, Lange, Look, and Oakley. Everyone he approached about Dahu jumped at the chance to be a part of what promises to be the most disruptive product to enter the ski-boot business in decades.
Apparently situated at the nexus of Swiss precision and Italian luxury, the Dahu Swiss Ski Boot features a ground-breaking modular design that reimagines the alpine ski boot. It consists of a Grilamid plastic shell featuring a series of strategic cutouts, a Corsair gull-wing entry with a clever hinge design, and a luxurious Italian-made inner lace-up Cambium boot liner that's unlike any ski-boot liner on the market.
The Dahu's plastic outer shell features carefully engineered cutouts that eliminate pressure points and the Italian-made inner boot liner is designed for warmth and comfort. Cambium draws its name from the inner layer of a tree's tissue. It is easy to step into and out of, thanks to the precisely engineered Corsair entry system, which hinges at the front and back of the shell; named for the WWII-era Corsair aircraft, whose wings would fold up to save space on carriers.
SIN assumes Dahu doesn't have large sales planned for Japan with that line as a sales pitch......
This innovative new boot lets skiers step out of the shell and walk around comfortably in the liner alone. And while luxury and comfort are paramount, performance is a top priority for Nietzer.
To engineer this radical evolution in ski boots, Nietzer enlisted, among others, Maurizio Molin, a renowned boot designer who worked for two decades at Burton; Alex Hamlin, a former creative director at Black Diamond who now works with 7d8, an independent art and design studio; Niclas Bornling, who has worked in marketing at Black Diamond and Salomon; and longtime executive at Burton, Clark Gundlach, who is spearheading the launch of the Dahu boot in North America.
Industry veteran Clark Gundlach is the North American President for Dahu Sports USA. Working alongside Jake Burton for the first 20 years of Burton, Gundlach was an integral part of launching the ultimate disruptive product in the snowsports industry—the snowboard. Gundlach was instrumental in pioneering the brand into an industry juggernaut. Gundlach brings that same trailblazing enthusiasm and energy to this new alpine product.
"The ski industry has had a lack of innovation in the last couple of decades. The real innovators, like Scott and Hanson, have disappeared," says Nietzer. Today in the ski-boot business, he says, innovation happens at the World Cup level and trickles down to the consumer product. "We think there is room for a different approach."
"The boot must be totally high performance to be valid," he says. "Since the beginning of the development of the boot by the original founder, Nicolas Frey, there has always been a focus on skiability. Before I signed up for the job, I skied in the boot to evaluate its performance. I would never have gone for the mission if I had doubts about skiability," says Nietzer. "The performance was there, and since then we've only continued to improve the design and aesthetic."
Dagu say that result of Nietzer's efforts is a boot that is revolutionary and poised to redefine the market. Technical performance meets comfort and sophistication. The Dahu Swiss boot will appeal to luxury skiers with discerning taste—skiers who refuse to compromise on either comfort or performance.
Share This Article