Odermatt Wins Kranjska Gora GS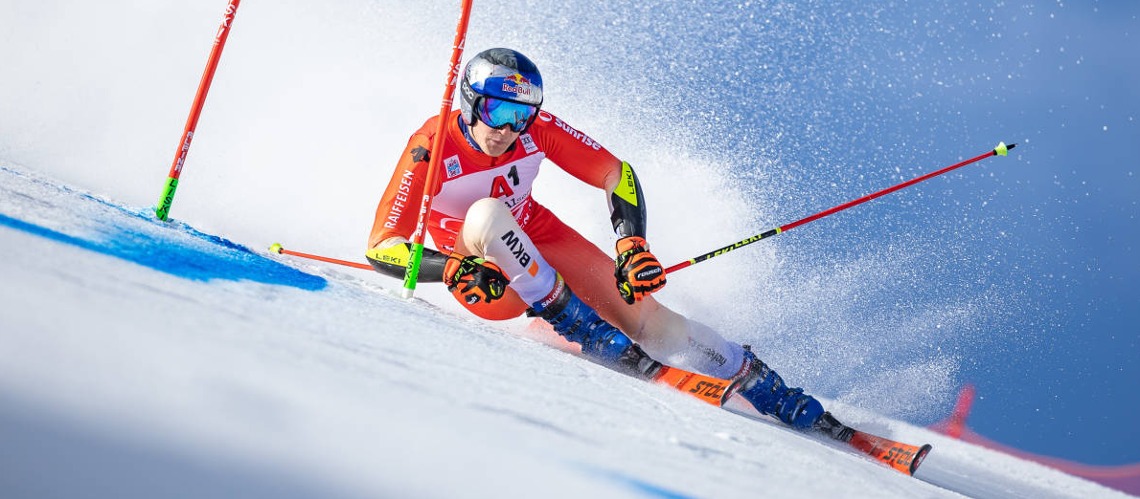 The men's Audi FIS World Cup tour creeps toward the finish with the penultimate weekend. The tour stopped in Kranjksa Gora, Slovenia for an exciting giant slalom race where Marco Odermatt (SUI) emerged victorious once again.
It is the fifth giant slalom victory for the Swiss superstar this season. He now holds a comfortable lead in the giant slalom standings with two races remaining.
Odermatt had a shaky middle section of his second run but found another wind of speed in the bottom section to see the green light.
"Sure, it is another perfect day for me. It was very warm conditions. It wasn't easy to stay focused at the start. Everything was so soft, so it wasn't easy to ski. So I am very happy I could win this race," said Odermatt.
Odermatt continues to astound this year with 19 World Cup podiums this season, the highest mark of his career.
"There is no secret, you just have to fight and stay on the line and keep your speed," said Odermatt when asked about how he stays so consistent this season.
Alexis Pinturault (FRA) threw down a wonderful second run to finish take the second spot. The veteran used his experience to nail the opening turns and navigate the course set by the French coaches.
"It was a real fight to find the possibility and the technique again and on the new equipment to ski this well. I was getting better at the world championships but, I was always making a mistake and missing the podium. Today I achieved two good runs, especially the second and I could be on the podium again," said Pinturault.
It is the eighth career giant slalom podium and second of the season for Pinturault. It has been seven years since his last WC victory, but the decorated skier now has 70 World Cup podiums to his name.
Henrik Kristoffersen (NOR) was in the top five of both runs which was good enough to take the final spot on the podium. It was his 12th podium at Kranjska Gora.
"Being Norwegian and being such a techinal skier, I usually do well when there is spring snow and salt. There is no doubt about that. Still, here you have to ski good techinally and have to ski a fast turn. It is not like other places where you have to stay the whole way and fight to the finish. You have to ski a nice arc and ski a fast turn and I think that suits me well," said Kristoffersen.
Kristoffersen still has an outside chance at the giant slalom crystal globe if he wins on Sunday and gets some help from a poor finish for Odermatt.
Stefan Brennsteiner (AUT) just missed the podium in fourth while Zan Kranjec (SLO) settled for fifth racing in front of the home fans.
Coming into the day in fifth in the giant slalom standings, Loic Meillard (SUI) went for it all in his second run but ended up with a seventh-place finish.
Lucas Braathen (NOR) could not replicate his recent success in slalom. The Norwegian youngster put together two solid runs but finished in eighth place. Marco Schwarz (AUT) finished right behind him in ninth.
Share This Article