Odermatt Retains GS Title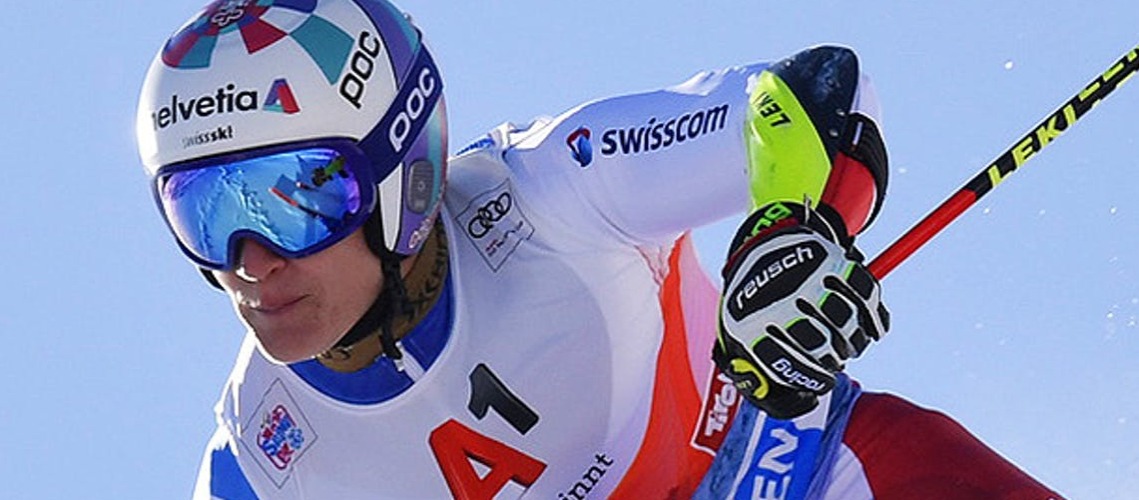 Odermatt took his 11th World Cup win of the season. On and on marches Marco Odermatt. The Swiss maestro completed back-to-back giant slalom victories in Kranjska Gora, Slovenia on Sunday, which in turn secured back-to-back GS crystal globes.
Whatever the course, conditions or discipline, Odermatt currently looks indestructible. He heads to the World Cup Finals next week needing 175 points to beat the greatest individual men's season points total ever (2,000 – set by the mighty Hermann Maier in the year 2000).
This was his 11th World Cup first place of the season, his 6th GS triumph, and added a fifth crystal globe to the quartet he already owns (overall and GS in 2022; overall and super-G this term).
All in all, it's pretty good to be Marco Odermatt right now, and retaining his GS title was easier than getting that first one, he conceded. "It's a little bit different, I guess – last year I was way more nervous," said Odermatt.
"This weekend was a little more calm, I already had a globe at home, and had a little advantage with the points, so it was a bit more relaxed."
What has been the secret in 2022-23? "It's hard to find one thing, I guess," he said. "Everything is perfect at the moment. I have a perfect team behind me with all the coaches, my service guy – everybody who helps me. Without them, none of this would be possible."
As ever, Odermatt had to dig deep for this achievement. The first run was set as technical as possible in an attempt to catch him out. But the Swiss amply demonstrated that he is not just about sheer speed, carving his arcs neatly to take a 0.28 second lead into the endgame.
That second run was laid out by the Swiss coach, made straight and fast to play to the 25-year-old's assets.
Nevertheless, Alexis Pinturault (FRA), resurgent over recent weeks after an ordinary season by his standards, and a thunderous second ski from Henrik Kristoffersen (NOR), turned up the pressure for the last man down.
All three contenders made errors on a rutted piste. Odermatt endured an urgent, scrappy mid-section, but retained enough speed to climb to the top of the podium again. Kristoffersen was second (+0.32), with Pinturault third (+0.70).
"It's crazy, I can't really believe that," said Odermatt. "I was very happy with the first run in a very turny course. It was another hard battle today in the second run. It wasn't good at the top.
"I made mistakes just before the second flat, I thought 'oh, this is going to be tight'. So I really risked it all, and it worked out. I pushed on the lower sections and was a little bit surprised and super relieved to see the green lights.
"It is always difficult, it is always a big fight, you always have to get in a race mood. This must have been my 40th run this season at the highest level. To always get into that mood and try to deliver is very hard."
Kristoffersen paid tribute to the man who had beaten him to the GS globe. "I haven't really thought that it was possible [to win it]," he said.
"When he is in the flow, when you make mistakes but you still just keep going and never ski out, then it would be unfair if I win it, because he has been the best skier this season.
"We were faster in the second run today, but it's too often in the first run [that he loses time]. We have to change that and find this last step. We still have one more opportunity to try to ski fast and win."
Pinturault will head toward the World Cup Finals in Soldeu, Andorra with "better confidence," he admits, after his recent upturn in form.
"I've been feeling better for the last few weeks and races," he said. "It wasn't enough for the victories, but now it feels like I'm in the right way to fight for podiums, maybe not still for victories, but we are moving closer.
"Today I was a bit too sure approaching the last pitch, that's where I made a mistake on the first run and I stayed a bit too secure. I was pretty tired and felt something on my knee after the first run, so maybe I felt that at the end of the second run."
River Radamus was the top Stifel U.S. Alpine Ski Team athlete in the giant slalom in Kranjska Gora, Slovenia, finishing 17th.
Tommy Ford and George Steffey also scored points, finishing 21st and 26th, respectively. It was Steffey's second career World Cup points score, after snagging points in the Stifel Palisades Tahoe Cup at the end of February.
Odermatt will skip to Soldeu with his eyes on a hat trick of gold medals, having shown he can prevail on turny, technical pistes as well as those suited to pure downhill velocity merchants.
It will take something special to win in giant slalom, super-G and downhill – but it's also going to take something special to stop him.
Share This Article