Newfoundland Government Seeks Operator For Marble Mountain Ski Area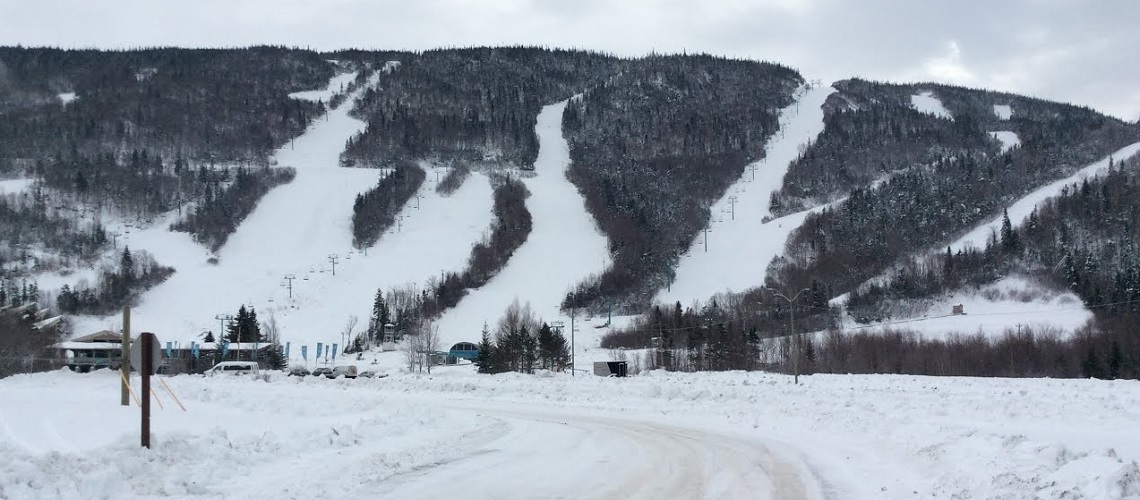 The Province of Newfoundland, through TCII is seeking proposals from proponents with interest in the private development of the Marble Mountain Ski Resort. The Province is focused on achieving sustainable business opportunities for the ski resort that will benefit the western region of Newfoundland and Labrador. The desire is to position the Resort for long-term success through private sector involvement.
The Province has made significant capital investments to develop the ski resort, as it is a strategic asset for winter tourism on the province's west coast. Through the participation of the private sector, and government's continued efforts to market the tourism industry in Newfoundland and Labrador, the Marble Mountain Ski Resort has potential to be a profitable, multi-season tourism destination in eastern Canada.
The following information is of interest to prospective proponents.
Largest vertical in Atlantic Canada with a peak elevation of 546m (1,791 ft.) and vertical lift of 519m (1,702 ft.)
It includes terrain that will challenge even the most skilled skier
A lodge that accommodates functions of up to 400 people
Marble Mountain reports an average of 70,000 winter visitors and 20,000 summer visits with capacity to attract more visitors in every season.
Existing tourist accommodation and amenities in proximity to the resort.
Other recreational activities and spectacular attractions in the area which include Gros Morne National Park, Bay of Islands and Humber Valley.
Level terrain at base of mountain suitable for expanded facilities and/or accommodation.
Non-resident tourism to the province is increasing. In 2016, non-resident visitors spent $562 million in Newfoundland and Labrador. Residents of the province made nearly four million trips within the province and spent more than $560 million. As a result, total tourism spending was over $1.13 billion. In 2017, there were 553,000 non-resident visitors - an increase of three per cent over 2016. Non-resident visitor spending reached an estimated $575 million in 2017, an increase of two per cent over the previous year. Compared to 2015, non-resident visitation increased eight per cent and spending 11 per cent.
Additional tourism research and statistics can be found at
http://www.tcii.gov.nl.ca/tourism/tourism_research/index.html
Marine Atlantic passenger service accounted for approximately 331,000 passenger movements in 2017. Just under 300,000 of these were through the Port aux Basques terminal, a distance of 225 kilometers from the Marble Mountain resort. Passengers traveling east from Port aux Basques must pass by the resort when traversing the province or accessing the Northern Peninsula. Most tourism operations in North America that are adjacent to a well-travelled highway or located within in a thriving resort are very successful. There are no other sightseeing lifts in Newfoundland and the views from Marble Mountain are spectacular. A critical mass of activities at Marble Mountain could encourage more summer as well as winter visitors to stop and use Marble as a base for exploring the area.
Proposals are welcomed from local, national and international private sector participants willing to maintain the asset primarily for tourism and recreational use.
The Asset
Marble Mountain is the largest ski mountain resort in Atlantic Canada with a vertical drop of 519 meters (1,702 feet), 64 hectares (160 acres) of skiable terrain, 39 runs and four lifts, which includes the only high‐speed detachable, quadruple chairlift in Atlantic Canada, as well has two fixed grip quad chairlifts and two moving carpet surface lifts.
Base area facilities include a 54,000 square foot (5,017 m²) timber framed lodge, two skier service buildings which have a total gross floor area of 51,355 square feet (4,771 m²), a day skier parking lot and the Marble Mountain Villa with 31 units of public accommodation at the base of the Black Mariah lift. Other accommodation and services are located adjacent to the base area within the Town of Steady Brook.
Location
The Marble Mountain Ski Resort is located in Steady Brook, in the Humber Valley, approximately eight kilometres from the City of Corner Brook on the Western side of the Province. The Deer Lake Airport is 50 kilometres to the northeast and provides scheduled service to St. John's, Goose Bay, Halifax and Toronto, serving over 365,186 in 2017, just 864 fewer than the record of 366,050 passengers set in 2016.
According to the 2016 Census Estimate the population of the electoral districts surrounding and adjacent to the resort totaled in excess of 66,000
The Humber Valley area is known for a range of adventure tourism opportunities and is the gateway to Gros Morne National Park, a UNESCO world heritage site. Gros Morne National Park offers more than 100 kilometres of hiking trails, many passing through fascinating rock formations thrown up from the earth's core due to tectonic activity.
The L'Anse aux Meadows National Historic Site and the area's second UNESCO World Heritage Site, features a reconstructed complex of sod huts that offers a glimpse into the life of Nordic visitors a thousand years ago. The Red Bay National Historic site in southern Labrador is the third UNESCO site in the region.
The Marble Mountain Ski Resort is managed by the Marble Mountain Development Corporation (MMDC) established in 1988 as a crown corporation to develop the Marble Mountain ski facility into a year‐round, full‐service resort. This was a shared vision between The Province, the Corner Brook Ski Club and the Town of Steady Brook. MMDC's current management team consists of five full‐time employees who oversee the year‐round operation of the resort, and over 100 seasonal employees.
In September 2014 a comprehensive Base Area Master Plan and Development Strategy report was completed for MMDC by Ecosign Mountain Planners Ltd. of Whistler, British Columbia. The EcoSign plan provided two base area development concepts. The premise was that further development of the base would facilitate improved profitability of the Marble Mountain Resort and help transition it into a four season resort. The plan outlines a land utilization plan for approximately 13.1 hectares of undeveloped land, parking area, and a recommended mix of amenities to enhance the base area of the resort. This report is available at http://www.tcii.gov.nl.ca/publications/pdf/MM-ecosignStudy.pdf; however those submitting proposals are not required to implement recommendations in the plan, and may include other creative strategies for future operations of the resort in the proposal.
MMDC's most current annual report is for 2016-17 that includes its audited financial statements for the year ended April 30, 2017. This report can be viewed at:
http://www.tcii.gov.nl.ca/publications/pdf/2016_17%20AR/MMDCAnnualReport2016-17.pdf
If you fancy running the area then the tender document is here.
Share This Article