New Carv 3.0 'Digital Ski Coach' To Launch On 1 December 2019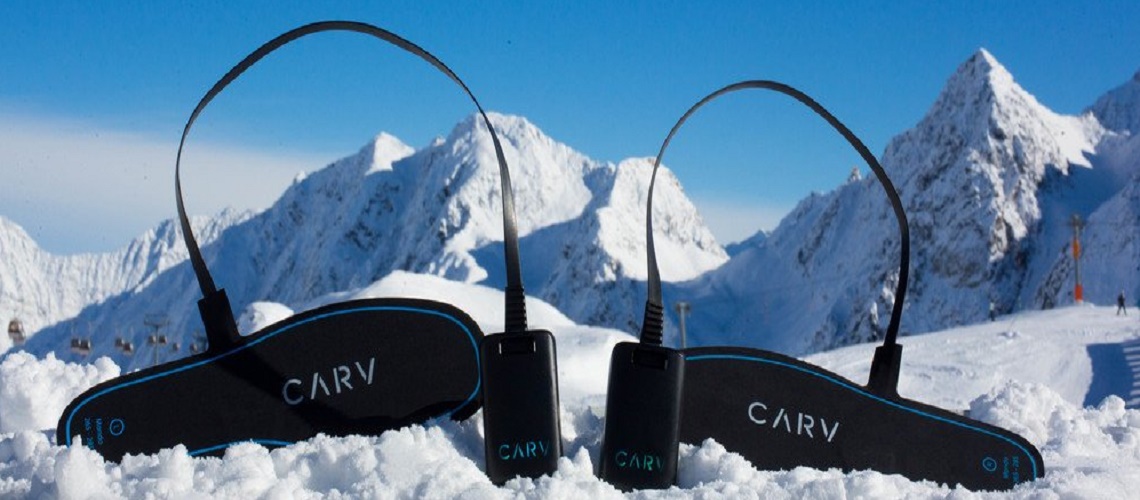 After three years of development by Jamie Grant and Pruthvikar Reddy, two young graduates from Imperial College London, Carv launched in December 2017. Since then, Carv has become a hit with both intermediate and advanced skiers focused on improving their technique, with Carv users collectively skiing more than 370,000 kilometres – that's nine times around the Earth – and the App has relayed more than 15,000,000 teaching instructions to its members. But what is Carv and how does it do this?
Skiing with Carv is like having a world-class ski instructor in your ear. Carv gives you real-time audio feedback during each turn, personal skiing tips on each chairlift or gondola and detailed analysis every time you stop. The App can be downloaded from the Apple Store, and new from 20 December 2019, Carv will be available to download from the Google Play Store, meaning Android users can make the most of this ingenious software for the first time too.
Carv monitors the way you ski with two ultra-thin footbeds packed with sensors (that fit underneath your ski boot lining) connected to a slim ski tracker (that attaches to the Velcro power strap and processes 35 metrics on every turn), which then communicates to your smartphone via Bluetooth. The results of these analytics can be heard through your headphones, with helpful pointers such as 'apply more pressure to your outside ski', and seen on the Carv App in the Ski:IQ™ section. Unique to Carv, Ski:IQ™ scores your technique on each run, breaking down performance into skiing balance, edging, rotation and pressure on easy-to-understand colourful in-App diagrams. Carv identifies your personal skiing profile and uses a recommendation engine to give you the right exercises and tips to help you improve.
Carv also has its own Ski:IQ™ leader board allowing users to connect and compete with friends and family; any disputes about 'who's the best skier' can finally be settled. Plus, you can see how you perform against other skiers on the same piste, in resort, or even worldwide.
But it's not all about competing, like any good ski instructor, Carv uses drills as a tool so learners can focus on a single element of technique. Carv is designed to find the one drill to help you break through your plateau so you can improve every time you go skiing, instead of just trying to get back to where you were last year.
Jamie Grant, chief executive of Carv, says: "Rather than just give the raw data, and appeal to a niche of serious racers, we chose to create a coaching experience which will actually teach the average person how to get better, and that is a much more complex problem".
For the launch of Carv 3.0 on 1 December 2019, Pruthvikar and Jamie have partnered with the Professional Ski Instructors of America and Kaylin Richardson (two times Olympian from the US) to produce in-App video content. The AI of Carv 3.0 works with this new material by classifying the mistakes in your technique and linking you with the relevant demonstrations and recommended tips by human instructors. Therefore, Carv 3.0 no longer just tells you what to do, but shows you how to do it.
Jamie Grant says: "We have upgraded the system in response to customer feedback when we found our users were Googling videos on how to improve their technique; we thought we would add it to the App so it would be all in one place".
Carv 3.0 is smarter than its predecessors, and it will continue to increase in intelligence for years to come. Just like any instructor learns how to become a better teacher the more they work; Carv has been collating how users respond to feedback for two years. Since its launch in December 2017, the system has clocked up more than eight instructor lifetimes of coaching. And it is not only the software that is having a revamp, but the hardware too. Ready for the 2019/20 winter season, the boot inserts will be thinner, more responsive and more robust.
Jamie Grant says: "The endgame of Carv, is that everything is optimised just for you".
Carv 3.0 goes on sale (on iOS and Android) on 1 December 2019
Share This Article