Neveplast Introduces 'Skilide' Toboggan Track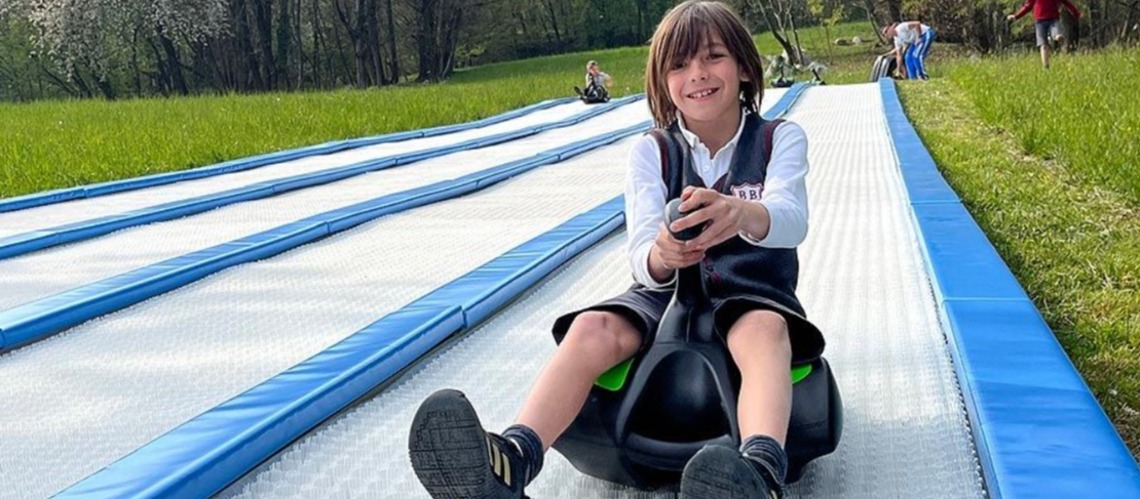 Neveplast's new attraction is called SKLIDE, and, as the name - resulting from the combination of SKI and SLIDE - suggests, it is the result of the know-how developed by the company, in many years of experience in the SKI and FUN sector. A product with a fresh and innovative soul, which is characterized by its simple architecture, that ensures a healthy and intuitive fun.
Sitting in an upright or semi-upright position on the SKLIDE - a colourful toboggan with a "joystick" on the centre - the pilot can drives the Sklidebob. The stick serves as a support, and also to help steer the sledge and adjust its trajectory, becoming one of the strengths of this sledge. What child doesn't dream of getting on a vehicle with a captivating design, and launch themselves down a slope, challenging their friends on parallel tracks, trying to shave off hundredths of seconds on every lap, like a true pilot?
Niccolò Bertocchi Neveplast CEO said "I am really happy and proud of the work we've done to create this new FUN product, which I'm sure will be very successful. For years now, we had been looking for something new to introduce in the leisure business, alongside TUBBY and SKIDDY, which are still our reference products in this market. If I had to describe SKLIDE in just a few words, I would say: lean, fun, carefree and environmentally-friendly. It is not easy, and it takes a lot of courage to launch new products on the market, given the critical issues we are currently facing. However, we believe that it is more dangerous to stop and see what happens next...".
Fun aside, the option to brake autonomously - since the legs are free to move and the centre of gravity is low - make this driving experience very safe.
The stage of these challenges is the SKLIDE track, with more parallel lanes, whose sliding surface is made up of the innovative NP30 FREESKI, Neveplast's latest addition, with marked sliding and resistance characteristics, ensure under any weather and environmental condition.
SKLIDE, just like all the other products in Neveplast's range, is designed to be enjoyed all year round, in summer or winter, and it is perfect to be installed in many outdoors or indoors situations, both permanently or temporarily.
Designed for relatively-small spaces, SKLIDE meets the growing need for greater flexibility within theme parks, adventure parks, malls, and also events and openings, or anywhere you want your guests to be entertained and have fun.
Quoting the famous saying "LESS IS MORE", which emphasizes how effective simple things are, we believe that our SKLIDE is truly a genius idea, with low implementation and management costs, and with an eye to environmental sustainability.
SKLIDE is environmentally-friendly fun, since this attraction works with the "pilot's" driving force, using the land slope. In short, this attraction is non-polluting, does not require electricity or water to work, and can be added to the context in a completely environmentally-sustainable way.
With SKLIDE, age doesn't matter. We all became children again, because the desire to "ride" on a slope on top of a toboggan is an evergreen classic, for adults and children alike.
That being said, SKLIDE's reference target are especially children, aged 4 and older; the characteristics of this light, easy to transport sledge allow kids - after completing their descent - to get back on top, without the need for a belt conveyor.
One of SKLIDE's strengths is surely the slopes layout: parallel, with the same length, one next to the other. This special configuration allows for head-to-head challenges, typical of parallel tracks, adding even more adrenaline and entertainment to this format.
"Short tracks, a lot of rounds" this is the leitmotif behind the SKLIDE system, which translates into the customer's satisfaction, who can count on an excellent hourly capacity and joy of the end user - the child and their family - who can enjoy many independent descents with their SKLIDE.
SIZE AND TECHNICAL FEATURES:
Sklide is easy and quick to assemble. It can be easily assembled by operators, without Neveplast's support.
The number of tracks and their length can be easily calculated through a modular system. For its installation, SKLIDE requires well-prepared soils, without counter-slopes, and other smooth surfaces plus a flat deceleration and arrival area.
Our extensive experience helped us fully meet our customers' demand, who are increasingly seeking for new ways to tell their story, which is never the same as anyone else's. With SKLIDE, we can offer a tailored-made product, in terms of size, track colour and design, reflecting the needs and nature of our customers.
Neveplast supports its customer in the design, creation, assembly and after-sales phases, by providing the ideal solutions for a guaranteed success.
Share This Article