Mountain-Management Consulting Launches 'Easy Learning With Luca', A Digital Learning Program For Liftco' Employees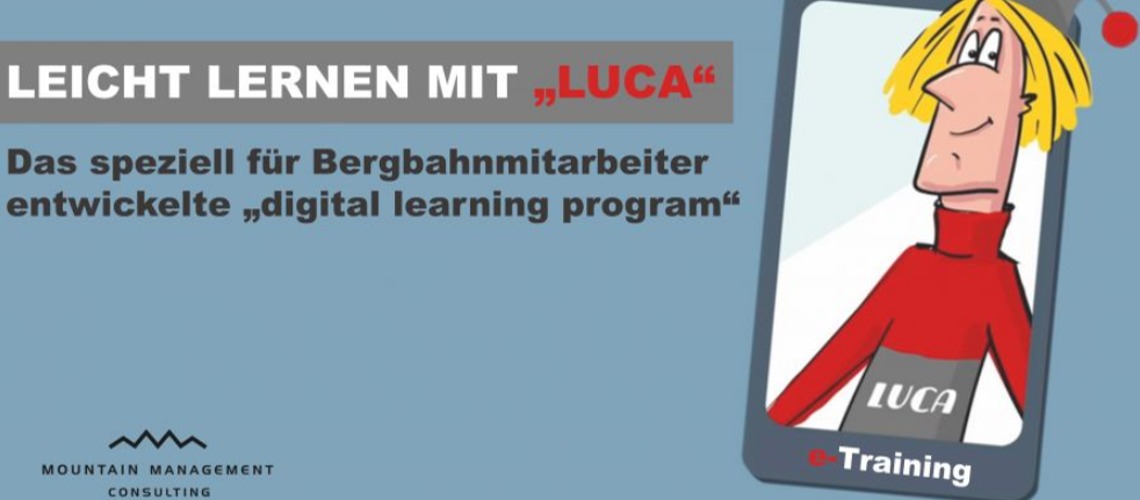 Mountain-Management C. is once again setting trends in the mountain lift industry!
The topic of "employees" is now at the top of the "to do" list!
With increasing digitization, online learning is taking on a whole new meaning. Mike Partel has been working intensively on online learning since 2018.
At the Innovation Days in Schladming in 2015, Mountain-Management C. showed with various keynote speeches (e.g. Prof. Back/ UNI St. Gallen) where we will continue to develop.
The Mountain Guide Inside/Beekeeper created the basis for improving communication within an organization. A good 60 mountain railway organizations are now using this internal communication system. Currently, the Organization Developer (employee satisfaction analysis) is also played out quite easily.
Advancing digitization offers new opportunities to reach employees quickly and train them anywhere!
LUCA starts here. Specifically with regard to guest orientation (dealing with the guest at the "touch points") and personality development or management/service quality.
With over 20 short videos (2 ½-3 minutes) Luca tries to impart knowledge in a playful way. This program, specially developed for mountain railway employees, was already used in two ski regions in the last winter season 21/22.
The training series can be accessed via the Mountain e-Academy platform or already integrated LMS systems.
LUCA was developed with specialists and is an effective supplement to other training and further education measures. Especially for employees who are new to a company!
Ultimately, it's about building motivated and well-informed employees who not only meet guest expectations, but exceed them!
Modern learning with "LUCA"!
Download the
explanation video at www.mountain-m.com or for more information, also direct-line: Mike Partel – Mobile: 0043-664-4417971
Share This Article