Lake Tahoe Uses Dave Ryding Win To Promote To Brits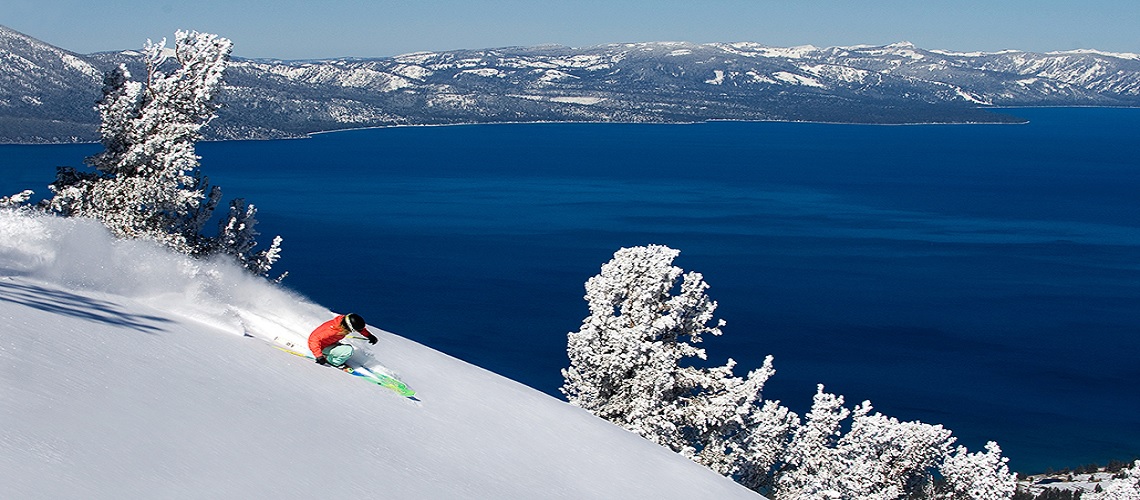 PRs for South Lake Tahoe ski areas have found a way to link their client to Dave Ryding's recent win in an effort to point bring Brit's across the atlantic. They say:
As Britain's Dave Ryding makes alpine skiing world history over the weekend, South Lake Tahoe is the ideal place to channel your inner skier and get practicing this winter with a wide array of slopes, activities and events taking place.
February might be the shortest month of the year, but it can hold just as much fun as any other month when you visit the south shores of Lake Tahoe. From unforgettable experiences and activities that are sure to leave you breathless (in so many ways), see why a trip to Tahoe in February is a must-do. South Lake Tahoe winter is unparalleled. Here, you'll discover that a fresh blanket of snow contrasts dramatically with Lake Tahoe's famously clear blue waters – a gorgeous backdrop for skiing, snowboarding, or snow angel-ing. The region also receives an average of 300 days of sunshine a year! A seeming contradiction, but one that means you can enjoy deep powder and work on your goggle tan, sometimes simultaneously.
Skiers of all abilities can enjoy everything from perfect corduroy to steep, deep, untracked chutes at world-class ski resorts like Heavenly Mountain Resort, Kirkwood Mountain Resort, and Sierra-at-Tahoe.
Heavenly Resort
Gunbarrel (Expert)What could arguably be considered the most famous bump run on the continent. This swath of snow plunges down 1,600 vertical feet, straight down to the wooden lodge known as Cal Lodge. It was this trail that helped usher in the freestyle culture of the 70s. While the "Face Rats" are an endangered species in the ski world, the attitude & love for the trail is still around with the annual Gunbarrel 25. Held every spring, this long-time tradition challenges participants to lap the run 25 times. Let's just say your legs will turn to jelly!

Ridge Run (Intermediate)
As soon as you get off Sky Express chairlift & turn around, you'll understand why they call this resort "Heavenly." While other resorts surrounding Lake Tahoe have fantastic views of the cobalt blue waters, none of them are as high or profound as the scenery off of Ridge Run. Hugging the resort's western periphery for over 1,500' vertical feet, it'll remind you that you're truly livin' the good life. On a warm sunny spring day, the views and moderate pitch will make you want to lap this trail over & over to really appreciate some of the best scenery in the world.
Patsy's (Beginner)
For those feeling a bit uncomfortable about Ridge Run but still want to enjoy the view, you're in luck! Accessed via a scenic Tramway or Gunbarrel Express, ride over to the higher elevation green zone. Patsy's provides lake views & panoramas along with a gentle slope to get some turns in.
Kirkwood
The Wall (Expert)
The intimidation factor begins at the entrance of the lift. You'll immediately be greeted by a skull & cross bones stating Expert terrain. As the slow, fixed-grip triple chair lumbers its way towards the top of the mountain, it feels like the ascent of a roller coaster. The Wall starts with heart-in-your-mouth steep chutes, followed by huge twisting gullies loaded with natural features to jump off of.
Elevator Shaft (Intermediate)
The "backside" as it's known, is served up via the Sunrise chair (Chair #4) & features a large blank canvas to carve on. Right in the center of the bowl is the trail called the Elevator Shaft. It's intermediate pitch plus mostly open face allows you to make giant turns down the entire mountain.

Timber Creek Base Area (Beginner)
One of the best things about Kirkwood is how it naturally divides the areas by difficulty. Kirkwood is home to two beginner areas, one of which surrounds the Timber Creek Express chairlift. Squirrel Ridge off of this lift is a run that every kid or beginner would want to play on. It's a gentle gully that snakes, winds and rolls its way through widely spaced giant Ponderosa Pines all the way to the bottom.
The options on where to go cross-country skiing are quite endless, especially during mid-season. Venture to the Mountain Sports Center at Camp Richardson. Located just below Mt. Tallac, the scenery of this impressive peak and on the shores of Tahoe is what put this destination near the top of the list. If the snowpack hasn't reached two feet just yet, head up to Kirkwood Resort. At an elevation of 7,800' above sea level, it's a great option for early or late season. The trail pass includes a vast network of trails with three warming huts including the Kirkwood Inn (est. 1864).
Share This Article