Kitzbuhel Gets Wood With KitzSki Pure Card, World's First Wooden Lift Ticket From SkiData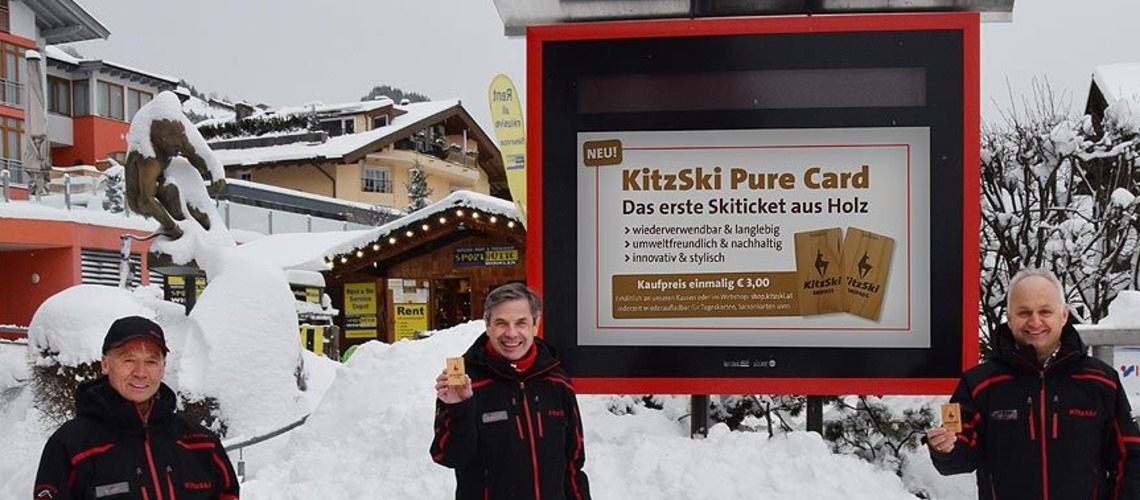 With the KitzSki Pure Card, KitzSki customers hold a world first in their hands that combines modern design, sustainability and innovation. "The KitzSki Pure Card is part of our sustainability strategy that we have developed. Our company has set itself the goal of taking measures to save energy and resources in the long term and to implement sustainable and innovative concepts in all areas, "says Mag. Anton Bodner, CEO of Bergbahn Kitzbühel.
KitzSki Pure Card - sustainable and stylish
The renewable raw material wood makes it an environmentally friendly and valuable alternative to the conventional lift ticket. "Each card is unique, the grain is unique. With this sustainable lift ticket, the guest also gets a high-quality memento that they are happy to keep ", explains Mag. Christian Wörister, CEO of Bergbahn Kitzbühel. Inside this environmentally friendly ticket there is a small chip that enables the KitzSki Pure Card to be topped up again and again. The wood for the card comes exclusively from sustainably managed stocks; a prime example of the replacement of petroleum-based materials with renewable raw materials. "The wooden keycard was developed by SKIDATA, an international leader in the field of access solutions.
KitzSki Pure Card - the advantages at a glance
The KitzSki Pure Card has a long service life. It is a purchase card and can be provided with your first and last name on request; thus it also becomes a personalized one-off piece. Important: Personalization is only possible when purchasing via the webshop at shop.kitzski.at. The purchase price of this exclusive keycard is € 3.00 each. The KitzSki Pure Card is a real eye-catcher and is ideal as a gift. It is suitable for all day, season and annual tickets from KitzSki. Owners of a KitzSki Pure Card can top up the wooden keycard at any time from home in the webshop (shop.kitzski.at) with a lift ticket - in spring, summer, autumn and winter.
Share This Article