Johannes Strolz Wins In Adelboden From Bib 38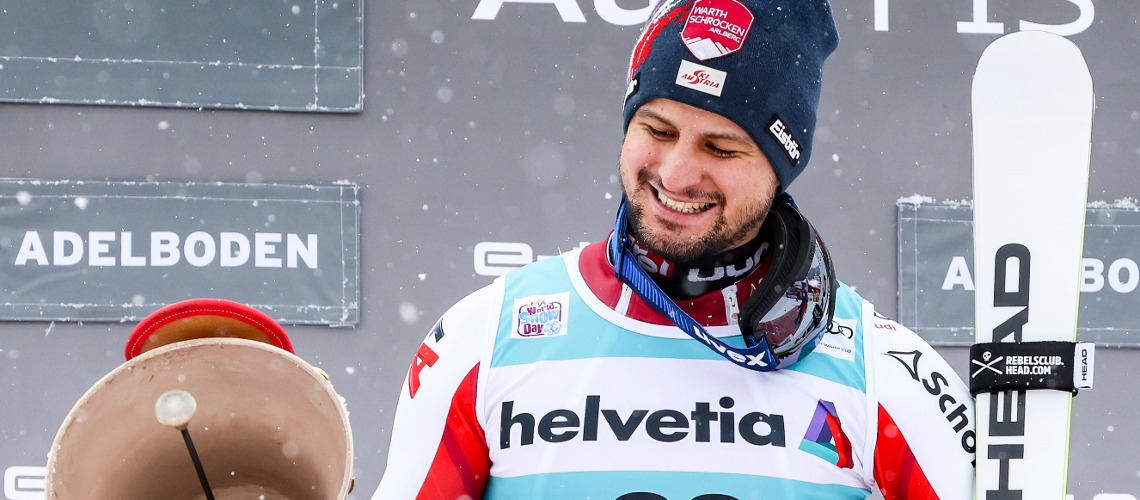 Sunday's race on the Chuenisbärgli was one of the most exhilarating races on the men's tour so far this season. The final podium nearly saw an Austrian sweep, with Johannes Strolz in first, and Manuel Feller in second. Germany's Linus Strasser was able to hang on to a third-place podium when Austria's Fabio Gstrien straddled early on in his second run.
Undoubtedly the highlight of the weekend was Johannes Strolz (AUT). Starting with bib 38, Strolz clawed his way up the leader board in the first run to finish seventh, 0.17 seconds behind the top pace, already an impressive showing. In the second run, Strol put in an exceptional run and sat in the leader box as the rest of the field came down in the red. In the end, his second run withstood the pressure and he hung on for his first career World Cup victory.
Emotional and in disbelief at the leader board, Strolz stated, "Even when I got kicked out of the team I had support in autumn when we prepared for the season. So many coaches in the team still believed in me."
"It's just unbelievable. I just tried to do my best skiing and push to the limit and it worked out well today," said Strolz, who is the son of former Olympic champion Hubert Strolz. "I've struggled so many times in my career before and now finally it all came together. So I'm very happy."
"Johannes Strolz won the Slalom in Adelboden with two excellent runs. It was simply the best thing that could happen on this day. In Madonna di Campiglio he skied extremely well, but then unfortunately misjudged a gate. He has always performed very well during training sessions as well. It was clear to me that he races at a very high level," explained HEAD Racing Director Rainer Salzgeber.
Manuel Feller, who was second in yesterday's giant slalom, once again put in another strong run to claim his first slalom podium in Adelboden ending in second-place. Linus Strasser, who was second in last year's slalom in Adelboden and started the second run in 16th, fought his way back to end in third.
Coming into the race, both Sebastian Foss-Solevaag (NOR) and Clément Noel (FRA) were the clear favourites. Nonetheless, today was not their day. Starting with bib 1 and 3 respectively, both racers failed to finish their run with Foss-Solevaag crashing just before the finish and Noel missing a gate, leaving the field wide open.
At the end of the first run, Austrian teammates, Manuel Feller and Fabio Gstrein share the lead, placing 0.05 seconds ahead of Luca Aerni (SUI) and 0.09 seconds ahead of the two-time winner, Henrik Kristoffersen (NOR). Both Gstrein and Aerni, they failed to complete their second run and Kristoffersen placed 12th.
On the notorious terrain of Adelboden, Switerzland's classic slalom, in front of thousands of screaming Swiss fans, Luke Winters put together two fast, solid runs to land him in the top 10 for the first time in his World Cup slalom career. The 24-year-old has shown speed on the World Cup before but has struggled to break into the top 15. His best finish in a World Cup slalom had been 19th until Sunday.
"It feels good to put two together, I haven't done that much in my career so far, especially here," said Winters. "I've qualified three out of the four times, but I've had two bad second runs both years."
Wearing bib 43, Winters came into second run sitting in 18th. He charged down the course, leading the field by three-tenths of a second in the third split, but lost a bit of time the last few gates, sliding behind proceeding athletes Loic Meillard and Alex Vinazter in third, enough to hang on to 10th overall.
"This year, before second, I just said I wanted to push it and ski hard and ski fast," reflected Winters. "I wasn't too worried about the result and I wasn't too worried about my execution out of the gate. Coming through and seeing that third place felt good."
Fellow U.S. athletes Jett Seymour and George Steffey did not qualify for a second run. Alex Leever did not finish the first run.
Share This Article