ISPO Textrends Award Winner Ecosensor By Asahi Kasei Advance Launches FW 22/23 Fabric Collection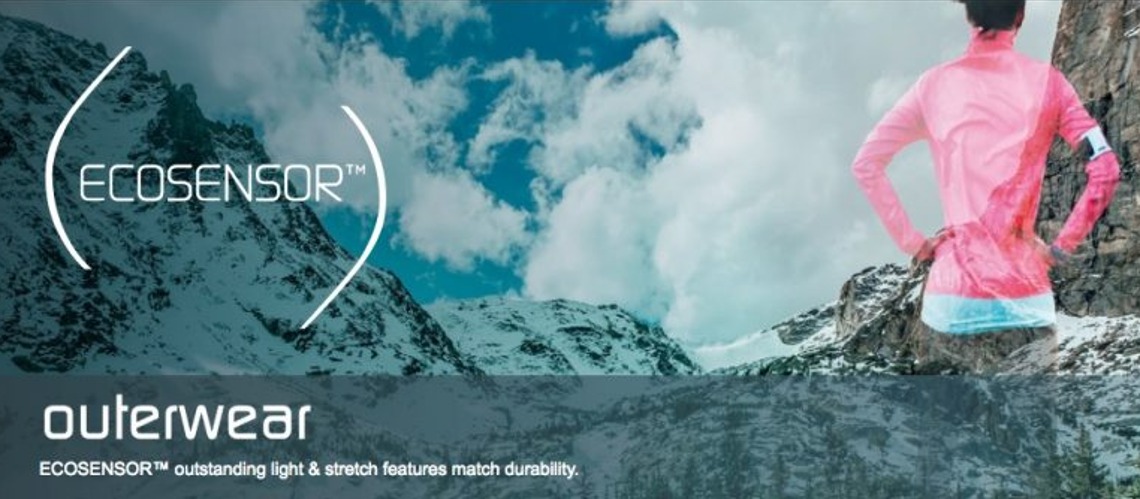 For its FW 22/23 collection, ECOSENSOR by Asahi Kasei Advance presents a high-tech fabric collection, which implements a new generation of values, with the aim of keeping nature, body and mind in harmony.
ECOSENSOR's new references meet the needs of the contemporary consumer, such as durability, wellbeing and performance. Furthermore, they are made with certified ingredients, through a completely traceable and transparent production process and supply chain. Being capable of combining active climate control, exquisite touch, lightness and comfort with sustainable values, ECOSENSOR' stands out as a unique eco-high-tech performance proposition in its market.
The whole collection is focused on advanced technology and environmental responsibility. Thanks to ECOSENSOR by Asahi Kasei Advance's unique value-chain based on recycling technology, most part of its yarns are certified by the renowned GRS (Global Recycled Standard). Even the dyeing and finishing phases - key moments for performance wear - have been certified by international labels such as bluesign and OEKO-TEX Standard 100.
Featuring a total of 36 fabrics, the collection is composed of:
7 outerwear fabric

22 sportswear fabrics

7 innerwear fabrics
Among the compositions of the fabrics, dominant are the recycled polyamide (58%) and polyester (39%) yarns. The stretch component present in 22 articles of the collection is based on ROICA EF by Asahi Kasei - the sustainable recycled stretch yarn made from pre-consumer waste. In addition, 8 fabrics of the FW22/23 collection are made of Bemberg by Asahi Kasei - the high-tech yarn born from the transformation of cotton linters through a fully circular, transparent and traceable process with an amazing precious hand, optimal moisture management characteristics, whose end of life guarantees its biodegradability and it also carries GRS certification.
To further validate the leading-edge nature of the collection, four of its fabrics received important accolades by the ISPO Textrends Jury. While ESS2-13464 was nominated as part of the selection of the Second Layer and ESS2-23590-K was included in the top 10 Second Layer, ESS2-23445 was awarded with the Best Product Second Layer prize and ESS1-01019-RL3L7-C has been elected TOP 10 in the MEMBRANES & COATINGS category too.
Focusing on a batch of the most interesting fabrics out of the collection, we can find:
ESS2-23445 - 97% Rec PES, 3% ROICA EF
ESS2 - 23445 with the QUARTER KNIT fabric, which counts on a very special and technical structure. This fabric is knitted thanks to a special construction called "quarter knit" that gives a face side with high gauge (32G) and a back with low gauge (8G), with a great effect of a completely different front and back. The fabrics is knitted with all recycled yarn and dyed by a certified OEKO-TEX STANDARD 100 dye house. This item won the Best product Second Layer Award by ISPO Textr
ESL1-20250 – 72% rec PA, 28% ROICA EF
A 4-way stretch fabric made entirely from certified recycled PA and ROICA EF. The special two-layer construction provides a firm stretch with a particularly good kickback. The material is also UV cut, making it a high-spec material.
ESF1-H3517 – 100% Bemberg
This fabric is made of 100% Bemberg: the high-tech yarn born from the transformation of cotton linters through a fully circular, transparent and entirely traceable process with an amazing precious hand, optimal moisture management characteristics, biodegradability and GRS certification.
ESS1-01019-RL3L7-C – 100% rec PA + PU coating
Super ultra-light 3 layers makes you feel weightlessness. The fabric is made with recycled polyamide with a 7μ PU membrane bonded with a tricot backer. bluesign certified and PFC-free. This item was nominated in the top 10 as part of the selection of MEMBRANES & COATINGS category Award by ISPO Textrends.
Behind the new collection stands an outstanding story of performance completely matched with responsibility. "Our global team is constantly determined to innovate with a responsible approach to research and develop solutions that meet high-performance standards as well as the transparency and traceability of both the ingredients and the supply chain. Our efforts have definitely paid off: four of the fabrics composing the new FW 22/23 collection have been recently awarded by the notorious ISPO Textrends Jury", says Mr. Hashimoto, Senior Managing Director of Asahi Kasei Advance, the global materials innovator and manufacturer.
Where to find the collection
ECOSENSOR collection, as partner of C.L.A.S.S. ecohub, is available at C.L.A.S.S. in Milano. A selection is also available on the C.L.A.S.S. SMART SHOP - the inspirational materials' bank and samples' e-shop where students, designers and brands can have from one little sample up to 50 meters.
Share This Article