Hirscher Wins Alpine Combined Gold Medal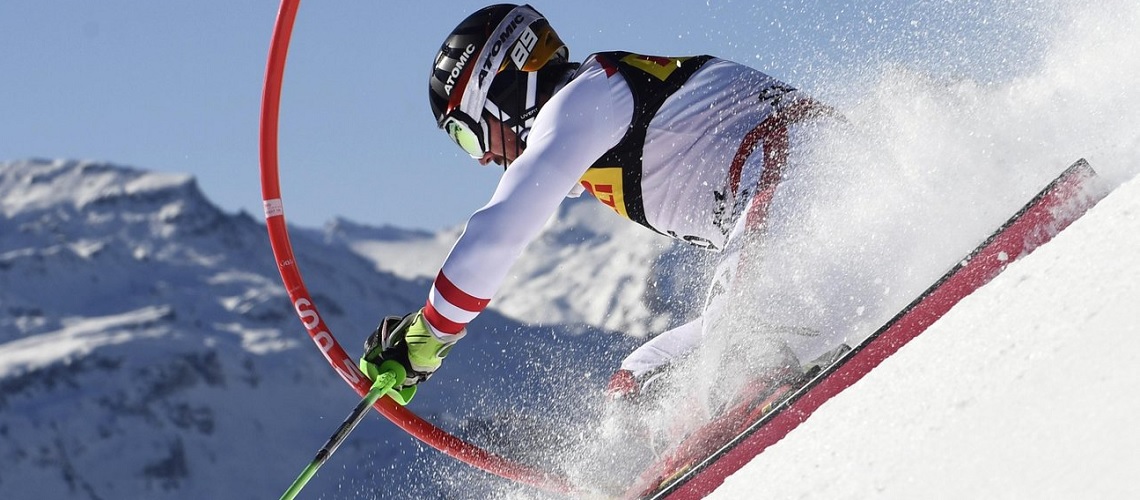 Six times Overall winner Marcel Hirscher won pretty much everything that you can win in alpine skiing, and today he grabbed that one missing trophy: an Olympic Gold Medal. Today, his dream came true and the Austrian can finally call himself an Olympic Champion. The strong French team earned the two other spots on the podium, placing Alexis Pinturault and Victor Muffat-Jeandet as a silver and bronze medallist.
Marcel Hirscher (AUT) became the fifth man to win an Olympic and world title in a men's combination event on Tuesday 13 February at the Jeongseon Alpine Centre. After a very strong downhill run, where he was only +1.32 behind the Kitzbuehel winner Thomas Dressen, Hirscher laid down one of his impressive slalom runs to take the win.
Ted Ligety (Park City, Utah) finished fifth in the men's alpine combined to lead Team USA at the Jeongseon Alpine Centre Tuesday afternoon at the 2018 Olympic Winter Games.
In the first-run downhill, Ligety finished 26th, 2.12 seconds off the lead, which proved to be too large of a margin to overcome to land on the podium, despite skiing the fourth-fastest time in the second-run slalom.
"I was happy with how I did today," said Ligety, who won the 2006 alpine combined gold medal at the Torino Games. "To battle from a disadvantage against some of the best slalom skiers in the world isn't really the formula for a medal, but I'm happy with how I skied both runs."
Bryce Bennett (Squaw Valley, Calif.) finished in 15th in the downhill and 17th overall in his first Olympic event. "The results don't dictate how I felt," Bennett said. "I thought I executed well mentally and technically in the downhill, but I was two seconds out and it's hard to rebound from that.
"It was cool to get my first Olympic race out of the way because it was a little nerve-racking," Bennett added, "so, for the downhill race I think I can be in a better place mentally."
Jared Goldberg (Holladay, Utah) was 36th, but most importantly, finished fourth in the downhill portion, setting himself up for Thursday's downhill race."My downhill run today was good, I'm happy with it," Goldberg said. "There are a couple of things I can clean up, but it was good to get another training run for the downhill race."
Ryan Cochran-Siegle (Starksboro, Vt.) also raced Tuesday but did not finish the downhill.
"I'm feeling good in both super-G and giant slalom, and I feel like I'm skiing well," Ligety said. "So hopefully I could get another couple good days of training in, and keep the ball rolling."
Hirscher

joined Kjetil Andre Aamodt (NOR), Bode Miller (USA), Ted Ligety (USA) and Lasse Kjus (NOR) as the men with an Olympic title and world title in a men's combination event.

Hirscher

won his world title in 2015.

Hirscher

won his first gold medal at the Winter Games, after winning six world titles, 55 World Cup races and 14 World Cup crystal globes.

Hirscher

ended Austria's longest gold medal drought in a men's Alpine skiing event at the Winter Games, winning the NOC's first Olympic title in a men's combination event since Mario Reiter won on 13 February 1998.

I

t was Austria's third win in this event at the Olympic Winter Games, surpassing Norway and United States for the most.

Silver medallist Alexis Pinturault (FRA) and bronze medallist Victor Muffat-Jeandet (FRA) became the first Frenchmen on the podium in a men's combination event at the Winter Games in 70 years. Henri Oreiller (gold) and James Couttet (bronze) achieved this in 1948.
Up next, the men compete in downhill on Thursday at 11:30 a.m. KT / 9:30 p.m. EST Wednesday. The men race Super-G on Friday at 11:00 a.m. KT / 9:00 p.m. EST Thursday.
Share This Article