Helly Hansen Fall/Winter '21 Global Campaign Is 'We Belong In The Mountains'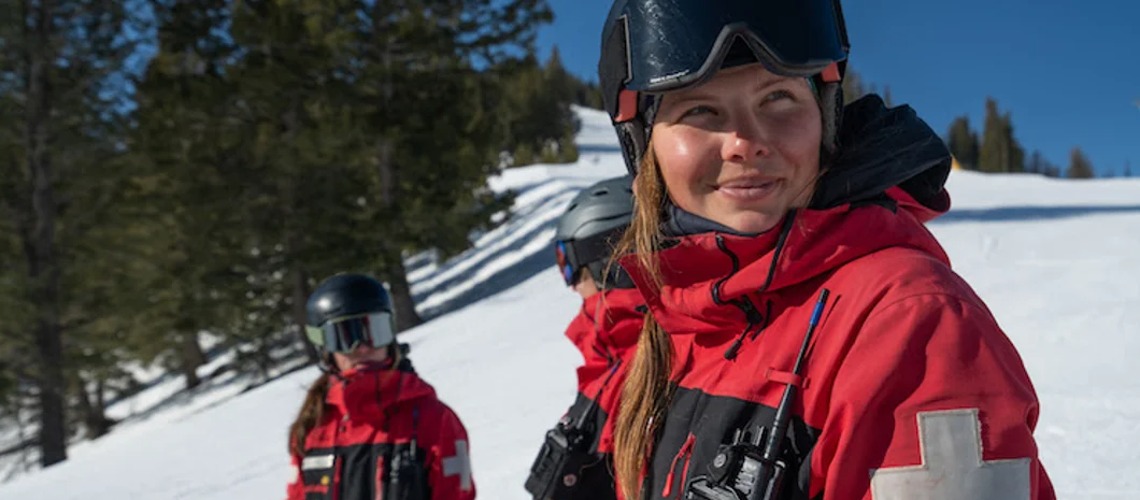 On the mountains, ski patrollers play a large part in maintaining and promoting skier safety across varied terrain. For Ski Patroller Hannah Baybutt, based in Sun Valley, Idaho, each day is slightly different, but her ultimate goal is always to keep people safe. Her role involves working to remove obstacles, providing first emergency care to injured people and responding to wreck scenes in diverse and challenging conditions. Her job can be both physically and mentally exhausting, but being part of a team of experts on the mountain helps Hannah to trust in her abilities and maintain focus when she needs it most.
As part of Helly Hansen's new global 'We Belong in the Mountains' campaign, the brand worked with Hannah Baybutt to highlight how the work she does in Sun Valley ensures the mountains are a safe place for all. In a short film, Hannah shares the responsibility she feels wearing the ski patroller cross, and the hurdles she's navigated in a traditionally male-dominated industry. She recognizes the strong female patrollers that inspire and empower her, and how teamwork allows her to trust herself and feel a sense of belonging – in her career and on the mountains.
"When arriving at a serious situation that could be life changing for someone, there's a saying we have – you don't rise to the occasion, you fall back on your training. No matter what happens out there, you have to trust yourself, trust in your training and your team – so that you give the person in need the best care," says Baybutt.
Despite the layers of pressure and the testing scenarios Hannah faces daily, trusting in her gear, her knowledge and those around her is vital to any rescue and work she performs. It's this trust, and her connection to the outdoors, her mentors, and the patroller community, that allow her to belong in the mountains and ensure others feel safe and can belong too.
"Through this new campaign, we wanted to illustrate the role trust plays in finding a sense of belonging. There's no greater feeling of trust than when you know you are part of something bigger, connected to a team or a community through shared passions or goals. To belong in the mountains, whether skiing or patrolling, we need to trust our gear, ourselves, and those around us to feel safe and connected," says Joumana Løvstad, Director of Brand Marketing at Helly Hansen.
"Hannah and the team at Sun Valley have a strong connection with each other and the mountains they work on each day. They're in tune with the unpredictability and immensity of the terrain and conditions – and rely on their training and preparation to keep the mountains safe and to step in when things take a turn for the worse. We're proud to partner with Hannah and many ski patrollers around the world, providing them with professional grade gear they can rely on."
Helly Hansen's new global campaign was created together with top advertising agency Grey London. Media is being handled by Wavemaker.
Credits
Creative Directors: Sam Hayne & John Gibson

Creatives: Alexander Jones & Emily Walker


Planning Partner: Lee Barber

Business Director: Ryan Lacey

Account Director: Jamie Hamill

Account Executive: Natasha Meisel

Media Agency: Wavemaker

Production Company: Warren Miller

Director: Chris Patterson

Post Production: Gramercy Park Studios


Producer: Barry King & Josh Haskins
Share This Article