Ground Broken For The First Time At TechnoAlpin's New Production Facility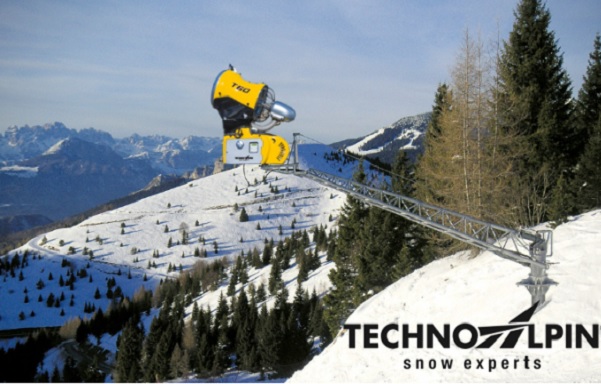 TechnoAlpin is a leading innovator on the snowmaking market, supplying over 2,200 customers in more than 50 countries. The snow guns are completely assembled in Bolzano (ITA), before being shipped to ski resorts around the world. Due to the increasingly high demand on winter sports providers around the world, TechnoAlpin is building a new production facility in Bolzano in 2018.
On February 21, 2018, the ground was broken for the first time in the construction of the new TechnoAlpin production facility. By 2019, the worldwide leader in innovation's production operations will be relocated to Bolzano. The ground-breaking ceremony was attended by chief executives Erich Gummerer and Walter Rieder, as well as the governor of South Tyrol Dr. Arno Kompatscher, the mayor of Bolzano Dr. Renzo Caramaschi, and the architect Fabio Rossa.
Every year, ski resorts around the world make investments to secure their future viability. The higher volume of orders is also bringing about dynamic business growth at TechnoAlpin. "Ski resorts depend on good planning for the future in order to guarantee a successful winter tourism season," explains CEO Erich Gummerer. "Having consistent snow quality, even on the more frequently used slopes, is today a basic expectation. The new production facility in Bolzano will play a big part in meeting these requirements in the future." The company employs nearly 600 people around the world, over 300 of whom are employed at their headquarters in Bolzano. During the peak season, 150 workers will be active at the new production facility. Much of these jobs will be newly created positions brought about by this new construction.
The new production facility on Siemensstraße will have a total volume of nearly 110,000 m³, spread over an area of 14,500 m². With four stories in all (one of which is underground), the new structure will in the future house the company's entire production facilities, including offices, meeting rooms, and a warehouse for snow guns. "The process of designing an industrial building must aim to achieve a sense of harmony between its visual appearance and the production processes it will contain," explains architect Fabio Rossa from area17, setting out his involvement in the project. The part of the building housing the production facilities forms an artificial facade by the combination and rotation of two types of prefabricated concrete slabs, which scatters daylight into the inside of the building. "The shape of the dynamic office block and its use of TechnoAlpin brand colors clearly communicate the identity of the company," Rossa adds.
The governor of South Tyrol, Dr. Arno Kompatscher, is particularly pleased with the company's choice of the site. "TechnoAlpin is active in a field of expertise which is of strategic importance for South Tyrol: alpine technologies. So, I am very pleased that the world market leader in the production of snowmaking systems is investing more into its company headquarters in Bolzano, thus boosting South Tyrol's business and research credentials. As an internationally recognized company, TechnoAlpin is helping to make South Tyrol's future even brighter. I wish the company's management and its committed employees continued success."
Share This Article