Fire Damages Plattekill Chairlift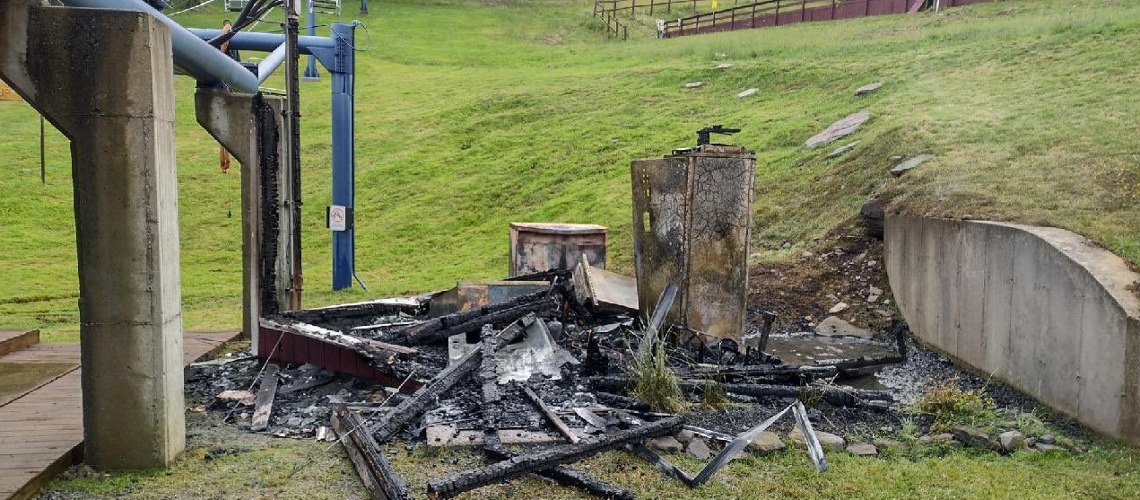 A lightning strike is believed to have started a lift shack fire at New York's Plattekill Mountain on Tuesday afternoon. The local fire department responded within 10 minutes and stopped flames from spreading to the double chair's drive terminal.
They say "On the afternoon of July 12th a violent microburst storm with straight line winds lasting 8 minutes landed a direct lightning strike to our beloved double chair control building. A special thanks to our first neighbor just below the mountain who saw the fire and called it in, and the swift response of the Roxbury Volunteer Fire Department they were able to save our base terminal and ensure that we shall ride again this winter. Efforts are already underway scouring the supply chain to source parts and rebuild. A huge shout out to the amazing team at Plattekill for pivoting so quickly from large ongoing projects to starting construction on a new platform for weddings on the triple chair summit. We appreciate you all. @WadlerBros Lumber yard rocks for delivering lumber at a moments notice this morning. The outpouring of support from friends and other ski areas is overwhelming and reminds us what is so amazing about our industry. We will pay it forward whenever the need arises."
The lift was built by the now defunct Hall company and was originally sited at nearby Bellayre. Though Dopplematr services Hall lifts parts can be hard to come by. On Twitter, Plattekill at first identified their primary need as a 200-horsepower DC drive, noting that the part was difficult to source because "the related components inside the drive are in the same supply chain hangups as the automotive and manufacturing sectors are suffering from."
If you are a ski resort or manufacturer and have spare parts for a Hall lift, please reach out to the Plattekill Mountain marketing team.
Share This Article