Faction Skis Celebrates Women's Ski Champions With The X Series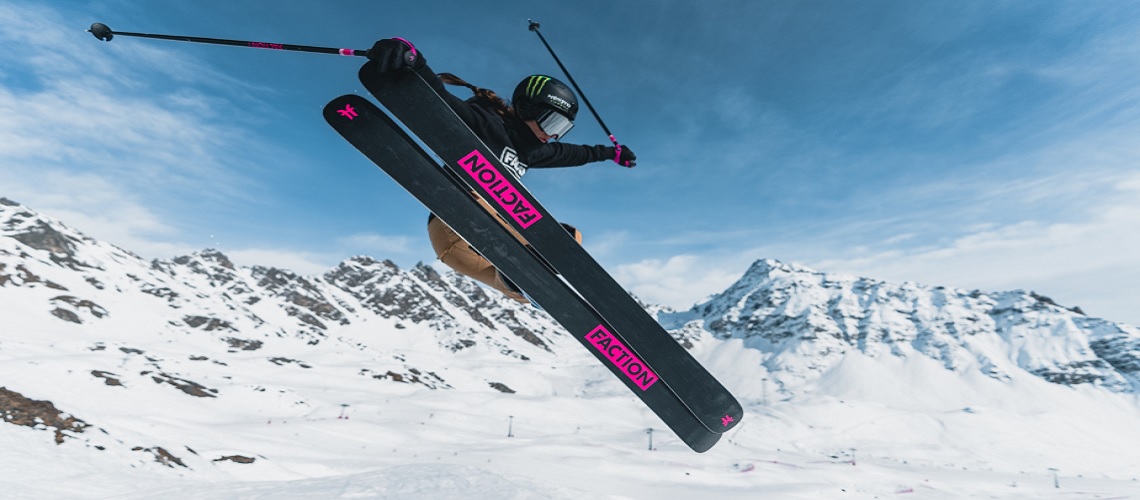 Faction, the disruptive ski and outdoor clothing brand, is celebratingInternational Women's Day by telling the story behind their women's range: The X Series.
Uniquely, Faction's design research determined that women don't require softer skis made of cheaper materials; the choice of ski should be according to weight and ability, not gender. The X Series have been ridden by Faction's all-star women's team to gold medals and podiums at the Olympics, FIS World Cups and the X-Games.
Every model in Faction's X-Series is the exact same shape, construction, flex and materials as the main range – but with alternative graphic options.The Prodigy 1.0x has been the most successful ski on the women's slopestyle competition scene in 2018 & 2019.
Sarah Hoefflin and Mathilde Gremaud swept gold & silver medals in South Korea last year, but the wins have not stopped since. At the X-Games in Aspen in January, Kelly Sildaru scored an unprecedented 99, and was the first athlete to ever have won three medals in one single X-Games. She insists that it's important to sport a feminine topsheet. But the fact is, some of the women prefer a more neutral style, reflecting a diversity of opinion among skiers everywhere.
Alex Hoye, Founder & CEO at Faction comments, "We have thought about this a lot and came to the clear conclusion to offer a choice. We've had great feedback on our X Series graphics which unapologetically offer strong feminine styles, but not all women want the same thing and that's great, for those who don't the main range is there. Either way, creating the X-Series gives us space to celebrate and be inspired by the Faction women who are changing the face of freeskiing every day they hit the mountain. "
Faction Women: What We Ski
ELISABETH GERRITZEN – FWT ATHLETE Rides: 18/19 Prodigy 4.0 + 19/20 Dictator 3.0
"I like the Prodigy 4.0 as it pops but is also stable for landing cliffs. I've been skiing this for the last two seasons on the Freeride World Tour. I'm just about to switch to the Dictator 3.0 because the new shape looks epic. AND while I like the pink in the CT X Series, I'm not a fan of the pink in the main range of Prodigy's – is that weird?"
OLIVIA HERBERT – HEAD OF OPERATIONS Rides: 19/20 Agent 1.0x
"I'm new to ski touring and the Agent 1.0x has been the perfect gateway ski. It's really lightweight for going up and riding down the Agent 1.0x handles anything the mountain can throw at it."
SARAH HOEFFLIN – OLYMPIC GOLD MEDALIST FREESTYLE SKIER Rides: 19/20 CT 3.0x + 19/20 Prodigy 1.0x
"For competition skiing, I'm all about the Prodigy 1.0x – it has the perfect dimensions, pop and flex for everything I like to do in the park. For backcountry skiing I've been riding the new Candide Thovex 3.0x – it's the fun-est thing for shredding pow and of course it's special to have a graphic designed by Candide Thovex - the G.O.A.T!"
ANNA SMOOTHY – HEAD OF MARKETING Rides: 19/20 Agent 2.0x + 19/20 Dictator 3.0
"I've always been a big fan of the Dictator lineup - but the updates for 19/20 have made these absolute beasts much more playful. The 3.0 is my pow ski, but for touring and everyday resort shreds - Agent 2.0x is my go-to."
KELLY SILDARU – X GAMES MEDALIST Rides: 19/20 Prodigy 1.0x
"I like the Prodigy 1.0x because the skis are pretty light so it's easy for doing tricks. The feminine graphics on the Prodigy X Series give women a strong message that these skis are built for them - which I think is really powerful."
CHLOE POPE – HEAD OF FINANCE Rides: 19/20 Dictator 1.0x
"As I am leading the finance team, naturally I'm going to gravitate towards the green skis! Aside from colour clichés, I like that it's stable across the whole mountain and the new sidecut makes the ski turn for you."
ASTRID CHEYLUS – FJT ATHLETE Rides: 19/20 Dictator 3.0
"I've used the Dictator 3.0 on the Freeride Junior Tour for the past 2 years. It's a hybrid ski with a big mountain shape that makes them the perfect pair to use in competitions, and across all different types of conditions."
MARION CHARPENET – HEAD OF APPAREL Rides: 19/20 Dictator 2.0x
"I really enjoy those skis because I can go anywhere, I want: on piste / off piste / powder / tree skiing – it's all good with the Dictator 2.0x. I like how rigid the ski is and I love to make a monochrome set up by matching the bright pink ski with the bright pink poles."
Share This Article