CWSAA 2020 Jimmie Spencer Lifetime Achievement Award Goes To Mike Wiegele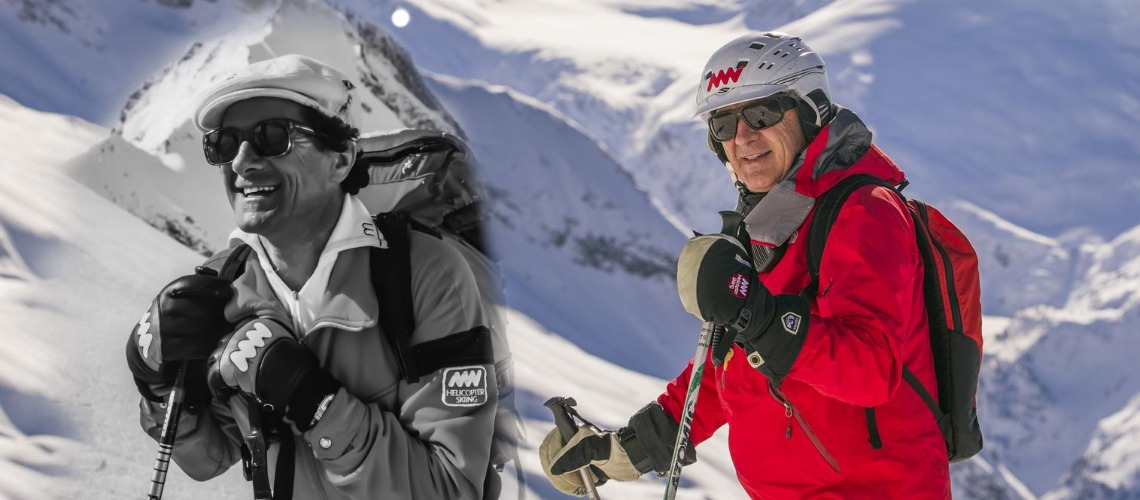 The CWSAA Jimmie Spencer Lifetime Achievement Award recognizes an individual that has shown exceptional leadership and lengthy service to the ski industry.
This year, the Board of Directors is proud to recognize Mr. Mike Wiegele with this distinction.
"To ensure the continued support of small community ski areas, especially at this time of COVID-19, Mike has requested that his gift be directed to the CWSAA Small Ski Areas fund. Mike Wiegele has made an additional donation to the fund, for a total $1000 contribution. Thank you Mike for your generosity and tremendous contribution to the industry - both with this gift and your work over the past 50+ years. "
While growing up on a farm in Austria, Mike's passion was skiing and racing. Despite his family's resistance and his obligations on the farm, he succeeded in getting his training. He was a ski race competitor in both Europe and Canada during the 1960's.
As a man who loved the mountains, Mike left Austria, the birthplace of skiing, and immigrated to Eastern Canada in 1959 to work as a carpenter. He later took a job at Mount Tremblant working for legendary ski-school director Ernie McCulloch.
In the early 1960's, after moving out West, Mike obtained Canadian Ski Instruction Association Level 4 certification. In 1965, Mike became the Director of the Lake Louise Ski School and a coach of a number of National Team racers including Ken Read. Mike and Bonnie Wiegele got married in 1967 after meeting in Lake Louise.
In his spare time he would explore the nearby majestic mountains, searching to find the deepest, lightest powder snow possible. In 1970, Mike started taking guests out on daily ski trips into the Cariboo Mountains. In 1972, Warren Miller agreed to come and make the first film. As the word about Wiegele's new heliskiing haven started to trickle out guests from around the world started to sign up.
As great as the skiing was around Valemount, Mike Wiegele was not satisfied. He wondered why locals kept talking about Blue River, an hour's drive farther south. After meeting "Grandma" Molly Nelson, an amateur meteorologist, she had recorded that storms dropping three or four feet of snow at a time were a regular occurrence and the wind patterns were far gentler in Blue River than further north. He decided to move his operations south to Blue River in 1974.
At this time, he started to buy land and develop a full service resort for a world-wide growing clientele. Building guest chalets, and a main guest lodge, fitness centre, dining rooms and massage clinic throughout the 80s. In the 90s, the operation expanded to offer summer activities such as helihiking, biking and fishing.
The Canadian Ski Guide Association was founded by Mike Wiegele in 1990. The association trains and develops young Canadian as ski guides. One of Mike's mandates is to give others the chance to experience the mountains of the area. In addition, he would like to provide those passionate about the mountains with the ability to gain long term employment.
Mike has received a Medal for Bravery from the Governor General of Canada. This medal is awarded to individuals who have risked their lives to rescue and to protect others from harm. He has also received the Jim Marshall Leadership Award from CWSAA. As well, he has been inducted into the Canadian Skiing Hall of Fame.
Today Mike continues to develop his business nestled between the Cariboo and Monashee mountain ranges in Blue River, BC. It is one of the largest heliski area in the world, encompassing 1.2 million acres (4,506 square km or 1,740 square miles) of terrain. In 2001, Michelle Wiegele succeeded her dad as president of Mike Wiegele Helicopter Skiing.
As the founder and owner of Mike Wiegele Helicopter Skiing, Mike proudly carried his Austrian heritage into the majestic mountains of Western Canada – and in so doing established a business here that has no equivalent anywhere else on the planet. Today, the Wiegele name is synonymous with helicopter skiing around the world. His energy, his vision has created a wonderful bridge between the two countries. That's why Mike was awarded Austria's prestigious Gold Medal ("Goldenes Verdienstzeichen") by Austria's Ambassador to Canada, the honorable Wendelin Ettmayer in December 2003.
Mike Wiegele still skis as much as possible, living true to his motto: "Let's Go Skiing!"
Share This Article