Construction Meets Creativity, The Story Behind Steamboat Square's Art Installations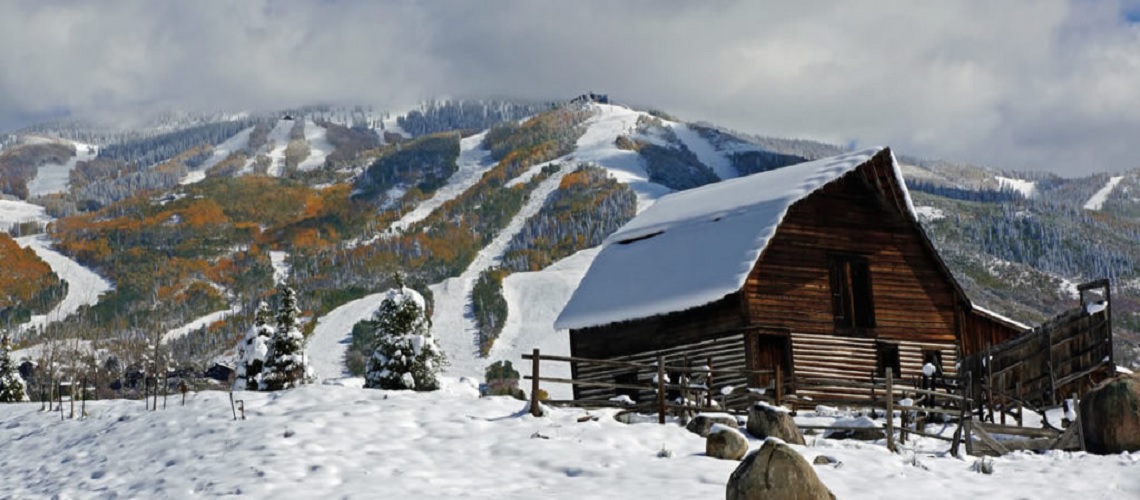 Rolling ahead on $180 million in monumental improvements, Steamboat is welcoming increased expert terrain, revamped learning and base areas and much more. These major capital enhancements will unfold over the next three years, positioning Steamboat as the second-largest ski resort in Colorado.
With growth comes construction. Thanks to the creative team at Cultivator — the Denver-based ad agency behind similar projects in Snowmass and Beaver Creek — the ambitious Steamboat Square facelift is cloaked in an educational and engaging art installation.
While crews kick up dust, building a new après ski plaza, ice rink and food hall, skiers follow the path from the transit hub, riding the new escalator and walking along the art installation to the repositioned gondola base. Playful exhibits tell the story of how our town runs on tradition, how we're growing and staying sustainable and how we celebrate our Olympic heritage.
As you make your way to the slopes, be sure to stop and spin the snowflakes, snap a podium pic and peer into the future through giant six-foot goggles.
Steamboat Square Art Installation Highlights:
The Steamboat logo made of 2,451 bottle caps shares our love of staying hydrated and celebrates our nixing the sale of single-use plastic bottles on the resort this year. This is just another way they're working together to preserve the natural resources that give Steamboat world-famous Champagne Powder snow.
"Folks at Steamboat really love the mountain and they care about what's going on," says Cultivator creative director Chris Beatty. "We love seeing groups stop and gather around these art installations to talk."
Follow the larger-than-life letters "S-N-O-W" this way arrow from the transit center to the escalator to the resort base. Look for the word "Gondola" spelled out with 783 painted ski pole baskets leading skiers to the new gondola location.
Tip your ski helmet to the gondola mural comprised of 57 spray-painted cowboy hardhats and get ready to hitch a ride in our brand-new, 10-person Wild Blue Gondola — the longest and fastest 10-person gondola in North America.
Spinning snowflakes made of real horseshoes remind us that our favorite activities happen on snow. That's why we're making more of it earlier by upping snowmaking efforts on Sunshine Peak, guaranteeing great early-season powder.
A wall of cowboy boot ice skates celebrates the new ice-skating rink and Steamboat Square centerpiece. Chris and team collected real cowboy boots from Colorado shops and even rounded up a tiny pair from one of our marketing guru's little skiers.
View the future through six-foot ski goggles made of high-density sign foam. The heart of the resort reimagined appears as you're looking out from the inside, including the exciting new Range Food & Drink Hall coming summer 2022 and 650 new skiable acres coming opening (?) winter 2023.
Marvel at the nine-foot oversized spurs made of metal and up-cycled cross-country skis. In the tradition of our pioneering spirit, we're spurring forward momentum with an exciting transformation.
Capture an Instagram story on the Olympic podium, taking home the gold, silver or bronze and honoring the 98 Olympians to come out of Steamboat so far—more than any other town in North America.
"The number one goal is to inform guests about what's happening with the development," Chris says. "We want to assure people that Steamboat is staying true to its roots and authenticity."
Visit fullsteamahead.steamboat.com for full project details and timelines.
Share This Article