CMH Mourns Passing Of Founder Leo Grillmair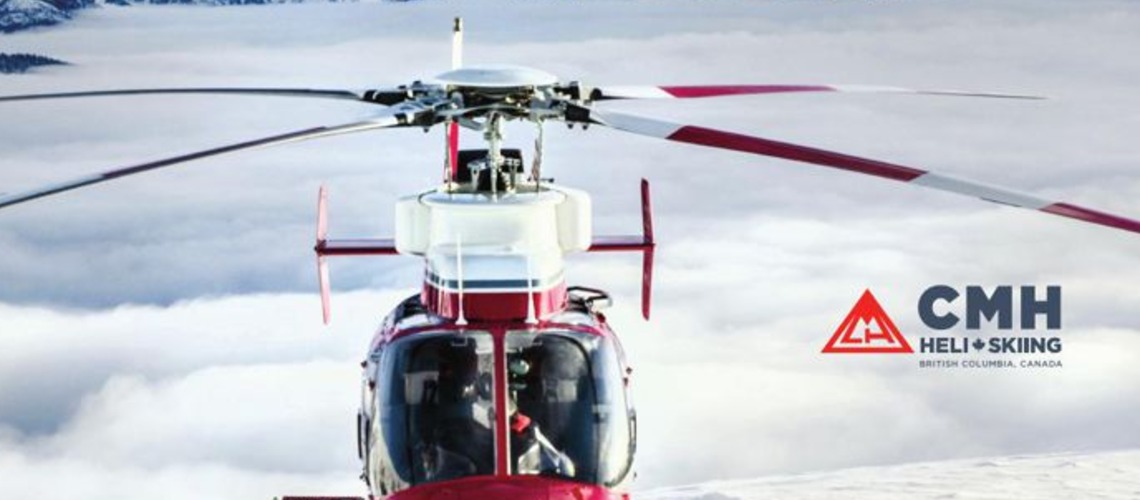 eo Grillmair, mountain guide, heli-skiing pioneer and one of CMH's founders, passed away on May 1, 2023. Unable to recover from a fall he had while skiing a few weeks prior, the charismatic 92-year-old passed while surrounded by family and with the mountains he loved standing sentry just outside his hospital room. Here, we remember his remarkable life.
Leo Grillmair was a man without pretense. He was a straight-shooting, all-out, gregarious personality who had a natural way with people and a special knack for making anyone who crossed his path feel welcomed.
A plumber by trade, he was a mountaineer at heart who built a life out of his joy and passion for skiing, hiking and exploring the mountains.
Without him, CMH Heli-Skiing & Summer Adventures (originally Canadian Mountain Holidays) may very well have never existed.
It was Leo who convinced his childhood friend Hans Gmoser—the name most famously associated with pioneering heli-skiing and founding CMH—to join him on a journey to Canada from Austria in 1951 to work and explore the Rocky Mountains.
That invitation was the catalyst for years spent side-by-side as friends, climbers, skiers, innovators and business partners. Together they grew a fledgling guiding business into the company CMH is today and blazed a path for the sport of heli-skiing, which has since grown into an entire industry.
Beyond his pivotal role in shaping the heli-skiing industry, Leo made a host of other significant contributions to the mountain community. He pioneered new routes in the Rockies, most notably Grillmair Chimneys and Direttissima on Yamnuska, made the first Canadian ascent of Mount Alberta, climbed a new route on Denali in Alaska, and was a founder of the Association of Canadian Mountain Guides.
"Leo had an endearing touch of irreverence and a willingness to go for it and try something that had never been done before," said present CMH President & COO, Rob Rohn, of the characteristics that made Leo a one-of-a-kind character and a pioneer.
"He and Hans invented a new sport that really differentiates Canada in the mountain and guiding world and is now the primary employer of guides in this country. That doesn't happen without a certain mindset."
Born October 11, 1930 in Ansfelden, Austria, Leo was the sixth of ten children. He grew up in a small, 400-year-old house in the woods in a busy household he described as "dirt poor" but filled with music. Leo's father loved to sing and taught Leo to do the same.
As a young boy growing up during World War Two, Leo found escape in learning to ski, camp and hike. This initial spark formed the roots of his lifelong passion for travelling among mountain peaks. He hiked and climbed many summits in Austria during and after the war and was mentored by climber Fritz Kögler.
Leo became an apprentice plumber during wartime at age 13, and by 17 had earned his journeyman's ticket. When the war ended and a looming labour shortage threatened future employment, Leo's foreman told him of a program that was paying for skilled tradesmen to move to Canada. On the very day Leo filled out the paperwork to do so, he bumped into Hans on the street and convinced his longtime friend to join him on the trip as an electrician.
The two soon bid farewell to their families and climbing friends and set sail for Canada on Leo's 21st birthday. They endured a 13-day boat journey across the Atlantic Ocean to Canada followed by a train ride and were dismayed at first glimpse of their eventual destination: Edmonton. With visions of climbing and skiing Canada's great rocky ranges, they'd requested to be sent to simply "the mountains." Instead, they disembarked the train crestfallen, nothing but a pancake-flat prairie landscape stretched out before them.
Their early days in Canada weren't short on struggle. With little money or English language skills, a leg injury suffered by Leo, and a few unsuccessful attempts at finding work, they initially limped along. Leo was fired from a Northern lumber mill, and both were swiftly axed from a logging camp near Edmonton when they snapped a saw on day one. They accepted they weren't destined to be loggers and moved on to Calgary.
It was while stationed in Calgary that Leo and Hans finally had the chance to explore the mountains they'd been longing for. One excursion included Leo's namesake ascent of Grillmair Chimneys on Mt. Yamnuska, where his plumber's grip, strengthened by heaving heavy pipe day after day, worked in his favour to allow him to pull himself up through the chimney-shaped slot (while wearing crepe-soled street shoes, no less!)
Leo and Hans eventually found work in the Bow Valley as a plumber and an electrician. With newfound proximity to the landscape they'd imagined while crossing the choppy Atlantic, the duo further hiked, climbed, skied and pushed the limits of what had been accomplished on the mountain faces of Canada.
The two men alternated taking jobs in their respective trades while working to become certified mountain guides. During this time Leo met and married his first wife, Elfi, and fathered three children. He also worked on a number of geological and mining expeditions; it was there that he was exposed to helicopters and saw their potential firsthand.
Leo and Hans' guiding eventually led them to the Bugaboos, where they were awestruck by the terrain. They began ski touring and guiding clients in the area, unaware that they were on the verge of revolutionizing backcountry skiing.
Art Patterson, a ski touring client, suggested and urged them to attempt using a helicopter to gain extra vertical and a few extra runs. Following a few hit-and-miss attempts, finally in April 1965, Hans hosted the first official weeks of commercial helicopter skiing. The first guests were hooked. Heli-skiing, and CMH, were born.
The humble site of an old logging camp near the base of the granite Bugaboo Spires was the birthplace for that wild dream, which quickly grew to include the construction of the first CMH lodge. The rest, as they say, is history.
When CMH started to really take off and expand, Hans shifted his focus to the business side of things and Leo turned his attention to operations, the guiding team, and the day-to-day, on-the-ground tasks of running a successful heli-skiing operation.
"They decided that together. They had a great partnership around making decisions about things," said longtime CMH guide Dave Cochrane, who was a young guide when he first met Leo and eventually himself became the Bugaboos Area Manager.
"I often heard Leo say that he was just along for the ride, but watching them together, I disagree. They would face a problem, discuss it together, and then they would make a unified decision and just go forward with it. There was little hesitation or going in circles. It was a cool partnership."
Leo spent 22 years as Area Manager and lead guide of the Bugaboos. He oversaw the construction of the lodge (plumbed it, of course), maintained it, and guided guests. He met his wife, Lynne, while she was working at the lodge as a cook. When they married, she joined him at the lodge and took over the tireless cooking, cleaning and hospitality tasks that life in the middle of nowhere required.
Although Leo and Lynne eventually purchased an acreage in Brisco at the end of the bumpy dirt road that leads to the Bugaboos, the lodge was their home for much of the year.
"Being at the lodge was like being at Leo and Lynne's house," Dave explained.
Leo enjoyed socializing with guests, often playing cards into the evening, singing, yodeling, and playing Austrian folk music with Hans for an audience. He had a talent for rich storytelling and routinely held the CMH dining room rapt with an animated retelling of one misadventure or another.
"He made it a point to make sure people felt welcome. But he did it in a very natural way that didn't feel forced. He was just open. There was no false politeness. He was just himself, and he made the lodge a great place to be that was comfortable and cozy. He wanted you to feel like it was your place, too, and he did that by being generous and open and without having to say it."
Leo's style of hosting others is a legacy that lives on today, Rob echoed.
"His way of welcoming everyone as a guest into our home is the unique style that is CMH hospitality. He helped create an environment where people's background or status in the outside world seems less relevant as we share an amazing experience together and part as friends.
"I can't imagine how many people across the globe and over the many decades counted him as a friend and whose lives he enriched from the time they spent with him skiing, hiking and climbing in the Bugaboos."
Leo's no-frills mannerisms sometimes came off as gruffness, but people seemed to love him for it all the same.
"He was direct and he was honest," Dave said. "With Leo, there was no hidden agenda. You knew where you stood. He didn't have much of a filter and just said it like it was. I admired him for that, and I think it was the thing that endeared him to so many people. He wasn't putting on a show. It was like, 'If you want to go out in the mountains, let's go, but you'd better keep up.'"
Leo's technical skills and physical strength, combined with the joy he exuded while he was guiding, led guests from all over the world—some with vast mountain experience themselves—to want to be with him. Those he hosted included everyone from regular people to royalty and politicians, like former Canadian Prime Minister, Pierre Elliot Trudeau.

"For me, one of the most outstanding things with Leo was how passionate he was about being in the mountains and about skiing. His energy was super infectious," Dave said. "He engendered a lot of respect because he was not only a strong guy physically, but he was highly competent in the mountains. He also seemed to have a lot of faith in his guests. People loved him for that and wanted to follow him."
"Fundamentally, I think he just respected people. He let them do their thing," Dave said. "He was tremendously loyal and protective of his guides and staff."
"What I tried to take away from Leo was the way he made people feel. When I became Area Manager, I didn't want to mess that up. I wanted it to continue to be that amazing place where people could feel at home. It was always on my mind."
It was no secret that Leo moved fast, drove like a race car driver and somehow found his way out of multiple avalanches and mishaps that might've spelled the end for others.
"He had a number of brushes with death that other mortals and other guides couldn't have gotten away with, but somehow he did," Dave said.
"I don't know how many people pulled Leo out of a ditch over the years," Dave remembered, laughing. "Too many to count. He'd tear up and down the road to the Bugaboos and would regularly need a hand getting out of the ditch for one reason or another."
In 2010 at a celebration for his 80th birthday, Leo told a reporter it was a wonder he'd made it so far.
"At my lifestyle, it's amazing," Leo commented. "Someone once said to me that I had horseshoes up my ass. I told them I had an entire damn ranch.".
Leo's skiing sometimes mirrored his zero-hesitation approach, though it was always with a combination of skill, knowledge and experience.
"He just looked at terrain and went for it. He was famous for taking off with a yodel and hammering all the way to the bottom of the run without stopping," Dave said. "His guests had to do their best to keep up."
As for the yodel? "He was a beautiful yodeler. I think it was a gesture of happiness for being out in the mountains and doing what he loved to do," Dave mused. "It was an expression of joy."
Online tributes at the news of Leo's death were dotted with similar sentiments of a life lived at full volume.
"Leo had more lives than a cat and never took things too seriously," one friend posted. "An incredible life, an unparalleled legacy. Nine lives were truly not enough," commented another.
When Leo eventually retired, he never truly left CMH. He enjoyed life with Lynne, travelled extensively, relished time spent with his grandchildren and great-grandchildren, and devoted more time to making beautiful woodworking creations in his workshop. But he was never far.
For many years, he would go to the Bugaboos for a meal and a hello, and to check on the place he poured his heart and life's work into. He would sometimes barge into the President's office in Banff and interrupt things for a long-winded chat and to hear the latest.
And even until last winter, Leo would drive over to the Bugaboos heli-pad in his blue station wagon on most exchange days to be a part of the hubbub. Newer guests were often unaware that they were standing next to the man partly responsible for the experience they were about to enjoy.
At the heli-pad on those Saturdays, Leo was there to chat with the guides and to see longtime guests he knew well. His friends.
"It's nice to have so many friends here," he was quoted saying at his 80th birthday celebration, which was held at the Bugaboos. "There are so many really good friends who have been with me for so long. What else is more important than friends? I think a day like that, it couldn't be nicer."
Join us in raising a glass or singing a tune in celebration of Leo. A man who made things happen, who was often behind the scenes but always present, and who was one of the most significant right-hand men in Canadian skiing and mountain history.
Leo is survived by his wife, Lynne, his two children, Carl and Elizabeth (Liesl), and his three grandchildren and seven great-grandchildren.
At the family's request, in lieu of flowers, please consider making a donation in Leo's name to the Canadian Red Cross, an organization Leo and Lynne supported.
Share This Article