Brooks Lake Lodge Promotes Snowmance This Valentine's Day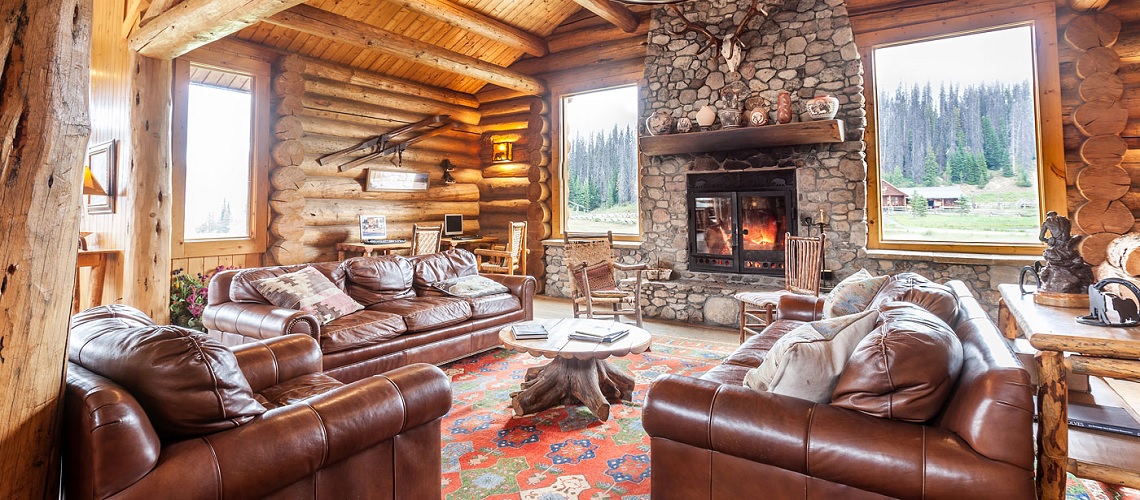 Whether it's Valentine's Day or any day over the course of the winter season, Brooks Lake Lodge & Spa, nestled lakeside at the base of the mountains deep in the Shoshone National Forest, is the perfect place for couples to enjoy a romantic retreat. In 2018, the Travel Channel described Brooks Lake Lodge & Spa as a best place for couples to "go off the grid," calling it the place to escape with "all the components of a truly romantic getaway." Indeed, Brooks Lake Lodge offers five great reasons that a few nights away with your sweetheart in the wilds of Wyoming might be just what Cupid ordered.
Remote and removed from the everyday.
Brooks Lake Lodge rests on over 2 million acres of scenic terrain for guests to explore most popularly via snowmobile. A five-mile dirt road, accessible only by skis, snowmobiles, snowshoes or snow-coach in winter, leads guests over streams and through the snowy woods until the brush clears and the lodge appears, nestled in the place where it has been for nearly 100 years, perched lakeside beneath a mountain of pine trees, facing the dramatic Pinnacle Buttes. That remoteness gradually sinks in with arriving couples, along with the calming reality that it's time to relax.
Disconnect from digital, connect with physical.
The lodge is so remote, cell service isn't a possibility at Brooks Lake Lodge. And while there is an opportunity to use Wi-Fi, the better way to connect is through activity. Winter activities at the lodge include snowmobiling, the most popular for winter thrills and catered to suit pros and newbies with guided or unguided tours around the lodge that offer a spectacular opportunity to explore the Wyoming wilderness with its dramatic landscape and grazing wildlife. Couples also can enjoy snowshoeing or cross-country skiing through the snow around the lodge – or even try their hand at ice fishing.
Gourmet meals, ALL included.
The cuisine at Brooks Lake Lodge has been called "the best meal in the middle of nowhere" by Food & Beverage magazine and, as the Travel Channel put it, "Without exception, meals are delicious, creative and reminiscent of life in the West." Acclaimed Chef Whitney Hall likes to incorporate her Southern roots in her menu offerings. Guests enjoy evening feasts with a focus on local trout, elk and venison, as well as pork and beef from Idaho's Snake River Farms and seafood overnighted from Hawaii, all beautifully complemented with such creative side dishes as a wedge salad dotted with fresh pomegranate seeds and wasabi-spiced mashed potatoes. Hearty Western breakfasts and imaginative lunches are thoughtfully prepared and served fresh daily in the rustic Dining Hall, complete with vaulted ceilings, a giant crackling fire and fine Western art from regional artists. And for couples there is no need to order what's affordable: all meals are included in an overnight stay and are aimed to impress.
Be a VIP.
The lodge accommodates a maximum of 36 guests at a time, maintaining at least a 1:1 ratio of staff to guests, guaranteeing speedy and personalized service. Whether guests want a hot toddy by the fire, a hot stone massage at the onsite spa, a soak in the giant outdoor hot tub or help with gear from snowshoes to a snow tube, the staff at the Lodge is always ready to help with a smile.
Sleep like a log, surrounded by logs. The rooms and cabins at Brooks Lake Lodge for couples feature king-sized, hand-crafted lodgepole pine beds, crisp linens, goose down comforters and terry cloth spa robes. At the end of an adventurous or leisurely day guests can enjoy a quiet, peaceful night's sleep. Described as "the most comfortable king-sized bed I have slept (or not slept) on" by a writer who was visiting the lodge with her "sled head" husband for a review for American Snowmobiler magazine, a weekend at the lodge created her own love affair with snow and provided a unique opportunity to connect (kid-free) with her husband on a two-night winter getaway.
Brooks Lake Lodge & Spa, a nearly 100-year-old historic guest ranch near Jackson Hole, Grand Teton National Park and Yellowstone National Park, is located one mile from the North American Continental Divide, with views of the Pinnacle Buttes, Austin's Peak and Brooks Mountain. Surrounded by evergreen forests, wildlife and alpine Brooks Lake, the exclusive, all-inclusive Wyoming Rocky Mountain resort offers five-star service, luxury accommodations and gourmet dining. Named a 2018 Best Lake Resort by National Geographic Traveler magazine, a 2017 Western Landmark and hidden gem by Western Art & Architecture, a U.S. Rocky Mountain Stunning Inn & Lodge by Vacation Idea, a Top 10 Luxury Wildlife Lodge by Money Inc., Where to Go Off the Grid by the Travel Channel, and a Travel + Leisure Great American Lodge,
Share This Article