Beat Feuz Wins On The Birds Of Prey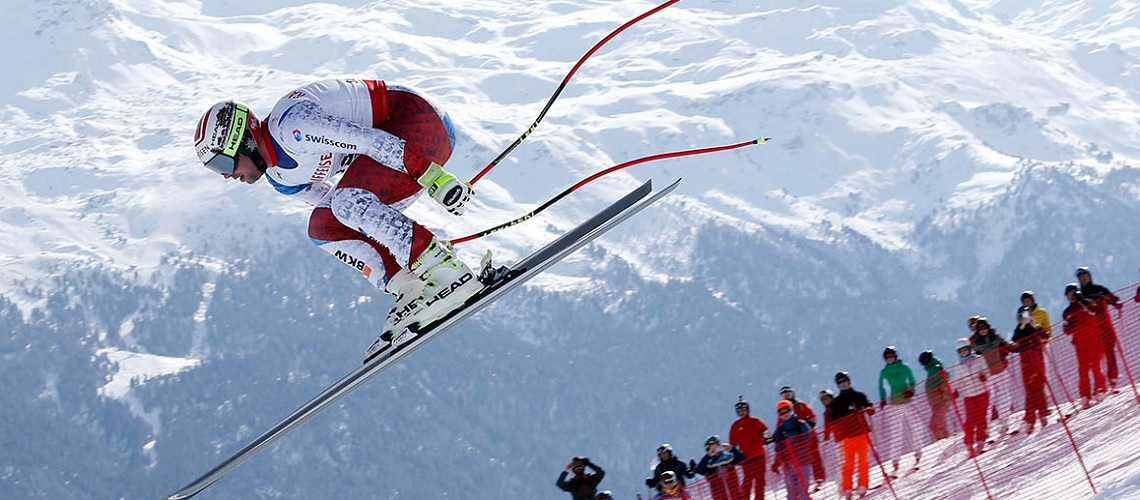 The infamous Birds of Prey downhill saw Switzerland's Beat Feuz take the win by a very small margin over his fellow country man Mauro Caviezel and Norway's Aksel Lund Svindal.
After the program of both speed races has been inverted, anticipating the overnight snowfall going into Saturday, the best downhillers of the World tackled the Beaver Creek race course.

The downhill globe winner of the 2017/18 season was able to lay down the fastest time, carrying the speed from the steep sections all the way down to the finish line. Beat Feuz knew that with a lowered start, excluding the flat section on top, he'd have better chances to win in Beaver Creek and he seized that chance to earn his first title on the Birds of Prey.

Mauro Caviezel surprised the crowd again with the second fastest run of the day. Less than one week after scoring his second podium in career in Lake Louise, the Swiss racer added another podium to his collection. The last double win for Switzerland in downhill goes back to 2011, when Didier Defago won in Bormio ahead of Patrick Küng.

In third position, Aksel Lund Svindal claims his 78 podium in career, the 14 in Beaver Creek. The downhill Olympic champion had a hand surgery less than two weeks ago, but nothing that prevents him to be among the fastest down the Birds of Prey.

Unfortunately, three athletes crashed during today's downhill. While Peter Fill and Marko Vukicevic were able to ski to the finish area by themselves, Thomas Dressen from Germany had to be transported to the Vail Hospital for further examinations.
From the home team Bryce Bennett (Squaw Valley, Calif.) stepped up his game, and Steven Nyman (Park City, Utah) proved he is back from a knee injury as the "Twin Towers" tied for ninth in the Xfinity Birds of Prey FIS Ski World Cup downhill Friday in Beaver Creek, Colorado. Switzerland's Beat Fuez and Mauro Caviezel took the top two steps on the podium, with Norway's Aksel Lund Svindal in third.
"I grew up watching these guys on TV," Bennett said of Fuez and Svindal, "and here I am. I'm in the mix with them, which is … weird, a little uncomfortable. But I think with a little bit more time, it will become more comfortable."
It's was Bennet's third-career World Cup top 10 downhill result, and it came from a weather-shortened start on the traditional Birds of Prey course, which tossed racers right into the Brink - the first steep pitch on course. "It was definitely like zero to 100mph real fast," Bennett said. "I was really hoping to go from the top, but with all the snow it was tough for the Talon Crew (course volunteers). They did a good job and the course is in really good shape, so hats off to them."
Nyman, who was injured before the 2018 Olympics, started bib 26 and faced a track slowed by a couple race holds and light snowfall. However, the veteran "American Downhiller" had a secret weapon.
"I said last night in the press conference that I was breaking out some rocket ships, so those helped with the position I guess," Nyman said. "I'm pretty psyched with what I did. Technique-wise, I skied well, I thought I was disciplined, I nailed the points I wanted to nail, and I did what I needed to do."
Sharing a top 10 result with Bennett was a pleasant surprise for Nyman, who posted his 20th career top 10 World Cup downhill result. "It's so awesome that we tied. It's so cool," Nyman said. "Twin Towers! He's my little protegé, but he's not so little."
Travis Ganong (Squaw Valley, Calif), also suffered a knee injury prior to the 2018 Olympics and finished 28th in his return to World Cup racing. Ryan Cochran-Siegle (Starksboro, Vt.) was well on his way to another top-30 World Cup finish, but a mistake heading in the Red Tail jump near the finish cost him time and he finished 32nd.
Up next, the men are scheduled to race super-G Saturday on the Birds of Prey course. However, the weather forecast is calling for up to nine inches of snow. Regardless, Bennett already has his sights set on the next World Cup downhill Dec. 15 in Val Gardena, Italy, where he has posted his other two top-10 career World Cup results.
"Looking towards Val Gardena, which is a hill I can do very well at, I think my equipment is in a good place … where I can be competitive," he said. "I'm getting a little closer, a little closer … it's just a couple turns that you gotta clean up, and you're right there."
Today, Saturday, a super-g will be held in Beaver Creek, starting at 11:00. The event will be followed by a giant slalom on Sunday.
Share This Article