Badrutt's Palace Hotel, St. Moritz Celebrates Summer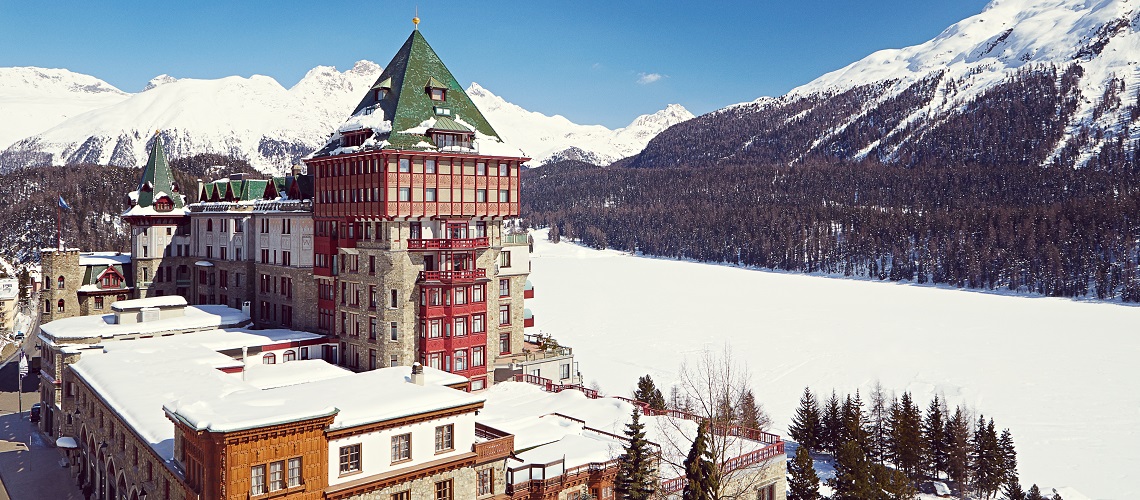 Badrutt's Palace Hotel is open for the summer season, and it's shaping up to be the most thrilling season yet in St. Moritz and the Engadine Alps. Fusing exhilarating cycling, sports and wellness experiences with dining delights and al fresco celebrations, Badrutt's Palace — where generations have been meeting since 1896 — makes for an idyllic and refreshingly different summer escape.
Boasting a 'champagne climate' with an average of 300 days of sunshine per year, St. Moritz was once better-known for summer getaways than it's now-famed winter pursuits. Today, the region is experiencing a seasonal renaissance, as guests seek sunshine and blissful seclusion amidst magnificent mountain scenery.
Summer sports
This summer, Badrutt's Palace has partnered with pioneering sportswear and lifestyle brand Rapha to introduce an exciting new package, offering guests stylish cycle wear plus a dedicated itinerary of scenic road cycling and expert guidance. The new 300 Days of Sunshine package is available throughout the summer season, offering three nights' accommodation alongside bicycle hire, a welcome pack of Rapha goodies, Rapha Travel Guide cycle routes and dinner for two.
Boasting some of the most scenic golf courses in Europe, St. Moritz is a golfer's paradise. 2018 marks the 125th anniversary of the Engadine Golf Club, and Badrutt's Palace is celebrating on 1st August with a gala event for players and spectators alike.
The Engadine Valley has an impressive water sports offering to rival traditional beach resorts, with a steady thermal current providing perfect conditions for wind- and kite-surfing, stand up paddle boarding and sailing. Throughout the summer season, guests can try their hand at fishing in over 220 local lakes and rivers with the hotel's chef, Andrea Panatti, or take to the water in the hotel's own sailing boat.
Back at the hotel, active types can work on their serve with a professional tennis trainer, or wind down with al fresco Tai Chi, Yoga or Pilates.
Gourmet gastronomy
Badrutt's Palace has an impressive portfolio of restaurants and bars to satisfy every craving. From 13th July to 5th August 2018, the hotel will add a Middle Eastern influence, as Guest Chef Mohammad Barafi visits from the royal palaces and Burj al Arab in Dubai, to serve up fragrant feasts of Arabian Mezzeh, family-style, in Le Grand Hall.
The gardens of the hotel will set the scene for indulgent seafood dishes and champagne, with a Krug Pergola available for private dining experiences for up to six people. Guests will enjoy exquisite seafood dishes and sushi, perfectly paired alongside Krug Grande Cuvée or Krug Rosé, surrounded by lushly manicured grounds and panoramic mountain views.
Sumptuous spa
Fusing the natural alpine environment with forward-thinking treatments, the vast and luxurious Palace Wellness spa provides the perfect location for a 360-degree overhaul of mind, body and soul. This summer, wellness advisor Martha Wiedemann is bringing her Ayurvedic training to the fore, with an exciting range of Ayurvedic-inspired experiences, whilst the new Gentlemen's Menu offers a variety of facial and body treatments tailor-made to suit the needs of men.
Lakeside littlies
The summer season sees Badrutt's Palace introduce a new partnership with Kids Sports Camps, run locally for teenage guests, adding a new dimension to the hotel's family offering. The hotel recently hosted a contest to find a Junior General Manager, with eight-year-old Anna invited to review the hotel and work with the Managing Director to enhance the kids' concierge, cocktails, menus and Club Palazzino, which provides complimentary childcare for children aged 3-12 years by trustworthy professionals. Cooking classes, tennis clubs, kids' yoga and even pyjama party disco nights at the hotel's famed King's Club are sure to keep the younger generations entertained from dawn 'til dusk.
Share This Article