Axess Pioneering Contactless Ticket Purchasing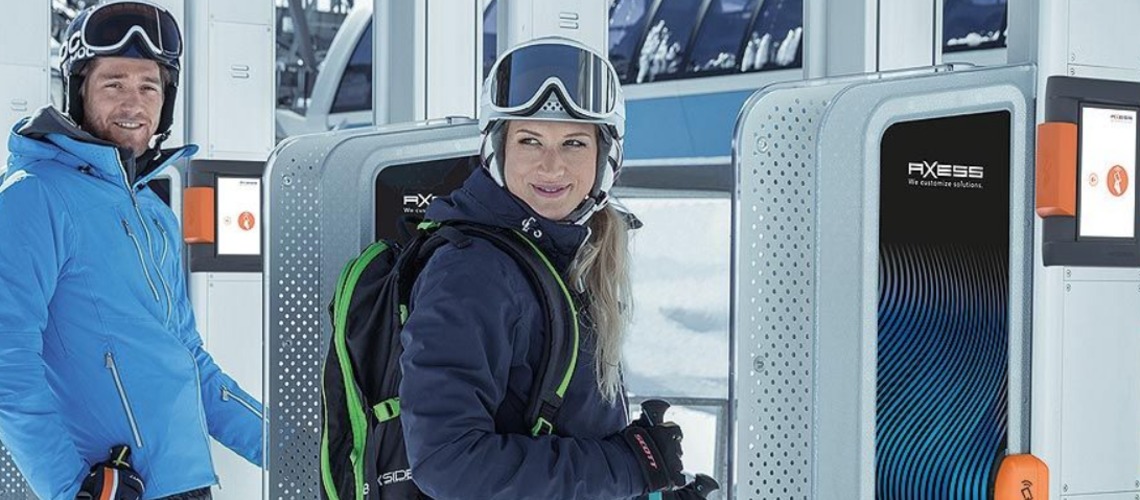 Regardless of whether it is for access systems, pay machines or online solutions for ticket sales, Axess is always up to date. Only in this way is it possible in our fast-moving times to always show customers and partners the latest opportunities in order to be able to offer guests the most modern solutions for a comfortable and safe day of skiing. Axess is currently again a pioneer in the area of ​​access management thanks to the latest products on the market.
Buy ski tickets online
Booking tickets should be a quick and easy thing to do. With the Axess WEBSHOP for online ticketing, resort operators can offer their guests the opportunity to book tickets or other services from the comfort of their own home or hotel room. Guests who are already regular customers can reload their ticket in the WEBSHOP using the WTP number and thus immediately receive a valid ticket. As in any other online shop, payment is made by credit card or other payment methods. The digital purchase of ski tickets is a particularly important factor in times of Covid-19, as it avoids contact with strangers at a cash desk. The WEBSHOP can be integrated into an existing website and adapted to the corporate design of the resort.
The smartphone becomes a ticket
With the new AX500 Smart Gate NG BLE, tickets made of paper or plastic may be completely dispensed with in the future. After a guest has bought his ticket in the WEBSHOP and it has been automatically saved in the corresponding app, the antenna of the gate recognizes the ticket on the smartphone using Bluetooth Low Energy technology. The AX500 Smart Gate NG BLE triggers the opening of the access after validation and the skier can go through the gate and to the lift without having to take the mobile phone out of his jacket. This enables you to walk through quickly and there are no long queues, which in turn avoids contact with other people. The smart gate supports operators of a ski area in complying with the applicable Corona measures.
The almost unlimited ticket information that can be saved on the mobile phone also opens up new possibilities for authorization management for operators. Of course, the usual RFID tickets can still be used, thus combining the best of BLE and HF technology.
"It is particularly important to us to develop solutions for our customers, which in turn inspire their guests and thus encourage further visits. The combination of buying tickets online in the WEBSHOP and using them via smartphone with the Smart Gate NG BLE is therefore important for the future and also for current Covid-19 measures, "says Oliver Suter, CSO and CEO of Axess AG. "The challenge here was to develop an app that consumes as little energy as possible so that the smartphone can last the whole day even in sub-zero temperatures. Our team was able to solve this successfully. "
Share This Article