Author And Illustrator Takes Skiing Home With 18 New Ski Fabrics And Wallpapers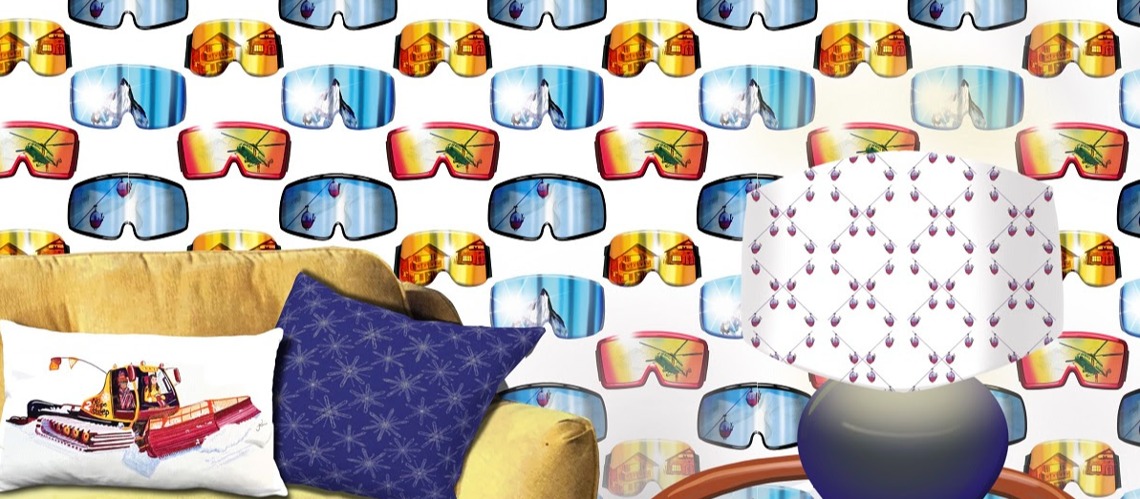 Author and illustrator of Ski A to Z Kimberley Kay has launched a range of 18 fabrics and wallpapers on ski, snowsports and mountain themes.
Kimberley has over forty years of ski experience including racing, teaching, and heli-skiing, as well as ski holiday promotion during a 20 year career in travel PR.
Kim learned to ski age 5 at the dry slope at Ski Rossendale, Lancashire, and in Mayrhofen, Austria.
Now based in Yorkshire, Kim creates art and illustration under the brand of Inspire by Kim, further information can be found at www.inspirebykim.com
In late 2020 Kimberley created illustrations for Dan Egan and Eric Wilbur's extreme skiing book 30 Years In a White Haze.
The range of fabrics echoes the bright, fun illustrations created for Ski A to Z and conveys a love of skiing, sport and the mountain environment. The designs are available for licensing, they can also be ordered as print on demand by the metre or in a range of ready-made household furnishings.

From snowflakes, to ski equipment, ski lifts to mountain peaks the fabric and wallpaper designs are ideal for keeping the ski season alive. Perfect for chalet, ski apartment, ski condo or a snowsports themed room, the designs are in Kimberley's bright upbeat style and available at Kimberley's 'Inspire by Kim' Spoonflower shop.

Kimberley said: "Much ski themed home decor is a nostalgic style with imagery and icons from the early days of leisure skiing. My designs bring in modern icons, imagery and equipment, to provide the opportunity to furnish in a more modern alpine style."

The designs are available to be printed on demand on a range of fabrics from sheer chiffons, through a range of cottons, right through to upholstery linens and cosy velvets. The designs can also be bought on rolls of wallpaper, pre-pasted, or self-adhesive through to grasscloth wallpapers. Kim has mocked up a number of scenes to show how she envisages the designs may be used.

"Whilst working on Ski A to Z I decided that I wanted to use surface design techniques to develop a home decor range which would portray the fun and joy of skiing. I also hope that skiers will be inspired to use the fabrics for accessories and clothing." Kimberley continued.

Ski A to Z is a practical introduction to skiing, in hard back format with over 100 full colour illustrations. More information about the book is available at www.skiatoz.com

The fabric collection is hosted by print on demand company Spoonflower in the Inspire by Kim shop.

**There's now 25% off Kim's designs Spoonflower's top selling fabric until Sunday 8th May. Terms and conditions apply visit Spoonflower for more details. bit.ly/3JRwG9R**
Share This Article