Australia's Chillfactor Magazine Launches Kickstarter Campaign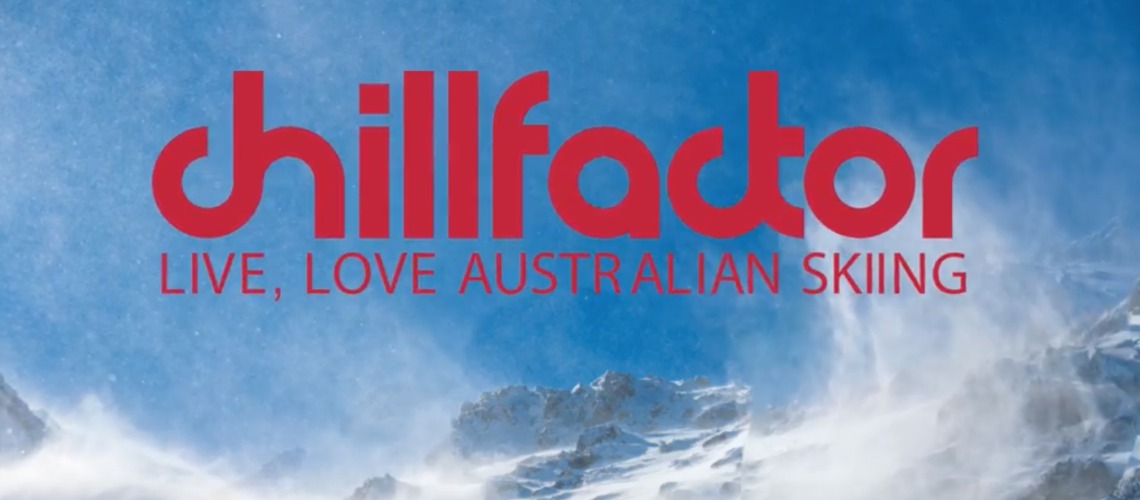 A small independent ski magazine is taking on the coronavirus and hoping despite widespread uncertainty passionate skiers across the country will want, more than ever, the escape of inspiring snow stories as winter approaches.
The Chillfactor team decided although the Australian ski industry does not have the funds to support a magazine right now, the need for one is greater than ever.
Chillfactor today launches a campaign inviting readers to pre-order their magazine. If enough supporters are onboard to cover the print costs the small editorial team will produce the magazine to order and mail it out at the end of June as the snow starts to fall.
Chillfactor is a magazine published by skiers for skiers. It's one edition each winter, a bumper annual of 120 or so pages of alpine adventure and unique mountain characters, and 2020 is to be the 21st issue.
The economic slowdown brought about by the coronavirus has seen magazines around the world on hold or shutdown. It has delivered a cruel blow for Australian alpine communities, still reeling after a horror summer of bushfires and the destruction of Mt Selwyn snow resort. Usual industry supporters of a niche ski magazine are simply trying to survive and don't have cash flow to advertise.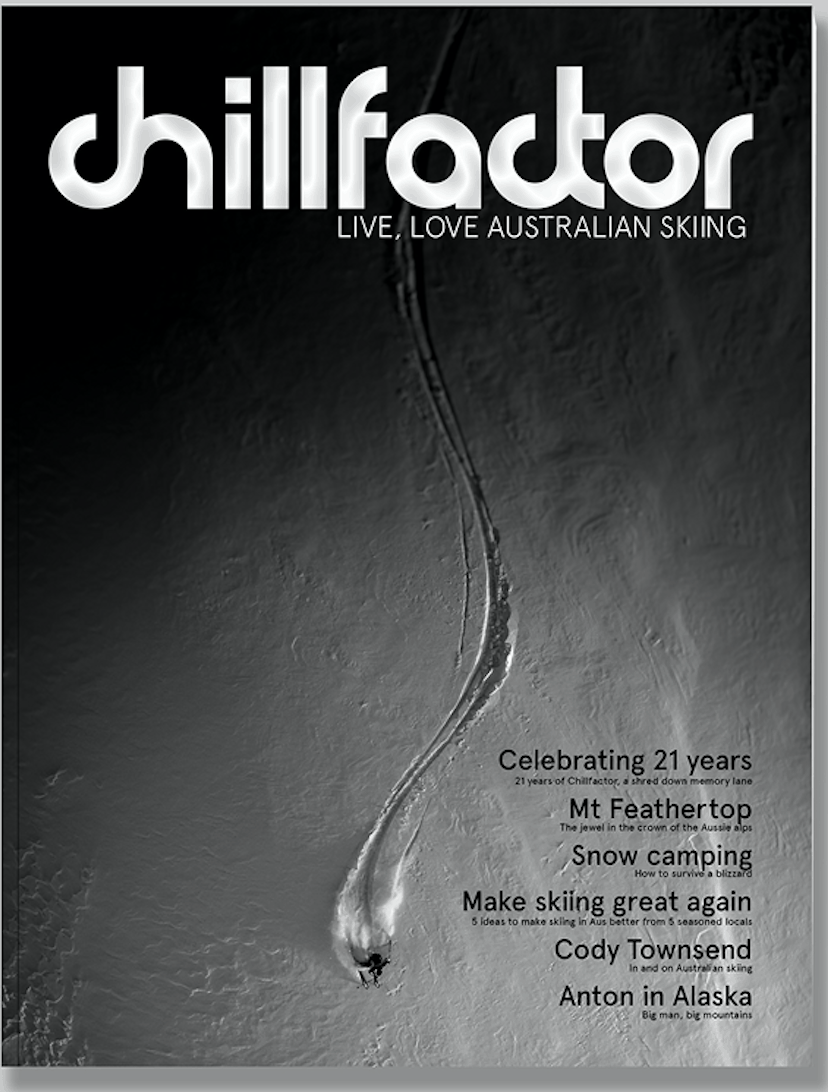 The cover of this years 21st anniversary edition
Founding editor and co-owner of the magazine Reggae Elliss explains, "We've got a pile of incredible stories and images ready to go and a handful of advertisers who are onboard, so it's now in the hands of our loyal readers. If this campaign can cover the basic costs to print Chillfactor, the team will work unpaid to make sure our 21st issue goes ahead."
"This is a tough time for everyone, I don't think there is anyone not experiencing some distress from this pandemic. We decided Chillfactor could play a positive role in what is otherwise a pretty dark time. In the pages we can keep the passion for skiing alive, open a window into the mountains when this year many people won't be able to come and ski and importantly we can support the industry, the people and communities that we love. I don't reckon there is a better reason to publish a magazine than that."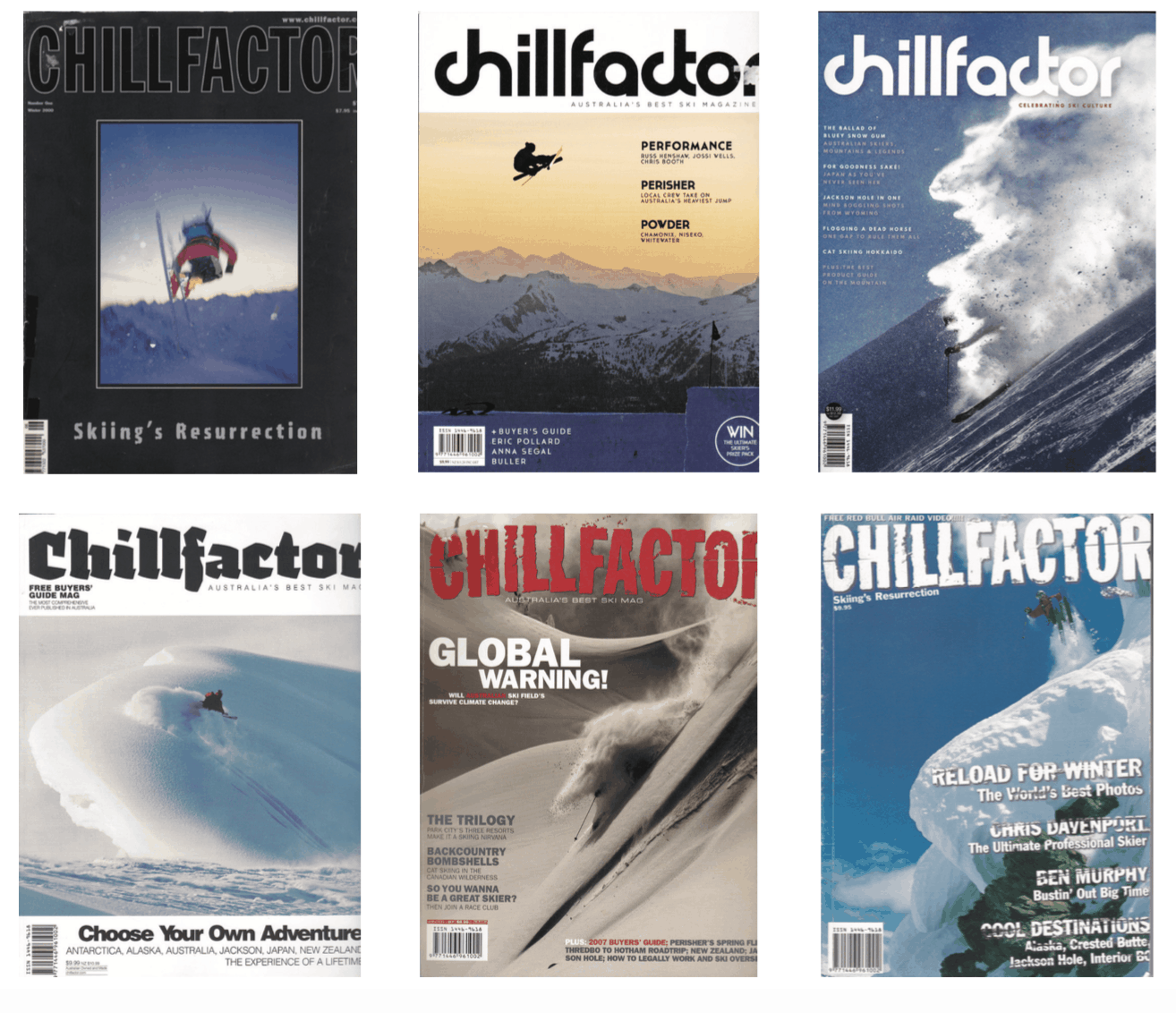 A selection covers from over the years
The campaign launched yesterday gives Chillfactor readers some unique options including the chance to buy their own full page or double-page spread in what will be a collector's edition of the magazine. Supporters can also pay a little extra on their subscription to feature in a "Fiends of Chillfactor" gallery with their headshot included as a memento of their role in making the 21st issue possible.
Associate editor Watkin McLennan adds, "Our supporters are die-hards, frothers as we prefer to call them. Skiing is core to their identity and Chillfactor is core to Australian skiing. We can't wait to celebrate another winter and another issue of Chillfactor. Even though it will be harder than usual to get on the slopes this year, we hope the support of Aussie skiers will make this iconic issue happen."
If you're keen to to support the Chillfactor crew, just click here.
Share This Article