Are You Ready For Winter? Utah's Resorts Are Gearing Up!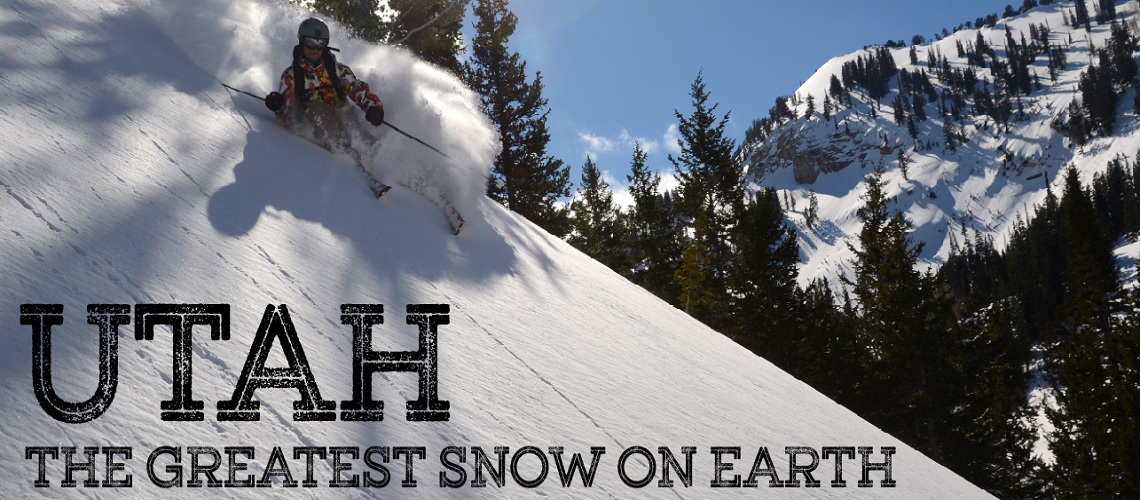 The beginning of ski season in Utah is on the horizon, and the state's ski resorts are gearing up for another winter of skiing, riding, and playing in The Greatest Snow on Earth. With a variety of new offerings, including new lifts, hotels, restaurants, and even a newly added resort, Woodward Park City, visitors are sure to find unique experiences all across the state with a variety of options for families, friends, and powder-chasing fanatics.
WHAT'S NEW:
Alta Ski Area
Alta is excited to expand Alta Ski Shop operations to the family-friendly Albion Base Area with the original location remaining at the Wildcat Base Area. Building off the momentum from this past season, Alta will again dedicate up to 25% of the Wildcat parking lot for carpoolers with 3+ per vehicle. Alta has also hired a new Director for the Alta Environmental Center. Alf Engen Ski School is also thrilled to partner with the Snowpine Lodge and the Alta Peruvian Lodge, offering new performance ski camps for the 2019-20 season.
Brian Head Resort
Nearly $6 million in capital improvements are continuing on schedule at Brian Head Resort this summer and fall. The improvements will benefit skiers and riders resort-wide, with a new high-speed lift, new grooming equipment, snowmaking improvements, replacements and upgrades in the rental shop ski and snowboard inventory, and additional enhancements to other on-hill facilities.
The new high-speed detachable quad chair lift (Navajo Express) will replace the Resort's existing fixed-grip triple chair lift that has served Navajo Mountain for over 30 years. With both base areas (Navajo and Giant Steps) now served by high-speed chairlifts, guests will be able to access the top of both mountains faster, smoother, and more comfortably than ever before.
Other noticeable on-hill improvements will also be ready for the 2019–20 ski season — the ever-popular Navajo Snow Tubing Park will be relocated and expanded with more lanes and longer runs, a new "Sun Kid" magic carpet will replace the cable tow to transport tubers to the top of the hill more efficiently, and an additional on-mountain surface conveyor is also being installed at the top of Navajo Mountain to improve lift-to-lift access on Navajo Mountain.
Brighton
Brighton is excited to add additional snowmaking on the Canyon run near the Milly Base area, enabling access to the Milly lift sooner than before. Taking advantage of already existing RFID technology, the resort is also launching a redesigned purchasing portal for online sales, which will drastically improve the customer checkout experience and make it easier than ever to shop Brighton online. A new Brighton Resort app is also planned to launch this fall.
Deer Valley Resort
Deer Valley plans to invest $7.6 million in improvements for the 2019–20 season. This investment will fund several improvements, including new RFID technology, digital signage, snowmaking and grooming enhancements, and upgrades the transportation fleet.
RFID technology with new gantry gates and scanning for electronic ticketing will be added around the resort. New ticketing media, with built-in chip technology, will enable the resort to use the best available technology to increase and upgrade the guest experience throughout the resort and new digital signage at the resort's base lodges will enhance the guest experience by having real-time information available on ticketing availability and pricing, lift operations, grooming conditions, and other mountain and lodge related information.
The enhancements to the snowmaking systems will include the purchase of additional low-energy guns and five new fan guns, upgrades to the control systems, and the replacement of several thousand feet of snowmaking pipes. The purchase of four new Prinoth snowcats will also enhance and expand grooming.
In addition to these improvements, Deer Valley will also be making upgrades to the guest transportation fleet and replacing the ski rental shop inventory with the newest Rossignol equipment.
Park City Mountain
Tombstone BBQ has long been a favorite dining tradition on Park City Mountain, serving mouthwatering house-smoked meats, homemade sauces and ice cold beer. That tradition will start a whole new chapter for the 2019–20 season, with the addition of a permanent restaurant on the site of the old food truck and BBQ shed. The signature space includes heated indoor seating for up to 50 guests, ample indoor restrooms, a draft beer bar, a wood-fired BBQ pit and a full kitchen serving up all the Tombstone classics. Outdoor picnic tables will continue to offer guests a relaxed, al fresco dining experience with views of the surrounding mountains, while the new indoor structure will provide a cozy escape from the elements on chilly days. In pursuit of Vail Resort's commitment to zero, disposable plates and cups will also be replaced with environmentally-friendly reusable service ware.
Park City Mountain also plans to install a new lift in time for the 2019–20 season, pending permits. The fixed-grip quad chairlift, named "Over and Out," will transport guests from a location near the bottom of the Tombstone Express Lift and unload near the top of Sunrise Lift on the front side of the mountain. As the name suggests, this lift will provide a quicker, more direct route for skiers and riders to access Canyons Village from the center of the resort.
Snowbasin Resort
Snowbasin Resort is making several upgrades this year, including major upgrades to Earl's Lodge, significant improvements on the intermediate experience off the John Paul lift, and improved accessibility at the base of the Wildcat lift.
The major upgrades to servery in Earl's Lodge will increase the ease of guest flow and speed of service with additional grab-and-go options, elevated food quality, and new food and beverage stations. Snowbasin favorite menu items, such as the cheese fries, will remain on the menu.
On the snow, the resort has added snowmaking to the area that was improved and widened last summer around Mt. Ogden Bowl road in order to accelerate early season opening of the John Paul lift and is also removing the medical clinic building from the Powder Puff area by the base of Wildcat lift. This will provide easier access to the Wildcat chair for all guests and expand the beginner terrain footprint in the base area. Snowbasin is grateful for the long-standing partnership with Intermountain Health Care, and for the new clinic facility that will be built in the base area.
Snowbird
Snowbird's newest dining experience, SeventyOne at the Cliff Lodge, is a throwback to the mountain's early roots. The new restaurant features American grill favorites, an open kitchen, and a retro vibe. Take in the expansive mountain views while you enjoy a relaxing meal or quick drink at the bar. Prepare yourself for a new flavor at Snowbird with a sophisticated, 70s twist on comfort food and contemporary American fare.
Solitude Mountain Resort
Solitude Mountain Resort is excited to announce the opening of a walk-up waffle window at the Moonbeam Center. This new dining option will offer fresh, piping hot Liège-style waffles with a variety of toppings, plus other take-away snacks and beverages.
Solitude's mountain operations team has acquired a new Prinoth Leitwolf snowcat, the latest addition to Solitude's grooming fleet, and has also undertaken a major brush clearing initiative during summer 2019. Both of these investments support Solitude's commitment to remaining a market leader in slope maintenance, ensuring a high-quality guest experience.
Woodward Park City
Woodward Park City, the nation's first all-in-one action sports and ski resort, will feature a fully integrated and state of the art campus, complete with indoor and outdoor action sports venues for year-round adventure. Located just 27 miles from Salt Lake City International Airport, Woodward Park City will be open 365 days and nights a year starting this 2019-20 winter season. Woodward Park City is imagined from the ground up to encourage intuitive growth and progression in 10 different sports and activities. From lift-accessed snowboarding, skiing, and tubing in the winter to biking and skating in the summer, Woodward Park City should be on every Utah visitor's must-do bucket list. Access will be available through all-access tickets, day sessions, lift tickets, drop-in sessions, day camps, lessons, monthly memberships, and special events.
Woodward Park City Monthly Memberships (starting at $100/month) will include unlimited access to our indoor and outdoor facilities. The memberships are available beginning September 6 at the introductory rate of $100/month. Maintaining your membership locks in your original price for at least two years from start date. Additional ways to play will be available for pre-purchase throughout the fall.
ANNIVERSARIES:
LODGING:
TRANSPORTATION:
Construction on the Salt Lake City International Airport continues with first phase of The New SLC expected to open in 2020. The new airport facilities are being designed with state-of-the-art functionality and for ease of use. After the first phase of The New SLC opens, demolition of the existing facilities will begin so the second phase of construction can get underway. The full project is expected to be finished in 2023/24. The New SLC will create a memorable travel experience for passengers, whether they're connecting to another city or making SLC their final destination. For updates about the project, go to www.slcairport.com/thenewslc.
Utah Transit Authority will continue working with local resorts to provide the ski bus servicefeeding Alta Ski Area, Brighton Resort, Snowbird, Solitude Mountain Resort, Powder Mountain and Snowbasin Resort. The most up to date route information will be available at rideuta.com.
EVENTS:
NASTAR
Snowbasin is pleased to welcome NASTAR, the largest public grassroots ski racing program in the world, back to the resort. NASTAR brings greater awareness to the sport motivating participants of all ages to get involved in ski racing. The NASTAR course will be on Showboat and operating Fridays, Saturdays, and Sundays throughout the season starting December 13, weather dependent. NASTAR season passes are on sale now and prices start at $99. Single-day options will be available day of.
SUSTAINABILITY:
With a variety of pass options available, skiers and riders have exceptional access to multiple Utah resorts as well as resorts around the world.
Share This Article