Analogue Plus Introduces "CRNK," - Smart Helmet Brand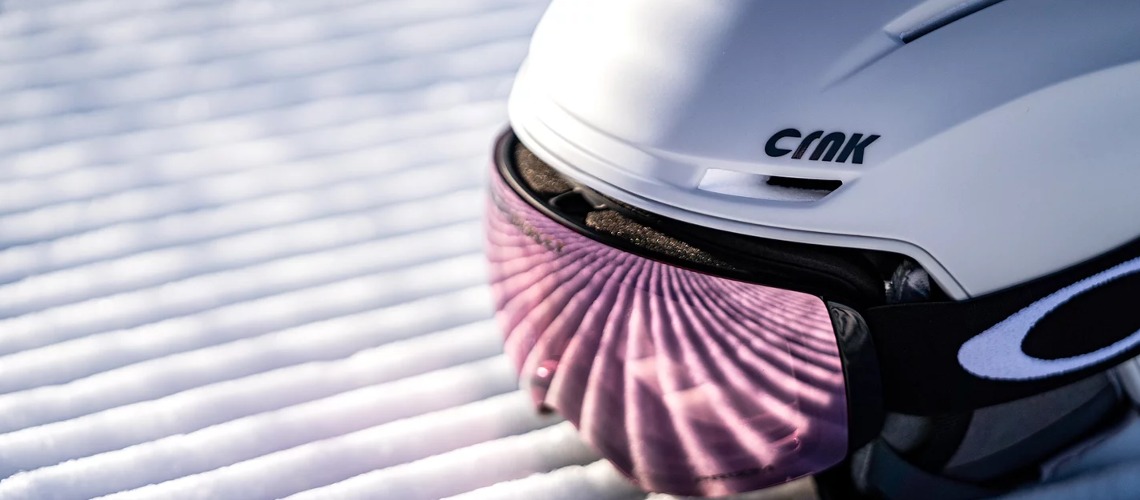 As demand for individual movement devices and proxy courier services is soaring, not only consumer convenience but also safety concerns have risen. With the end of a month of guidance period, according to traffic laws revised on the 13th, it became mandatory for electric scooter riders to wear a helmet. It has ushered in an era where the users of personal mobility vehicles must wear a helmet.
CMO Brina from Analogue Plus gave an explanation of "CRNK," which combined IoT with a safety helmet.
Q1. Company introduction
CMO Brina: With its mission of adding value to everything analogue, Analogue Plus is adding digital elements to helmets among other products. Now, through a brand specialized in sports using IoT "CRNK," it is producing and selling communications devices, bicycles, motorcycles, ski helmets and sun protection umbrellas. It has started as an internal startup at Samsung electronics and set its first aim to manufacture smart helmets.
Q2. What is the current status of helmet development combined with IoT?
CMO Brina: The development of smart helmets is currently underway. The first product launched was CRNK's "Ski Alpha." Bluetooth communications system is applied to these helmets. With the click of a button, users can listen to music, make a phone call or choose navigation. Also, users do not have to take off their gloves to communicate since it is a touch-tone device. We started to produce a smart helmet because it not only helps users secure a clear view but also allows them to listen and speak freely. Now, a helmet attached communications device "Ahead M" is also for sale.
Q3. Future goals
CMO Brina: Today, we are using bluetooth communications using voice or AI voice assistants. We are making efforts to create a head-up display through HUD visor in the coming two to three years. It is projected that helmets where smartphones can be utilized will be released going forward. As a leader in the industry, we are working hard. Now, the majority of production goes to bicycle helmets. There are various types of helmets from HELMER, VELOCE, ARTICA to GENETIC and ARC which are released this year. Our ultimate goal is to create a multi-sport brand using the IT technology which is simply not a typical helmet brand while releasing other sports products.
Q4. Why did you choose Pangyo?
CMO Brina: Being located in Pangyo, the biggest benefit is to interact with other start-ups. There have been several moments when we hit a wall in the development stage. At the time, an operation support agency has matched us with excellent companies. We have received a lot of help back then. Since there are many young people around the Pangyo area, it helps when conducting a survey on consumer groups.
AnaloguePlus is based in Pangyo. Pangyo Technovalley is an innovation hub for global companies comparable to the Silicon Valley in the US, Zhongguancun in China, and STATION F in France. It is an Asia tech hub with 1,259 IT, BT, CT, and NT companies that possess innovative products and technologies. Located just south of the metropolitan area, it provides the best environment for Korean companies to do business with great transportation access and infrastructure.
Various high-tech companies are located in Pangyo Technovalley, and it is occupied by 64,000 full-time employees, many in their 20-30s. In terms of industry, the companies are engaged in information technology, contents technology, biotechnology, and nanotechnology.
In 2015, analogue plus won a spot in Samsung's C-lab accelerator program with a concept for a communication device that could be attached to a helmet – an idea that we came up with on a skiing trip with friends. Since then, we've tinkered tirelessly on our product 'Ahead', working to create a design that is as beautiful as it is easy to use.
When it comes to skiing, or any other outdoor activities in highly mobilized environments, such as cycling, skateboarding, or snowboarding, helmets are essential in preventing injuries. Simply put, there are no other technologies that can replace the use of helmets.
Even in everyday commutes, staring at smartphones is dangerous, especially when you're the one driving. And for those who ride motorcycles, there are fewer options to handle mobile notifications. Some wear Bluetooth headsets, which provides a hand-free option, but are quite bothering to put on. Noise-cancelling is also a great technology, blocking outer noises for quality music, but again is very dangerous when you're moving fast in all that traffic.
And so, our team struggled to come up with an idea to make a communication device designed exclusively for helmets, creating a safe and convenient experience of urban commute & extreme sports. We always consider both protection and technology as the two most important factors, in striving to be a company that makes high-quality helmets as well as high-tech devices.
Recently we have widened our helmet lineup from cycle helmets to snowboarding & motorcycles, with a clean and unique design, using the finest finishing materials. Our helmets are all CPSC CE certified, sturdy enough to bring protection with a comfortable lightness. Each of our products has been launched through crowdfunding projects, and all of them have succeeded by overwhelming amounts.
As we could see the possibility of the demand for our products through our efforts, we plan to develop products with improved technology in the future, which could benefit those that make use of our products with much more convenience and safety.
Share This Article