AlpenCongress Berchtesgaden - 6 & 7 October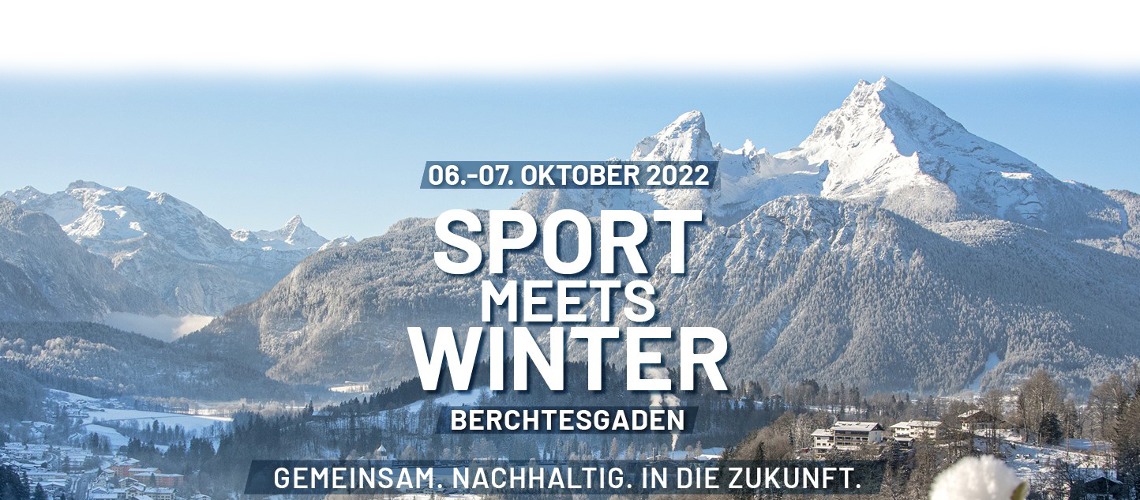 This year's your winter. your sport. Summit in Berchtesgaden takes place under the motto "SPORT meets WINTER - together. Consistent. Into the future." instead. On October 6th and 7th, industry representatives and many well-known athletes will discuss the current economic challenges and the resulting tasks.
The point "affordable winter sports" plays a central role. Where are the limits of the economy? And what solutions are there to counteract this? These questions will be answered by Reinhard Klier (Deputy Chairman of the Association of Austrian Cable Cars), Valentin König (Chairman of Cable Cars Switzerland), Dr. Helmut Sartori (President of the Association of Cable Car Entrepreneurs in South Tyrol), Matthias Stauch (Chairman of the Association of German Cable Cars) and Peter Wagner (Chief Business Officer Alturos Destinations) will answer in an exciting panel discussion on Friday morning.
The aim of the initiative is clear and that is your winter. your sport. Summit from Thursday, October 6th to Friday, October 7th, 2022 in Berchtesgaden is exactly the right platform for this. It is aimed at all those who don't just want to talk, but want to act - for a sustainable future of winter sports.
At the Summit 2019 in Oberstdorf, the initiators, consisting of DSV, DSLV and Snowboard Germany, already set a strong ecological signal and jointly signed the UN declaration Sports for Climate Action Framework .
Under the motto "SPORT MEETS WINTER – Together. Consistent. Into the future." At this year's summit we will discuss topics such as sustainability, energy, digitization and the current global economic challenges, their effects on the entire industry and the resulting common tasks. Together with representatives from science, sports, business, politics and the media, we not only want to talk, but also act and initiate very concrete solutions.
The congress will again take place under the scientific direction of Prof. Dr. Ralf Roth from the Institute for Outdoor Sports and Environmental Research at the German Sport University Cologne, who gave his keynote speech "What kind of future do we want? Challenges and Solution Approaches" provides important impulses from science at the beginning.
With over 300 guests , this is your winter. your sport. Summit is now a must for the start of winter. Prominent athletes such as Felix Neureuther, Viktoria Rebensburg, Hilde Gerg, Martina Ertl, Fritz Dopfer and Ramona Hofmeister will be guests and discuss the future of winter sports with experts.
Thursday 06 October 2022

Admission and registration from 8.30 a.m
to day 2
TOGETHER.
09.30 - 10.00 a.m.
Welcome round with the Dein Winter. your winter. Initiators
Norbert Haslach (Board of Directors Snow Sports Schools German Ski Instructors Association)
Prof. Hanns-Michael Hölz ​​(President Snowboard Germany)
Dr. Franz Steinle (President of the German Ski Association)
Thomas Ammer (Your winter. Your sport. Coordinator)
* * *
Intro
* * *
10.00 - 10.20 a.m.
Sport as a common model - development and progress through movement
Felix Neureuther (former ski racer & TV expert)
* * *
10.20 - 10.45 a.m.
KEYNOTE: What kind of future do we want? Challenges and solution approaches
Prof. Dr. Ralf Roth (Institute for Outdoor Sports and Environmental Research, DSHS Cologne)
* * *
Importance of networks in difficult times
* * *
10.45 a.m. - 11.00 a.m.
IMPULSE: Only together to success
Peter Hennekes (Managing Director of the German Ski Instructors Association)
* * *
11.00 a.m. - 11.30 a.m.
PANEL: One team - together for winter sports!
Hilde Gerg (former ski racer, entrepreneur)
Ramona Hofmeister (Snowboard Germany national team)
Wolfgang Maier (Alpine Director of the German Ski Association)
* * *
11.30 - 11.45 a.m.
FOCUS I: Training together in a club - impulses for sports development
Fritz Dopfer (former ski racer)
* * *
11.45 a.m. - 12.00 p.m.
FOKUS II: Natursport Academy - all year round together.
Christine Hammer (Project Manager Nature Sports Academy)
* * *
12.00 – 13.30 lunch break & time for networking
* * *
1.30 - 1.45 p.m.
FOCUS III: Transnational – the WinterRail platform
Dr. Thomas Kemper (Head of Market Communication DB Fernverkehr AG)
CONSISTENT.
Winter sports & living space – a symbiosis?
* * *
1.45 - 2.15 p.m.
IMPULSE: Tourism in transition - for guests and locals
Lars Bengsch (Managing Director dwif-Consulting GmbH)
* * *
2.15 - 3.00 p.m.
3 x 5 TO THE POINT: Winter sports sustainable in all dimensions: social & ecological & Economic
Monika Fiedler-Proksch (Managing Director fiedler & peter concepts GmbH)
Harald Gmeiner (Member of the Presidium Tourismus Oberbayern (TOM) e. V.)
Josef Margreiter (Managing Director ofLebensraum Tirol Holding)
* * *
3.00 p.m. – 3.30 p.m. Coffee & cake break & time for networking
* * *
3.30 - 3.45 p.m.
Major events with responsibility using the example of the Snowboard World Cup in Berchtesgaden
Prof. Hanns-Michael Hölz ​​(President of Snowboard Germany)
Thomas Weber (1st mayor of the municipality of Bischofswiesen)
INTO THE FUTURE.
3:45 p.m. - 4:00 p.m.
IMPULSE: Sustainability requires courage to change and innovate
Peter Schöffel (Managing Director Schöffel Sportbekleidung GmbH)
* * *
4:00 p.m. - 4:30 p.m.
3 x 5 TO THE POINT: Disruptive solutions for winter sports
Herbert Buchsteiner (Director Business Unit Alpin Ski&Binding ATOMIC SKI)
Kim Scholze (Chief Sustainable Community Manager Sympatex Technologies GmbH)
* * *
4.30 p.m. - 4.50 p.m.
PODIUM: Outlook – Sports retail continues to be a touchpoint for winter sports enthusiasts
Frank Geisler (CEO Intersport)
Stefan Herzog (President Association of European / German Sports Retailers)
* * *
4.50pm - 5.30pm
ENERGY! How is the INDUSTRY reacting?
* * *
5.30 p.m.
Summary of the first day of the congress
Stefan Schwarzbach (Managing Director DSV Marketing GmbH)
Thomas Ammer (Your winter. Your sport. Coordinator)
your winter. your sport. Summit Night
7.30 p.m. - 10.30 p.m.
...with the hosts & many great surprise guests
* * *
Friday 07 October 2022
Admission from 8.30 a.m
INTO THE FUTURE.
Intro
* * *
09.30 - 09.45 a.m.
Intro second day of the congress
Walter Vogel (Managing Director DSV Marketing GmbH)
* * *
09.45 - 10.15 a.m. Practical statements
: Questions? Answers!
Patricia Finster (Sports Development and Education German Ski Association)
Bettina Hölzl (Dipl. Sports Scientist & Sports Mental Coach)
* * *
Price & Affordability Winter Sports
* * *
10.15 - 11.15 a.m.
PANEL: Affordable Winter Sports - Solutions & Limits of the Economy
Reinhard Klier (Deputy Chairman of the Association of the Austrian cable cars)
Valentin König (board of the Swiss Cable Car Association)
dr Helmut Sartori (President of the Association of Cable Car Entrepreneurs in South Tyrol)
Matthias Stauch (Chairman of the Association of German Cable Cars)
Peter Wagner (Chief Business Officer Alturos Destinations)
* * *
11.15 a.m. - 12.00 p.m. Snack time & time for networking
* * *
12.00 p.m. - 12.15 p.m.
OUTLOOK: Digital transformation in (winter) sports – "5 past twelve or 5 to twelve?"
Lorenz Beringer (Managing Director of LOBECO GmbH)
* * *
12.15 - 1.00 p.m.
Media in transition: How are the big players positioning themselves?
Viktoria Rebensburg (former ski racer & TV expert)
Stefan Schwarzbach (Managing Director DSV Marketing GmbH & Communications Director German Ski Association)
* * *
1.00 - 1.15 p.m.
Handover of your winter. your sport. Award 2022
* * *
1.15 - 1.30 p.m.
Summary/closing statement Initiators and your winter. your sport. Team
Afterwards: Coffee & time for networking in the foyer
Share This Article