3 Zinnen: The Old Helmbahnl Has Had Its Day. Replacement Helmjet Opens December 4th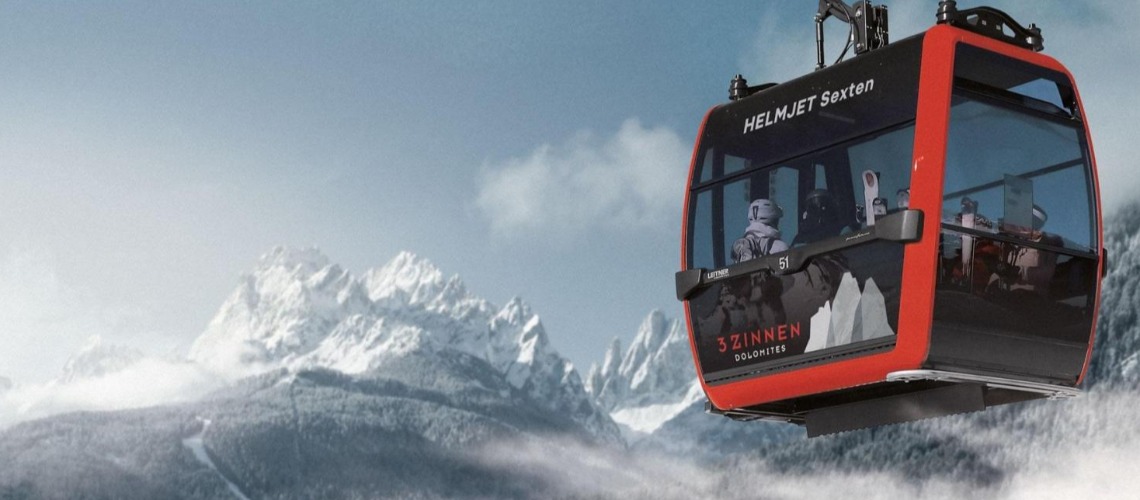 It was only 40 years ago that a construction site in the Möösern between Sexten and Moos caused a sensation. In the middle of the swamp the valley station of the cable car was built, which was supposed to connect Sexten with the Helm. The prestige object from that time has been part of the life of many Sesto people and their guests for decades.
Let's go back briefly. Five years after the development of the Helm area from Vierschach, the aerial tramway from Sexten was opened on March 1st, 1981 - with financial pull-ups for the local population. It was a major upgrade for tourism in the valley, as the guests now saved themselves the almost half-hour journey by bus or car to Versciaco. Nevertheless, Alois Strobl, then President of the Helmbahn, had to get through difficult times. A few days before the new cable car opened, the Helm restaurant next to the mountain station was completely destroyed by a major fire. Only four and a half months later, President Strobl died suddenly and unexpectedly.
The two turquoise-colored cabins of the new cable car could each transport 75 people - they were considered a figurehead for the up-and-coming tourism in Sesto. During the general overhaul in 2000, the Helmbahn was equipped with two new silver-gray panorama cabins that were designed for 82 people - with a capacity of 820 people per hour.
In recent years, the Helmbahn Sesto has increasingly become the bottleneck. Disproportionately long waiting times prevented many skiers from using the sunny valley run to Sexten.
After 83,200 operating hours and 14.5 million passengers transported, the good old Helmbahnl set off on its last journey on Sunday, September 27, 2020 after 39 accident-free years and thus seal a piece of village history in which many Sesto people participated.
It will take its place from 04.12. the new 10-seater premium gondola lift Helmjet Sexten, one of the most modern lifts in South Tyrol, which brings ski guests quickly and comfortably from Sexten to skiing pleasure.
The Helmbahn Vierschach will remain in operation until November 1st. From December 4th, the new 10-seater premium gondola lift Helmjet Sexten, one of the most modern lifts in South Tyrol, will bring ski guests quickly and comfortably from Sexten into skiing pleasure.
Share This Article