Courchevel's Ski Jumping World Cup 6th & 7th August Results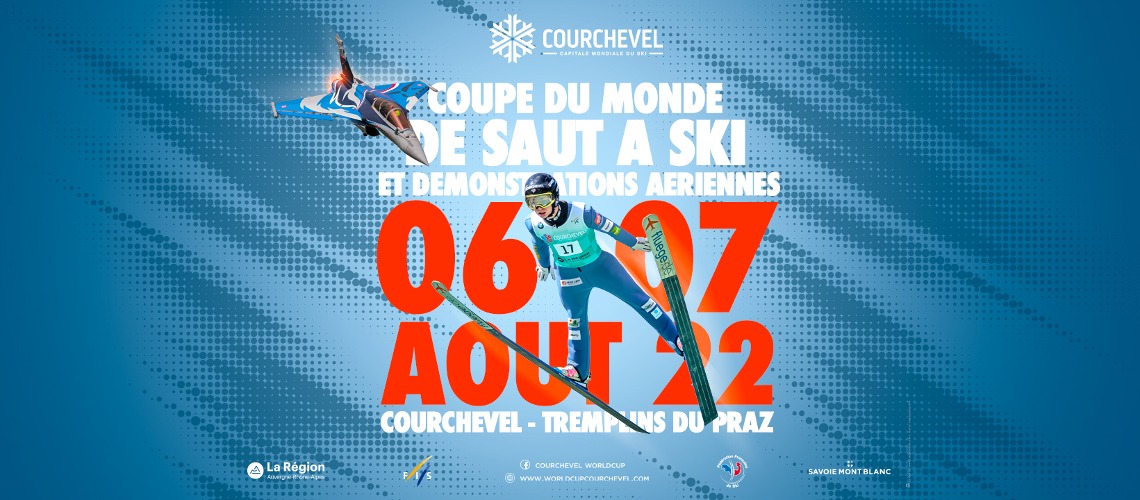 In front of an amazed public, the French Air Force's emblematic fighter planes offered an exceptional high-flying show in the mountains. Ten minutes of an exceptional demonstration orchestrated on the occasion of the Courchevel Summer Ski Jumping World Cup.
Austria's Manuel Fettner won the FIS Ski Jumping Grand Prix in Courchevel (FRA) with jumps of 129 m and 128 m and a total score of 266.1 points. Gregor Deschwanden of Switzerland came in second with 254.0 points, and Fettner's teammate Stefan Kraft was third with 251.2 points.
The highlights:
This is the 1st win in the Grand Prix for Manuel Fettner
Manuel Fettner's best individual GP result so far was the fifth place in Kranj 2006
It's Gregor Deschwanden's second GP podium, he was also second in Courchevel last year
The longest jumps of the competition were shown by Daniel Tschofenig and Michael Hayboeck with 137 m, they equaled the hill record held by Kamil Stoch
Here's what the athletes said after the competition:
Manuel Fettner (AUT): I'm extremely happy that I could win here today, I just learned that I have never been on the podium in a Grand Prix before. Of course, I knew that I'm in good shape, but I would have wanted to compete against more of the other national teams, unfortunately, that was not the case here today. But I still saw that I could jump well here, also in a competition and I'm happy about that.
Gregor Deschwanden (SUI): I was surprised about the result after my second jump because it was not that far. It's great to be on the podium again here. My goal was to finish in the Top 6 and so I'm more than happy with the podium today. I also want to be among the best in winter and achieve such good results, that's my goal. It's always good to see that such results are possible, also in summer. That's good mentally. I think I'm on the right track with such a start and that gives me additional confidence and motivation for the upcoming months.
Stefan Kraft (AUT): It was a cool start to the summer season for us. We already knew that Manuel is in strong shape, he showed that in our training at home. I'm very satisfied with my performance and it's great that I could start summer with a podium. The conditions were difficult today, in the first round I got a lot of bonus points due to the wind. I tried to do my best and that's what summer is for, you can see if your jumps are good and stable in difficult conditions. But in the end, I think it was a fair competition.
Austria's Daniel Tschofenig finished fourth, and the two Norwegians Anders Haare and Anders Fannemel came in fifth and sixth. Philipp Raimund was the best German in seventh place, Italy's Giovanni Bresadola achieved a good result in eighth.
Maciej Kot was the best of the Polish team in tenth, Dawid Kubacki, Kamil Stoch, and Jakub Wolny were not competing in Courchevel, but they still lead the overall ranking of the FIS Grand Prix.
The Grand Prix continues in mid-September in Rasnov, where the Super Team Event will be held for the first time. In this competition, two athletes per nation form a team and the winner will be determined after three rounds.
As expected,for the women the two top favorites from Slovenia won the Ski Jumping Grand Prix in Courchevel (FRA) on the HS 135-meter large hill. Double Olympic Champion Ursa Bogataj won clearly ahead of her teammate Nika Kriznar. Third place went to France's Julia Clair.
"Today I was certainly also a bit lucky with the conditions and I am happy with my performance today, I hope I can take the form from today to the upcoming competitions. My jump in the first round was much better than the jump in the final, but I am satisfied. Of course, it would be nice to win the Grand Prix but for me, it is very important to compete in the competitions to take the competition experience from the summer into the winter" explained Bogataj, who now leads the Grand Prix with 40 points (280 points) ahead of her teammate Nika Kriznar (240 points), who was second today. Bogataj had already won the 2021 Grand Prix in Courchevel and thus laid the foundation for the overall Grand Prix victory in 2021.
Second-placed Nika Kriznar was not completely satisfied after the competition: "I am satisfied with the result, but not with my jumps. I have the feeling that I still have a lot of reserves and that I can jump much better than I showed here today, and I wasn't lucky with the wind today either. But now I'll put it behind me and look forward to the next competitions", Kriznar said.
Third place went to a Frenchwoman, but not to Josephine Pagnier, who had been considered a co-favorite again after her third place in Wisla two weeks ago, but to her teammate Julia Clair. For the 28-year-old Clair, a third place meant her best result so far in the summer. In winter, Clair had already stood on the podium once (Planica) in 2014. "I am overjoyed with my third place today, I really didn't expect that. This is something very special here in front of your own spectators. This hill in Courchevel is not easy to jump, especially at this time of day when the conditions can change. We have a very small team but now we have already managed two podium finishes this summer, I hope that we can build on these successes in the winter," said Clair.
With Nika Prevc (SLO) and Josephine Pagnier (FRA), the fourth and fifth places went to Slovenia and France. Luisa Goerlich, the best athlete of the German Ski Association, finished in sixth place, Anna Rupprecht, Pauline Hessler, and Katharina Althaus came in 10th, 11th, and 13th.
Selina Freitag was not at the start in Courchevel after a training fall last week, at the same place. Freitag had fallen head over heels after landing and suffered injuries to her face, but after the following MRI examination head coach Maxi Mechler was able to give the all-clear: "No serious injuries to Freitag".
The Canadian bronze medalist (mixed team) from Beijing, Abigail Strait, caused a moment of shock in the competition with a fall after 128 meters. Similar to Friday in training, Strait fell forward after landing, the helmet protected Strait from bad facial blisters, Strait competed again in the final and was still 7th despite the fall. Yuka Kobayashi and Italian Lara Malsiner shared 8th place.
For the ladies, the Grand Prix continues after a long break on 17. and 18. 9. in Rasnov (ROU). After that already the Grand Prix final in Klingenthal (GER) will follow.
Courchevel, World Ski Capital invites you to the World Ski Championships from February 6 to 19, 2023! this winter.
Share This Article